This was one of those nights where I knew I needed to to go to the grocery store, but it felt like just one more notch in my 'things to do' just might send me to the looney bin with all the other moms who are negotiating multiple tasks on any given evening.
I have told you before about my OCD about vegetables on the plate….and normally, green curry is the perfect carrier of multiple veggies right in the sauce.
But do you think I had anything green worth putting in this?  Not even close.  Only the hardiest of fruits and veggies stood edible in my drawers, and the rest were either consumed over the last week or were destined for my worm bin.
Not wanting there to be no veggies in this at all, I thought I would give a not-so -traditional curry veggie a try: sweet potato.  Good ole root vegetables to the rescue!  And you know what?  I'd do it again!
The sweetness of the yam marries well with the spicy creaminess of the sauce.  Normally of course, I would also add green beans, bell peppers, broccoli, maybe some eggplant.  So use the veggies YOU like, and give the sweet potato a whirl, quite delicious!!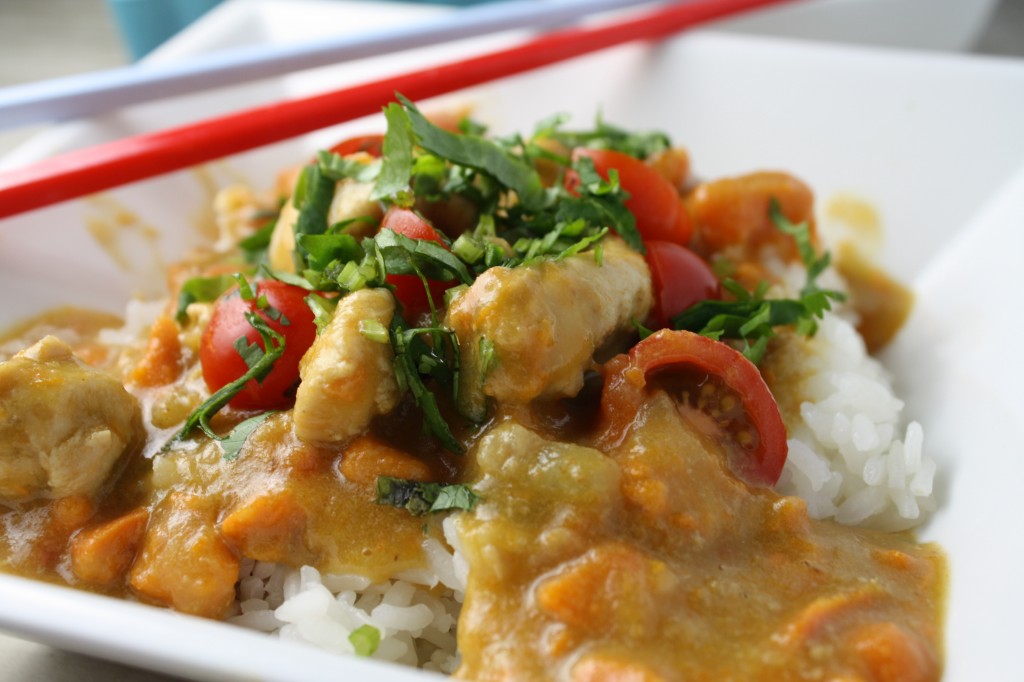 **Note: Lime leaves are found in any Asian market in the frozen foods section, about a $1.00 for a bag of 100.  Some well-stalked grocery stores also carry them, in the produce section.  If you can't find these, you could try using lime  zest and juice instead, although I have not tried this myself.  Lime leaves store in the freezer and are great additions to lots of Asian foods.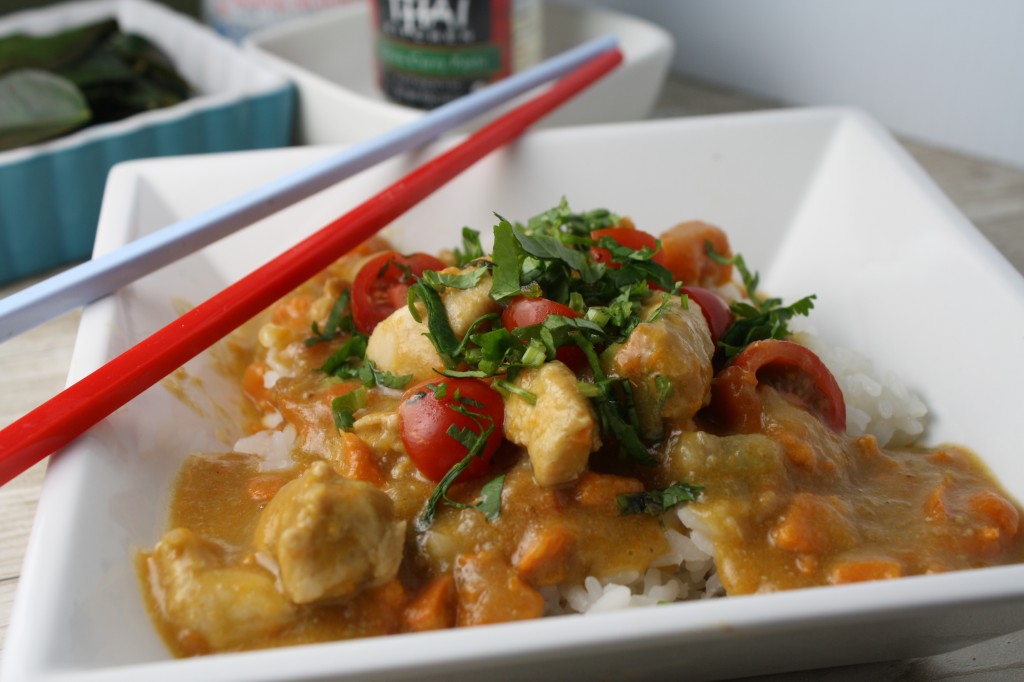 This recipe was shared on Frugal Days Sustainable Ways, Simple Lives Thursday, Thank Your Body Thursday, Tasty Traditions, Keep it Real Thursdays, Pennywise Platter, Fresh Bites Friday, GF Friday, Get Real Frugal Friday, Simple Meals Friday, Whole Foods Friday, Fight Back Friday, Made From Scratch Monday, Make Your Own Monday, Natural Living Mondays, Tasteful Tuesdays, Fat Tuesday, Slightly Indulgent Tuesday, Hearth & Soul, Traditional Tuesdays,