In a recent phone consult with a nutritionist, he got me thinking about the nutritional quality of the foods I am feeding the baby.  Of course, I do a pretty darn good job, but when you eat so little like babies do, you need to make every effort to increase the quality of the calories they are consuming.
In this endeavor, I opted to start trying millet and teff porridge in place of brown rice cereal, as nutritionally, these grains pack more of a nutrional punch!  You might refer back to my post, Millet Porridge, for how to make this, the technique could work for teff too, and the grains are SO good for you!!
But I wanted to branch out and find other ways to feed these grains to my family too.  Up until this point, I have just been subbing small quantities of teff flour in my baking.    What I love about this recipe is that it almost entirely teff flour, and therefore loaded with all the health benefits of it (high in protein, fiber, calcium, iron and amino acids)!
These have a great pancake texture, even with no eggs.  My new stainless steel pan crisped them perfectly so they were ever-so subtly crisp on the outside and soft and tender on the inside: yum!  If you have yet to try teff, this a great way to start! It has a pleasant, nutty flavor that is easy to palette.   It runs about $6-7 for a 23oz bag, not cheap, but SO good for you and worth it!
LUNCHBOX TIP:   Consider using leftover pancakes to make one heck of a delicious nut butter and jelly sandwich for your kids!!  Novelty always wins points with the younger set….
TIME SAVING TIP:  Make a double batch of these and freeze the leftovers.  They reheat easily either in a toaster or microwave and make busy school mornings a snap!
TRIP TIP: I frequently mix all the dry ingredients in container to bring along with me on trips.  Depending on where I'll be, I even put all the liquid ingredients together in a container to be mixed with the dry on site.  This is a great way to ensure you have safe and nutritious foods for your family on trips!
You might also want to try this with my Lower-Sugar Berry Pancake Topping!
Makes 4 servings or about 18 4″ pancakes@ 292 calories, 44.8 g carbs, 8.3 g fiber, 7.2 g sugar, 6.2 g protein using stevia as a sweetener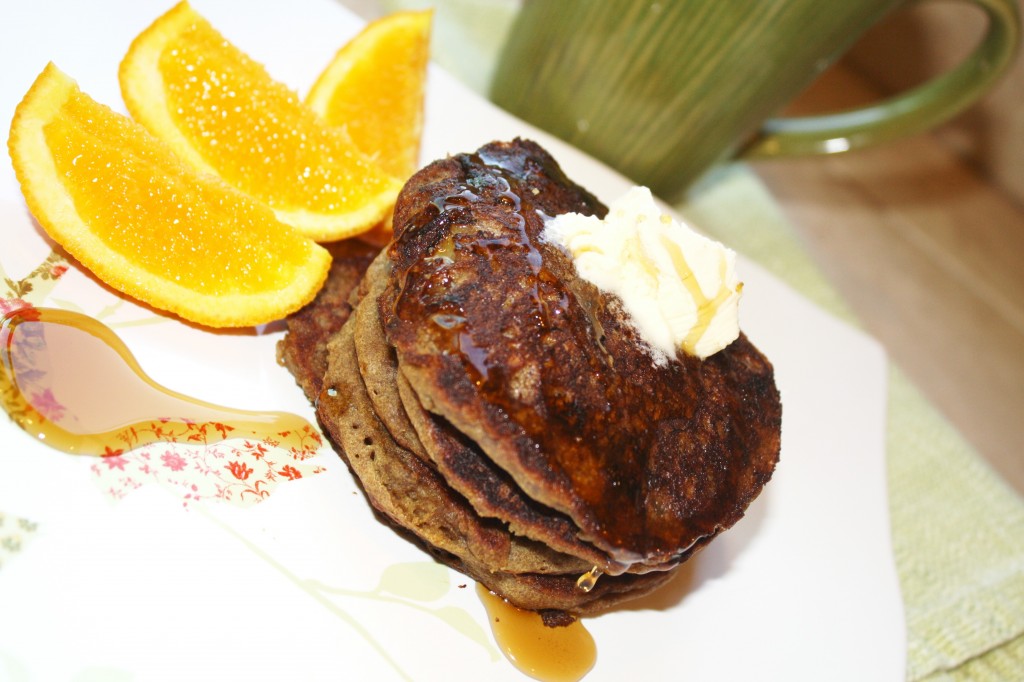 This recipe was shared on Real Food Wednesday, Gluten Free Wednesday, Slightly Indulgent Tuesday, Fat Tuesday, Tasty Tuesday, Traditional Tuesday, Hearth & Soul,Gluten Free Wednesday, What's Cooking Wednesday, Healthy 2 day Wednesday, Whole Foods Wednesday, These Chicks Cooked, Cast Party Wednesday, Frugal Days Sustainable Ways, Kids in the Kitchen, Full Plate Thursday, Thriving on Thursday,Pennywise Platter, Fight Back Friday,Wellness Weekend, Sugar Free Sunday, Melt in Your Mouth Monday, Monday Mania, Seasonal Celebration, Make Your Own Monday,