I adore the fall, it is my favorite season.
In my garden every year, I have a plethora of winter squash and pumpkins coming to maturation…a huge highlight in this household!  In my very limited garden space, I always choose to devote a lot of square footage for them, and they DO take up a lot of room!
I love the colors, I love the flavors, and they are so good for you!
For this recipe, I baked my very first Cinderella pumpkin.  I have read many posts where people say cooking your own pumpkin is not worth the hassle…but I disagree!  There is a flavor and texture that come from fresh pumpkins that can not be beat.  It is like saying that fresh tomatoes and canned tomatoes are the same thing: they are not.  There is nothing wrong with using canned, but if you have the choice…give it a whirl (literally!).
There are many varieties that cook up wonderfully.  My favorites (that I have tried) are Sugar Pie, Cinderella, Sweet Meat,  Kabocha, and Fairytale pumpkins.  Butternut and Buttercup squash are also outstanding.  Pick up something that catches your eye at the farmer's market: there are so  many pretty ones!  Just know that your average jack-o-lanterns are not intended for consumption..unless we're talking about your worms in a worm bin!  Find a heavy dense one that feels very firm.  I devoted a whole post on how to cook winter squash and pumpkins.
L to R, Buttercup, Cinderella, Butternut, and Sugar Pie
COOKING TIP:  To make your own squash/pumpkin puree see this post!
LUNCHBOX TIP: Freeze individually sliced pieces of bread for your lunchboxes!
Makes 4 mini loaves or 1 1/2 regular loaves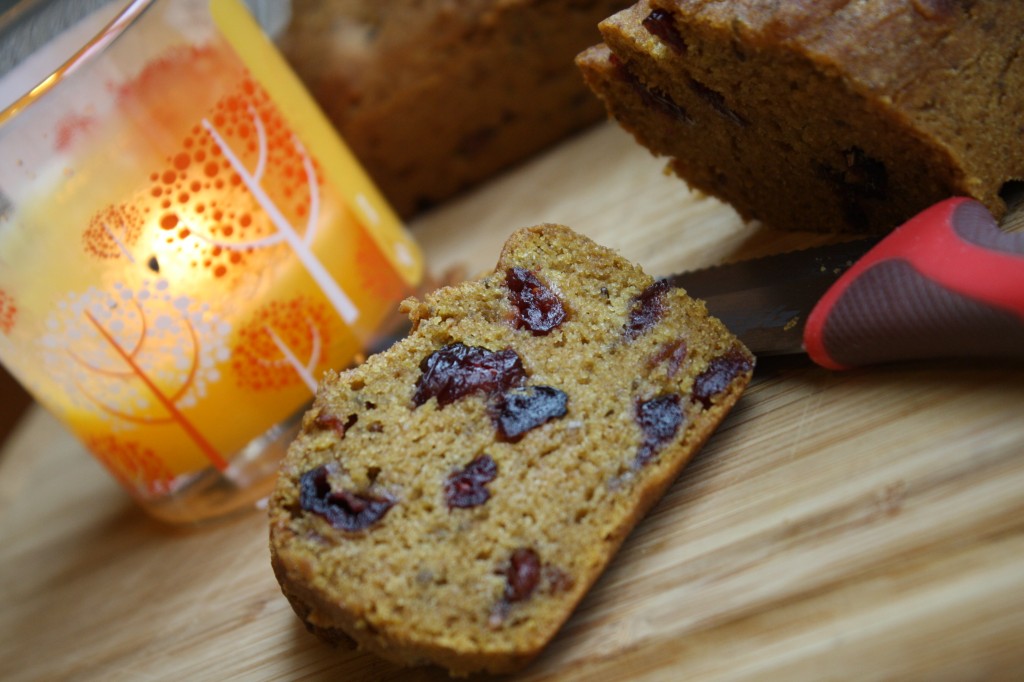 This recipe was shared on Real Food Wednesday, Healthy 2Day Wednesday, Wildcrafting Wednesday, Frugal Days Sustainable Ways, Thank Your Body, Full Plate Thursday, Cultured Palate, Pennywise Platter, Simple Lives Thursday, Whole Foods Friday, GF Friday, Wellness Weekend, Fight back Friday. Simple Meals Friday, Healing w/ Foods, Lunchbox Love, Healthy Vegan Fridays, Potluck Party, Mostly Homemade Mondays, Natural Living Monday, Make Your Own Monday, Tasteful Tuesday, Fat Tuesday, Slightly Indulgent Tuesday, Tuesday Talent Show, Hearth & Soul, Traditional Tuesdays, GF Tuesday, Waste Not Want Not, GF Wednesday,