Fall and Winter almost beg for the warm comfort of creamy soups.  I am sure it has something to do with all that chilly weather, but nothing satisfies on a cool evening better than a steaming bowl of soup.
I love this soup because it goes together so quickly with relatively few, simple ingredients.  There is nothing too fancy for a wary child's palette, and it is creamy without being laden with cream and fat. You won't believe there is no cream in this recipe!!
This would be delicious with with either my Corn-Free Millet Cornbread or Gluten and Dairy Free Biscuits.
LUNCHBOX TIP:  This soup travels well in a thermos for lunch!
PALEO OPTION: I have use half sweet potato and half cauliflower to replace the white potato in this, and any grain free flour can be used..I would suggest part almond, part coconut (reduce by 2 tablespoons, coconut flour is more absorbent).  For AIP, use only cauliflower, and only use a small amount of coconut flour if you want it thicker!  Leave the butter out, unless you tolerate ghee!
**It is important to note that 'plain' non-dairy milks often contain some sugar.  For savory dishes like this, I like to be sure and use an 'unsweetened' variety, which will be stated explicitly on the carton.  You can also look at the grams of sugar on the nutrition label to be sure.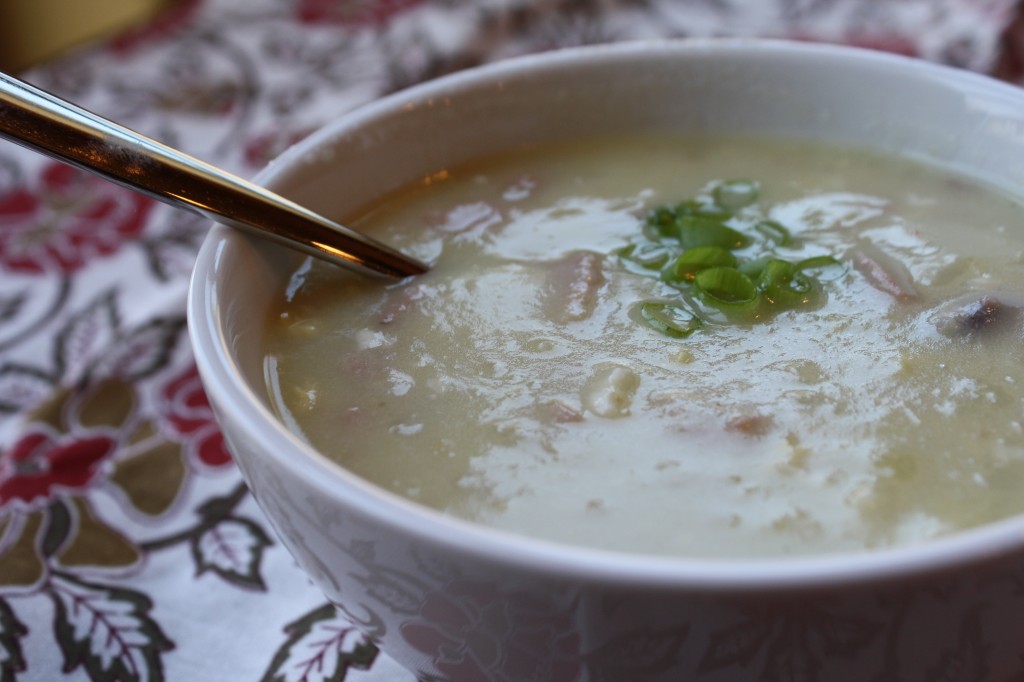 This recipe was shared on Slightly Indulgent Tuesdays, Fat Tuesday, Hearth & Soul, Traditional Tuesday, Tuesday Greens, GF Tuesday, Waste Not Want Not, GF Wednesday, Health 2Day Wednesday, Real Food Wednesday, Simple Lives Thursday, Thanks Your Body, Tasty Traditions, Pennywise Platter, Frugal Days Sustainable Ways, Fight back Friday, Whole Foods Friday, Simple Meals Friday, Lunchbox Love, Paleo AIP ROundtable,