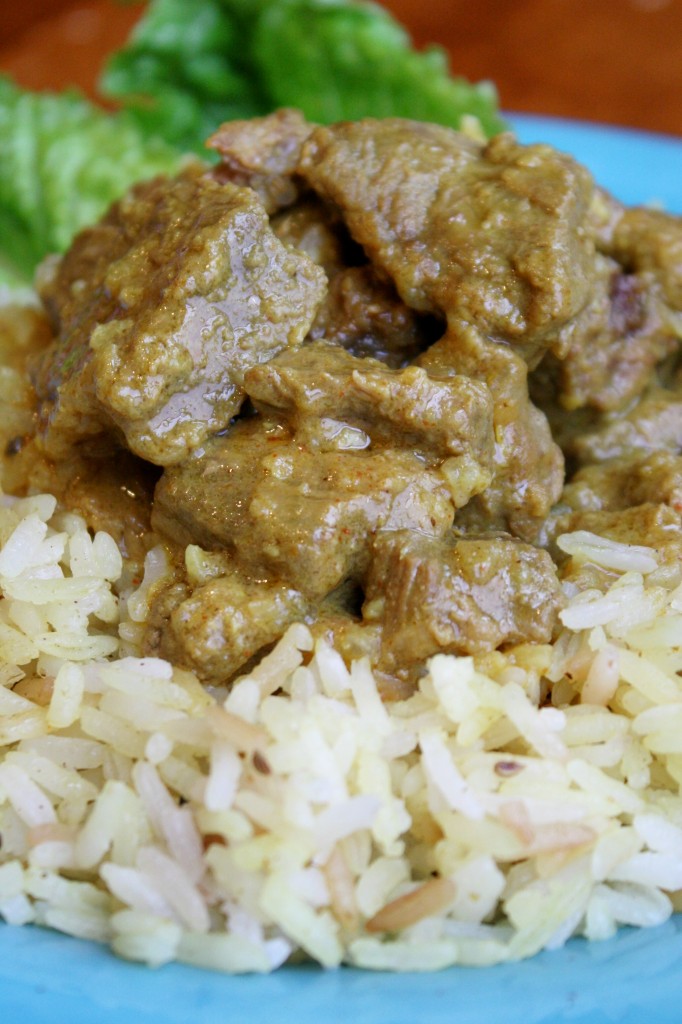 This recipe came from  Madhur Jaffrey's Quick & Easy Indian Cooking
.  My husband and I really love Indian food, but it can be really rich in the restaurants and loaded with allergens!
I like making our own to control the quality of ingredients and and type of fat going into the dish.  This a super flavorful, slowly simmered meat, a favorite of my husband's.
Your taste buds will do a little dance when they encounter all the lovely flavors.  We serve ours with some crispy soccas, Indian seasoned rice, and some vegetables.  If gluten is still on your menus, Trader Joe's has several great varieties of naan, some fresh, and some frozen!
PRESSURE COOKER OPTION:  I've included a pressure cooker option for you too in the recipe!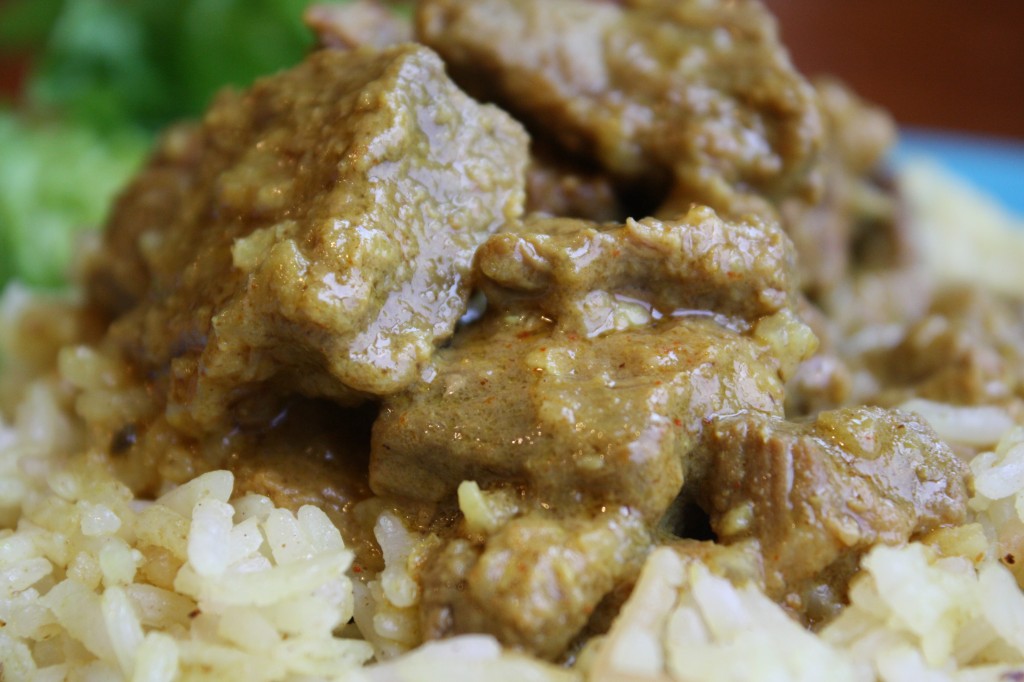 Tender Indian Meat Cubes- Vindaloo
Prep time:
Cook time:
Total time:
Ingredients
SPICE PASTE:
1½ tablespoons grainy mustard or Dijon
1½ teaspoons cumin
1½ teaspoons turmeric
½ teaspoon cayenne pepper (omit or reduce for spice-sensitive, or increase if you like a spicy punch)
1 teaspoon salt
2 teaspoons red wine vinegar
REMAINING INGREDIENTS:
2 tablespoons high-heat oil
1 small onion, chopped
6 large cloves garlic, minced
1¼ pound boned roast (I have used pork, lamb, AND beef), cut into 1 inch cubes
⅔ cup canned coconut milk (shaken well first!)
⅔ cup water
Instructions
Mix the spice paste together and set aside.
Heat the oil over medium-high heat. Cook the onion until softened and turning brown.
Add in the garlic, stir fry for 30 seconds, then add the spice paste.
Stir fry for another minute, and then add the meat cubes, stir frying for several minutes.
Add in the coconut milk and water, stir to mix.
Bring to a boil, cover, and reduce heat to simmer for 60-90 minutes until meat cubes are tender. If it is overly saucy, I usually remove the lid and boil it to reduce the liquid. Likewise, if it seems overly dry, it's OK to add a few more tablespoons of water!
PRESSURE COOKER OPTION: Bring the mixture to high pressure for, cook for 15-20 minutes. Do a quick release, remove the lid, and boil off some of the extra liquid with a rapid simmer.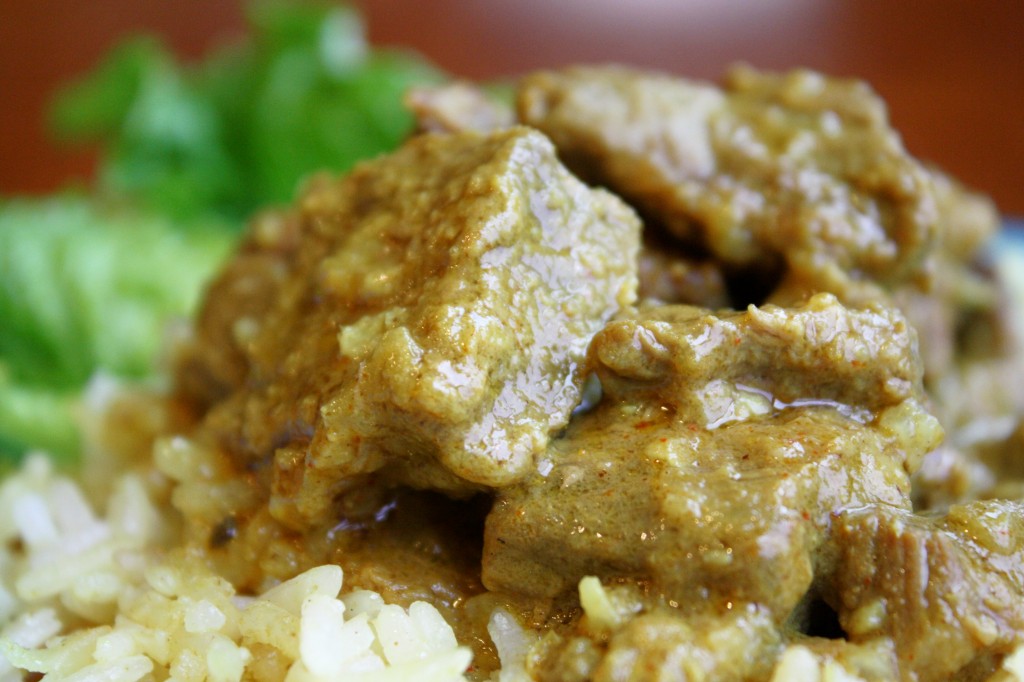 This recipe was shared on : GF Wednesday, Frugal Days Sustainable Ways, Kids in the Kitchen, Healthy 2Day Wednesday, Wheat Free Wednesday, Seasonal Celebration Wednesday, Wildcrafting Wednesday, Whole Foods Wednesday, Real Food Wednesday, Tasty Traditions, Thanks Your Body Thursday, Simple Lives Thursday, Keep It Real Thursday, Pennywise Platter, Fresh Bites Friday, Get Real Frugal Friday, Fight Back Friday, Simple Meals Friday,Make Your Own Monday, Natural Living Monday, Tasty Tuesday, Fat Tuesday, Slightly Indulgent Tuesday, Traditional Tuesday, Hearth & Soul,