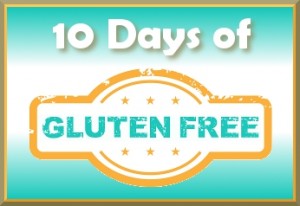 Thank you to Linda @ Gluten Free Homemaker for putting together such a great event!  Linda has pooled together 10 experts who each have chosen an area to focus on for daily, brief tips relating to starting or maintaining a gluten free lifestyle. You will need to visit each individual blog to see their daily tips and advise. I am happy to be participating and will be sharing tips on lunchboxes and snacks!
Here are the topics I've covered in this series of lunchboxes: Reusable Lunchbox Wares, Sweet GF Wrap Ideas, Packing a Balanced Lunchbox,  Stocking Up w/ an Oatmeal Snack Cookie, Lunch on a Stick, GF DF Dips & Spreads for a Lunchbox, 10 GF Wrap Ideas, Making Use of Leftovers, Muffins & Waffles for a Lunchbox?!, Top Foods for a Healthy Lunchbox,
Today's Theme: Lunch on a Stick!
I don't remember when I first thought to serve lunch with a toothpick….but it opened up a whole new world to me!  It's amazing how kids will try things based solely on the fact they are on a stick!!  I won't try to understand why novelty plays such a huge in kid psychology, but it does, and this is no exception.  Come along as we explore some 'lunch on a stick" ideas. Don't forget that many of these would be even more alluring with a tasty dip served along with it!
Note:  I have served these two ways: either skewered on long sticks, or all the bite size pieces in a reusable container and a toothpick so my kids can poke their own goodies.
What ideas can YOU conjure up for us?
Savory (see above):
Cubed deli meat (natural ones w/ no gluten fillers!), cubed allowed cheese (could even add cubes of your favorite gf bread here too!)
Leftover grilled meat and vegetables
Leftover roasted meat and vegetables
Carrots and celery (remember the dairy free veggie dip from Whole New Mom?) Other veggies would be good too: red pepper, cucumber, radish, etc.
Grilled Vegetables (I marinate mine in a lemon/garlic/olive oil and serve w/ a garlic aioli)
Favorite meat skewers