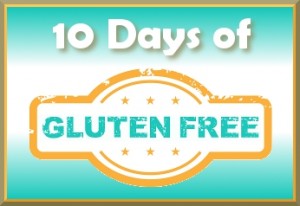 Thank you to Linda @ Gluten Free Homemaker for putting together such a great event!  Linda has pooled together 10 experts who each have chosen an area to focus on for daily, brief tips relating to starting or maintaining a gluten free lifestyle. You will need to visit each individual blog to see their daily tips and advise. I am happy to be participating and will be sharing tips on lunchboxes and snacks!
Here are the topics I've covered in this series of lunchboxes: Reusable Lunchbox Wares, Sweet GF Wrap Ideas, Packing a Balanced Lunchbox,  Stocking Up w/ an Oatmeal Snack Cookie, Lunch on a Stick, GF DF Dips & Spreads for a Lunchbox, 10 GF Wrap Ideas, Making Use of Leftovers, Muffins & Waffles for a Lunchbox?!, Top Foods for a Healthy Lunchbox,
Today's Theme: Lunch on a Stick!
I don't remember when I first thought to serve lunch with a toothpick….but it opened up a whole new world to me!  It's amazing how kids will try things based solely on the fact they are on a stick!!  I won't try to understand why novelty plays such a huge in kid psychology, but it does, and this is no exception.  Come along as we explore some 'lunch on a stick" ideas. Don't forget that many of these would be even more alluring with a tasty dip served along with it!
Note:  I have served these two ways: either skewered on long sticks, or all the bite size pieces in a reusable container and a toothpick so my kids can poke their own goodies.
What ideas can YOU conjure up for us?
Savory (see above):
Cubed deli meat (natural ones w/ no gluten fillers!), cubed allowed cheese (could even add cubes of your favorite gf bread here too!)
Leftover grilled meat and vegetables
Leftover roasted meat and vegetables
Carrots and celery (remember the dairy free veggie dip from Whole New Mom?) Other veggies would be good too: red pepper, cucumber, radish, etc.
Grilled Vegetables (I marinate mine in a lemon/garlic/olive oil and serve w/ a garlic aioli)
Favorite meat skewers
Sweet:
Pina Colada

: chunks of pineapple, banana, drizzled or served with coconut butter and toasted coconut

Fresh fruit

: Serve with one of the fabulous dips from yesterday's dips post!

Strawberry Shortcake

: strawberries, diced vanilla cake, and served with honey-sweetened marshmallow creme dip
Fudgey brownies and raspberries
Diced apples (tossed w/ a touch of lemon to prevent browning) served w/ nut butter dip
Don't forget to visit each blog to see other helpful advise and hints!
Getting Started – Linda @ The Gluten-Free Homemaker
Resources – Wendy @ Celiacs in the House
Traveling – Karen @ Gluten-Free Travel Blog
Eating Out – Heather @ Gluten-Free Cat
Frugal Tips – Janelle @ Gluten Freely Frugal
Cooking – Carrie @ Ginger Lemon Girl
Baking – Jules @ Jules Gluten Free
Kids – Lynn @ Lynn's Recipe Adventures
Shopping – Laura @ Gluten Free Pantry
"10 Days of Gluten Free" Bob's Red Mill Giveaway!
For this series, I will be offering one lucky reader a $25 Bob's Red Mill gift card!  Here are the rules:
This giveaway is limited to U.S. residents 18 and older.
You are allowed one entry per "10 Days of Gluten Free" blog post for a total of 10 entries on this blog.
Enter by leaving a comment (WITH an email address to contact you) on this post (and other 10 Days of GF posts).
The giveaway begins May 7, 2012 and ends at 11:59 pm eastern time on May 18, 2012.
Odds of winning are based on the number of entries.
The winner will be randomly chosen and will be contacted by email.
The winner will have 48 hours to respond. If the winner does not respond, a new winner will be randomly chosen!
This post was shared on Allergy Friendly Friday, Sugar Free Sunday, Mix it Up Monday, My Meatless Monday, Melt In Your Mouth Monday,  Make Your Own Monday, Monday Mania, Creative Corner, The Better Mom's Monday Linky, Real Food 101, Tasty Tuesday, Fat Tuesday, Slightly Indulgent Tuesday, Hearth & Soul, Kids in the Kitchen, What's Cooking Wednesday, Whole Foods Wednesday, Gluten Free Wednesday, Traditional Tuesdays, Real Food Wednesdays, Cast Party Wednesday, Frugal Days Sustainable Ways, This Chick Cooks,Full Plate Thursday, Thriving on Thursday, Pennywise Platter, Wellness Weekend, Fight Back Friday, Freaky Friday, ,  Fresh Bites Friday,  Foodie Friday, Friday Foodie Fix,