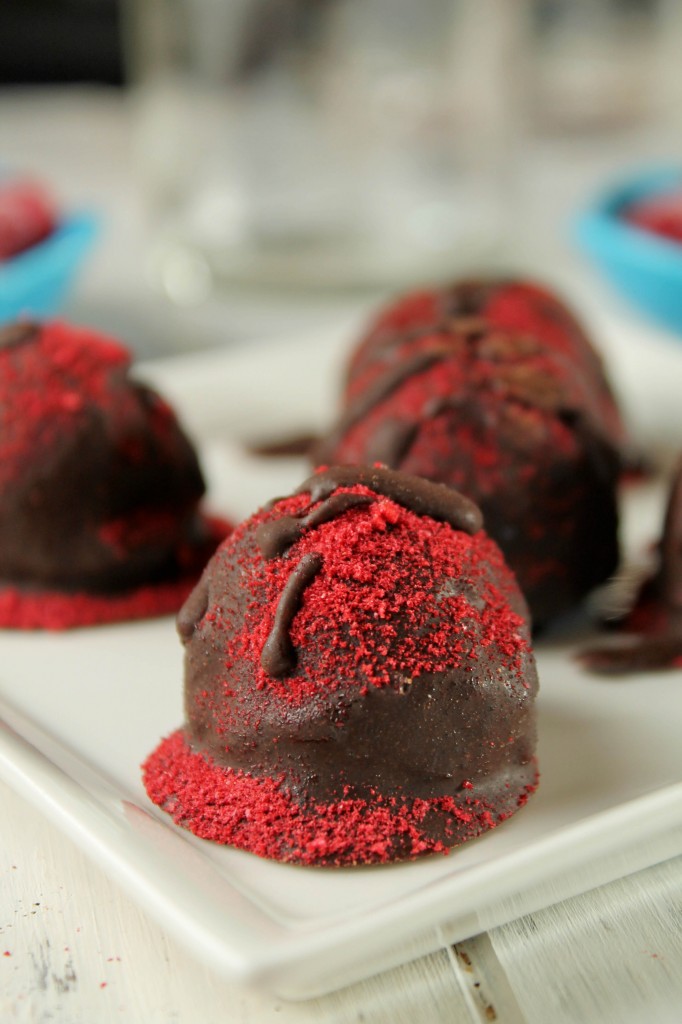 This post was shared with Paleo Parents as part of their ongoing Guest Blogger series!
Chocolate is one of those grey areas in the Paleo world.  Most conventional chocolate has sugar and soy.  Many have chosen to use the darkest chocolate possible (like me) in moderation, but making your own Paleo chocolates is actually quite easy!
They key players are: fat (cocoa butter is the most authentic), cocoa powder, and some sweetener.  I have used honey/coconut nectar, stevia, and palm sugar all with success.  They each have their own flavor profiles, and palm sugar needs to be dissolved in the warm fats to disappear.
The amount of sweetener I have used in these is quite low.  I like my chocolates pretty dark!  It is totally acceptable to add additional sweetener to match your preferences!  Too much additional liquid sweetener will make for a very soft and melty end product
however, so do not get too carried away!
In these luscious truffles,  I wanted to marry dark chocolate and tart berries, but using fresh berries with all their water content would be tricky.
Enter freeze dried berries.  These bad boys are easy to whir up into a fine powder in a blender and they pack a concentrated flavor punch!  I recently used them to create a Raw Strawberry Macaroon like Hail Merry's new flavor, yum!
These truffles are super dark chocolate with strong raspberry finish!  A few bites will satisfy that chocolate monster lurking within, promise!
INGREDIENT NOTES: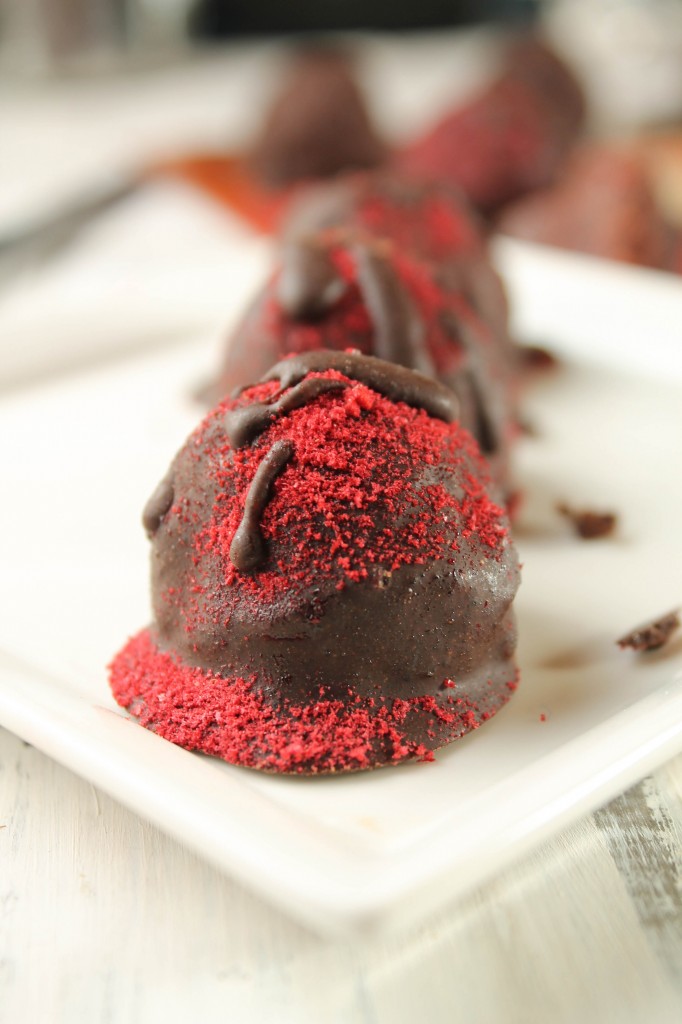 Paleo
Dark Chocolate & Raspberry Truffles
Prep time:
Cook time:
Total time:
Ingredients
¼ cup (2 oz) melted cocoa butter + 3 tablespoons for coating (see link above for what I use)
2 tablespoons coconut oil + 3 tablespoons for the coating
2 tablespoons coconut butter
½ cup cocoa powder, unsweetened + 3 tablespoons for the coating
1 bag freeze-dried raspberries, blended into a powder and sifted to remove seeds
1½ tablespoons honey or coconut nectar (to taste) + 1 tablespoon for coating
2 teaspoons vanilla extract
⅛ teaspoon sea salt
Instructions
In a small saucepan over low heat, gently melt ¼ cup cocoa butter and 2T coconut oil.
Once liquified, whisk in the coconut butter until smooth.
Remove from the heat and whisk in remaining ingredients (remember to sift those seeds out first so as NOT to have that seedy crunch!)
Taste the mixture and add more salt or honey if you like.
Pour into a bowl, place in the fridge to solidify (about 30 minutes or so). (If you are doing the rectangular or molded chocolate route, poor this warm mixture into your molds now and skip to step 7!)
When the mixture feels cool and ready to handle, remove and begin your molding. To keep my hands clean, I used a small cookie scoop. Additionally, you could roll the mixture into bite-sized balls with your hands!
Place back in fridge to firm up again while you prepare the coating, as necessary
For the coating: in the same saucepan over low heat, melt the remaining cocoa butter and coconut oil.
Once melted, remove from the heat and stir in the cocoa powder and honey.
Taste and add more sweetener if you like.
Using a toothpick or skewer, impale those waiting truffles and dip into the waiting coating. If you like your coating thicker, you will want the coating to cool a bit to thicken. I prefer my coating thin, so I start dipping right away.
Let all the extra coating drip back into the bowl, and place on a Silpat or parchment lined cookie sheet to cool.
Once solid, you can either drizzle some additional coating over the tops to dress them up or store them as is in an airtight container. These will hold at a cooler room temp (sorry South-westerners!), but I choose to store them in the freezer.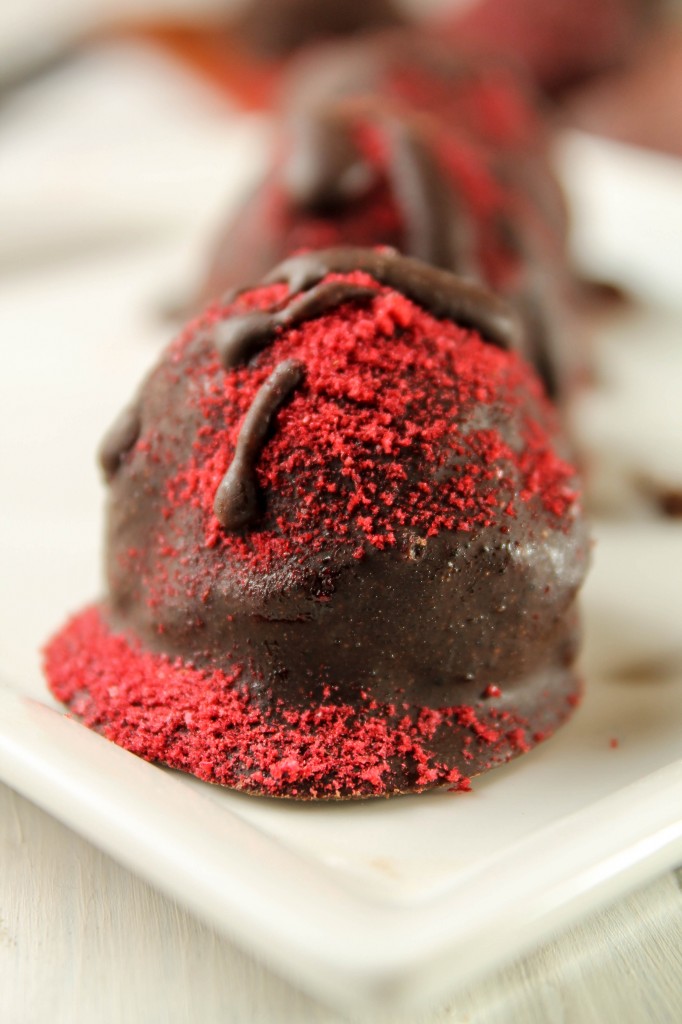 This post was shared with Raw Foods Thursday, Wellness Weekend, Fresh Bites Friday, Fight back Friday, Whole Foods Friday, GF Fridays, Potluck Berry Party, Healthy Vegan Fridays, Simple Meals Friday, Make Your Own Monday, Mostly Homemade Monday, Natural Living Monday, Fat Tuesday, Tasteful Tuesday, Slightly Indulgent Tuesday, Tuesday Greens, Hearth & SOul, Traditional Tuesday, Well Fed Wednesday, GF Wednesday, Frugal Days Sustainable Ways, Real Food Wednesday, Seasonal Celebration, Whole Foods Wednesday, Wildcrafting Wednesday, Healthy2Day Wednesday,
Any of the links in my posts may be affiliate links. If you click on them and make a purchase, I might make a commission. Your support is much appreciated and pays for the cost of running this free resource!