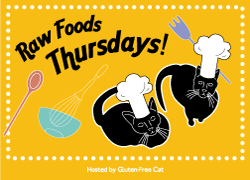 Welcome to Raw Foods Thursdays! While Heather @ the Gluten Free Cat is busy with her move to NYC the month of July, me and some fellow bloggers have offered to host Raw Foods Thursday for her.  Next week, Amber @ The Tasty Alternative will be hosting, so be sure and stop by to share something!
What do you have to share this week?
Here's how you can participate:
Simply link up a raw foods recipe (see What is Raw Food?), mention Raw Foods Thursdays, and link back to this post so your readers can join in the fun!
Please link to the recipe, not to a blog's home page, so we can all find your raw foods recipe.
You may link up a recipe that you've made in the past. Just make sure to share something different each time you participate.
Be sure to leave a comment letting us know who you are and what you're sharing.
Feel free to use the Raw Foods Thursdays blog badge created by the lovely, talented Heather Peters!
 What are Raw Foods Meals?
Plant-based meals that are not cooked.  Dehydrators may be used.  (The raw foods community has differing views on temperature, but the range is between 104 and 118 degrees.) Feel free to link up recipes that use a slightly higher temperature as long as they could be made at 118 with a longer dry time.
Raw Ingredients: vegetables, fruit, dried fruit, nuts, seeds, gluten-free sprouted grains, beans, and oils.
What isn't raw?
Anything cooked or heated above 118.
Anything processed.  If it comes from a can or a package that lists more than one ingredient, chances are it's not raw!
If your recipe contains an ingredient like maple syrup that makes your submission "almost raw", please share it anyway. Raw sweeteners are easy to substitute.
My picks from last week:
 Refreshing Tropical Ice Cream @ The Tasty Alternative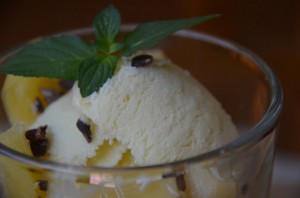 Cashew Fig Cream Stuffed Strawberries @ Gluten Free Cat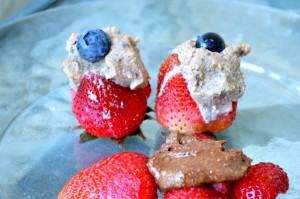 Raw Sour Cream & Onion Kale Chips @ The Taste Space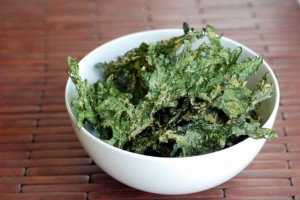 Any of the links in my posts may be affiliate links. If you click on them and make a purchase, I might make a commission. Your support is much appreciated and pays for the cost of running this free resource!