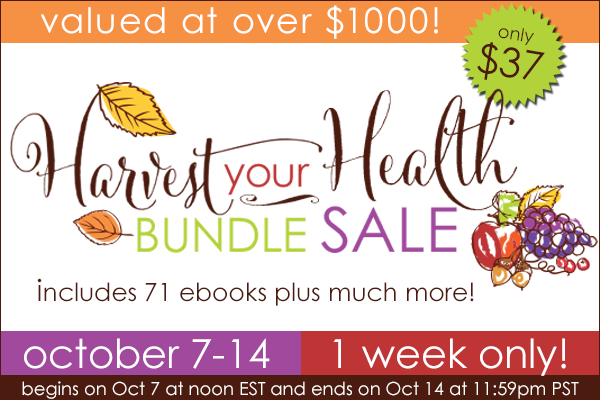 I am so excited to be participating in my first mega flash sale!  I was contacted sometime ago by the organizers and was excited to participate after viewing the PLETHORA of amazing books in this bundle!  The amount of valuable information in these books is mind boggling, and the price simply can NOT be beat!
By themselves, these books would cost a whopping $1038!  But for ONE WEEK ONLY, we can offer them to you for only $37, that is a savings of over 95%!  If I wasn't thrilled about this sale, I would not be doing it!

By the numbers
71 ebooks
22 discounts
4 meal plans
3 online magazine subscriptions
1 month to an online fitness plan
$1107 value when you add up the cost of all products
The most important number? There have been 4066 happy customers so far and you have less than 35 hours to be one of them!  The feedback has been overwhelmingly positive, and there have been many people emailing wondering if it is too good to be true…it's NOT!  I bought it too, and I am LOVING the content!
ALSO A GIVEAWAY W/ SOME HUGE PRIZES!  BUY A BUNDLE AND GET ENTERED!
Want some inspiration?  Some new research?  Ways to improve your health, or someone you know?  With over 71 titles…..whole foodies will jump for joy at all these resources!  Check out all the titles and coupons/discounts you will get: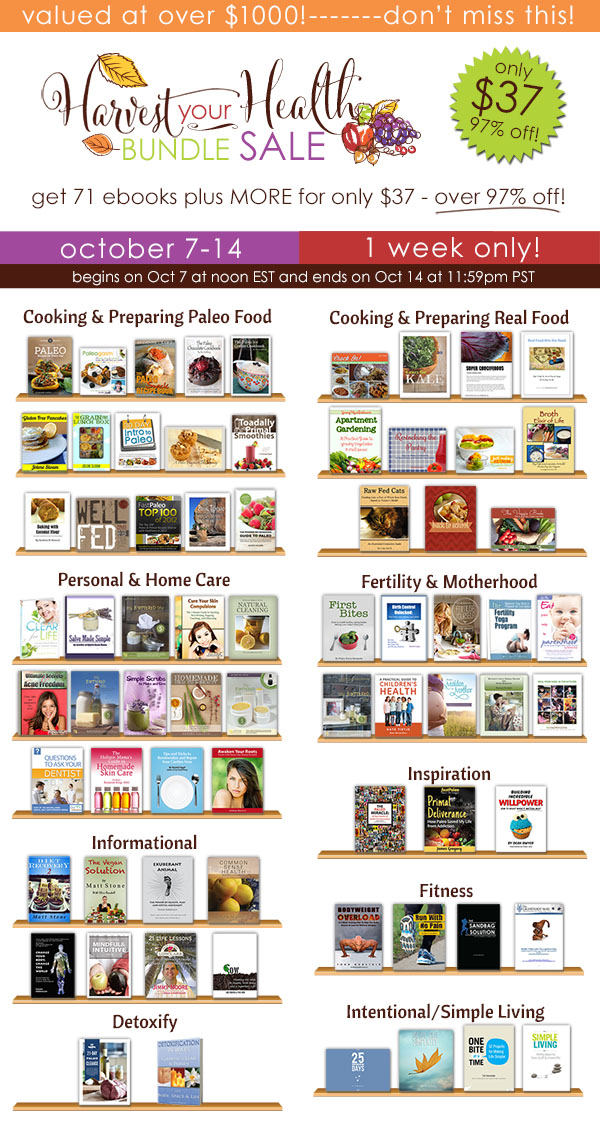 In addition to the eBooks, everyone who purchases a Harvest Your Health eBook Bundle gets a PDF with the following discount codes, magazine subscriptions AND FREE MEAL PLANS…
Online Magazine Subscriptions
Discounts
Meal Plans
Cooking/Preparing Paleo Food
Cooking/Preparing Real Food
Personal/Home Care (Skin, Hair, Teeth, Cleaning)
Fertility, Pregnancy, Babies, Children, Motherhood
Inspiration
Fitness
Intentional/Simple Living
Informational
Detoxify

Here are the nitty gritty details:
These sale prices end at 11:59 PST Monday, October 14th.
All books are emailed to your inbox.  You can download the PDF files on to your computer, or into any e-reader like Kindle, Nook, etc.
You can click on each book title above to learn more about the book.
You will also receive a PDF file with all your coupon codes and directions to sign up for the e-magazines and meal plans!
Ever bundle purchased through me gives me a small commission, THANK you for supporting me and this blog!
Any of the links in my posts may be affiliate links. If you click on them and make a purchase, I might make a commission. Your support is much appreciated and pays for the cost of running this free resource!