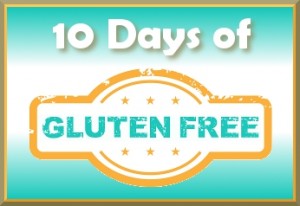 Thank you to Linda @ Gluten Free Homemaker for putting together such a great event! Linda has pooled together 10 experts who each have chosen an area to focus on for daily, brief tips relating to starting or maintaining a gluten free lifestyle. You will need to visit each individual blog to see their daily tips and advise. I am happy to be participating and will be sharing tips on lunchboxes and snacks!
Here are the topics I've covered in this series of gluten free lunchboxes:
Today's Theme: Dips & Spreads
Dips and spreads are an easy way to add zing to any vegetable, sandwich, or fruit within a lunchbox. Some dips are substantial enough to eat alone, and some are perfect for coercing interest in those fruits and vegetables that sometimes get ignored within a child's lunchbox. Here are some ideas to get your creative juices flowing!
SAVORY:
SWEET (all healthy and not a dessert in-hiding!):
Apple-Cinnamon-Yogurt Dip: consider using a plain allowed yogurt and using honey or stevia to taste. Commercial flavored yogurt has as much sugar as a candy bar, avoid it if you can! Another strategy is to mix a sweetened container w/ half plain to reduce the sugar by half.
Caramel Yogurt Dip: I would use palm sugar instead!
Raw Salted Caramel Dip@ My New Roots: Good land, this stuff is AMAZING!
Fruit Salsa: This is always a hit, and very easily adaptable to personal preferences. I usually leave the additional sugar out, or add a little bit of honey with the lime juice!
Marshmallow Creme Dip: I made my own honey sweetened marshmallow creme and mixed it with an equal amount of allowed cream cheese and enough milk to achieve the consistency I was looking for….delicious!
Low-Fat Peanut Butter Dip: One of my favorites…which I rarely make now since my son is IgE positive for peanuts…we avoid them and don't buy peanut products. Sigh! So stinkin good!Don't forget to visit each blog to see other helpful advise and hints!
Any of the links in my posts may be affiliate links. If you click on them and make a purchase, I might make a commission. Your support is much appreciated and pays for the cost of running this free resource!