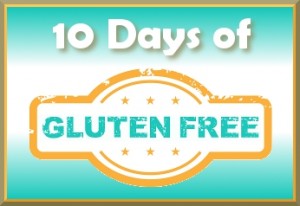 Thank you to Linda @ Gluten Free Homemaker for putting together such a great event! Linda has pooled together 10 experts who each have chosen an area to focus on for daily, brief tips relating to starting or maintaining a gluten free lifestyle. You will need to visit each individual blog to see their daily tips and advise. I am happy to be participating and will be sharing tips on lunchboxes and snacks!
Today is the very last day of our event! I hope you have all garnered some new and helpful information! To wrap my posts up, I want to leave you with a list of superfoods you should try and get into your lunchbox as often as possible! Some of you may not have even heard of some of these things, but I encourage you to spread your wings and horizons and nourish your body well.
Here are the topics I've covered in this series of gluten free lunchboxes:
Make the quality of your food comparable to the Rolls Royce and avoid the Pintos. Some foods will actually do something for your body, while others will actually hurt it.
Today's Theme: Top 5 Foods For a Healthy (dairy-free/gluten free) Lunchbox
Chia Seeds

: If you only try one new food from this list, this should be it! Chia seeds are nature's perfect little seed. I know, I know, is this the same thing as a Chia Pet?!! It is…but these seeds pack powerful punch: High in omega 3 fatty acids, antioxidants, fiber, calcium, phosphorus, magnesium, manganese, copper, iron, molybdenum, niacin, and zinc. It also has good gelling qualities that help slow the absorption of carbs, and help cleanse the bowels. Chia seeds have a very mild to non-existent flavor and can be added into baked goods, yogurt, or any liquid. Some people just eat a couple of spoonfuls and go about their merry way! Here is more info.
Nuts & Seeds , whole or butters: Touted to boost brain power and mood, these are loaded with healthy fats, protein, and other nutrients.
Coconut: Think oil, butter, milk, or dried & unsweetened. Coconut is loaded with fats that are easily digested by the body and converted into great energy. Coconut oil is easy to find now, I get mine at Trader Joe's or Whole Foods.

Fresh Fruit & Veggies

: We could all use more of these!! The darker and brighter the color, the better! Eat like a rainbow, it won't steer you wrong!

Whole Grain Flours

: Teff flour is my favorite. It has a mild nutty flavor that most people love. Refer to my GF Flour Nutritional Comparison chart to decide which flours to use MORE of and which to use less of!
Top 5 Foods to avoid or minimize (foods that can actually harm the body)
Refined Sugars

: try to avoid cane sugar, agave nectar, as much as possible. Our bodies can handle SMALL amount, but were never designed to handle the massive quantities we ingest in this country. I've read a lot of books lately on the subject, if you're interested, a great place to start to learn on the topic: The Bitter Truth. It is what started me on my sugar free journey and I encourage you take the time to watch it ( I have the rest of the books I read on the subject in my 'recommended products' tab)

Food Dyes

: Although many are banned in Europe, they are still FDA approved here. Many dyes have been proven to have dramatic effects on negative behavior and attention in some children. If it is made in a science lab, good rule of thumb is to avoid them and not put an experiment in your body!

White starches w/ no fiber

(white flour, tapicoa, corn, arrowroot, potato, white rice, sweet rice): These are fillers and straight carbs…if it all white, it means it is all starch and no fiber = no nutrition for your body. Think empty calories. And these carbs are processed very quickly in your body (fiber and fat slow down the digestion), spiking blood sugars.

Sweetened beverages: soda, juice, and CHOCOLATE MILK

! These beverages carry as much sugar as candy bars (20 gram for chocolate, 27 for strawberry)and have almost no redeeming qualities. Try to eliminate these from your family's diet and stick to water and unsweetened milks.

Artificial Sweeteners

(aspartame, sucralose, saccharin are the biggies): Again, FDA approved, but these were created in a SCIENCE lab and have only been proven safe by the companies that make them (wow, there's a shock!). Independent studies testing the safety of these 'sugars' overwhelmingly have big concerns.
Don't forget to visit each blog to see other helpful advise and hints!
Getting Started – Linda @ The Gluten-Free Homemaker
Traveling – Karen @ Gluten-Free Travel Blog
Eating Out – Heather @ Gluten-Free Cat
Frugal Tips – Janelle @ Gluten Freely Frugal
Cooking – Carrie @ Ginger Lemon Girl
Baking – Jules @ Jules Gluten Free
Kids – Lynn @ Lynn's Recipe Adventures
Shopping – Laura @ Gluten Free Pantry
Any of the links in my posts may be affiliate links. If you click on them and make a purchase, I might make a commission. Your support is much appreciated and pays for the cost of running this free resource!