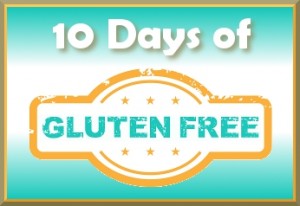 In celebration of Celiac Awareness Month, Linda @ Gluten Free Homemaker  has put together a great event full of resources!  Linda has pooled together 10 experts who each have chosen an area to focus on for daily, brief tips relating to starting and/or maintaining a gluten free lifestyle. You will need to visit each individual blog to see their daily tips and advise.
Here are the topics I've covered in this series of gluten free lunchboxes:
Today's Theme: Packing a Balanced Lunchbox & Getting Started!
When I first started on a my regular lunchbox packing endeavor, I knew I needed some tools to help me.  Kids are hard to feed sometimes, at least well, and lets be honest: whether packing a lunch for yourself or for your kids, we all get stuck in ruts and do the same things over and over again!  I am here to help you spice it up, keep it interesting, and most importantly, keep it BALANCED!! A body needs a little bit of everything to work and learn it's best.  Here are some strategies to help you get started:
FOOD GROUP CHECK LIST: We discovered a ready made list of all the food groups, with example foods listed below them (protein, wholegrain, fruit, vegetable, treat).  We have added and deleted foods to make it personal for our tastes, but this little check list is GREAT for taking the think out of busy morning lunch box stuffing.  And best of all?  My kids pick which items they want to go in, one from each category.
STOCK UP:  On the weekends (or whenever) we pick some recipes to make for lunchboxes.  We have our very own lunchbox cookbook that my kids fill with recipes THEY like.  The notebook is divided into the same food categories from the chart mentioned above.  They get to pick!  I wrap individual portions up and store them in the freezer so I can quickly grab and throw them in the lunchbox in the morning.
EASY BUTTONS: Don't underestimate the convenience of buying pre-washed and chopped vegetable and fruits….it is nice to have an easy button every once in awhile! Occasionally we can find great deals on healthy bars and pre-packaed items.  Have you ever check out Amazon's Warehouse deals?  Inventory changes daily, but great deals are to be had on lots of great gluten free items!
DOUBLE DUTY ICE PACK: Freezing healthy smoothies in small portions is a great way to keep lunches cool and fresh, and provide a yummy treat loaded with goodies!
IDEAS:  This is an excellent series I have used for lunchbox inspiration.  While many items aren't allergy friendly, much of it easily adaptable.
IDEAS: Kim over at Cook It Allergy Free also has a great printable list of over 50 allergy-friendly lunchbox ideas.
I will be sharing lots of recipes from here on out, so please come back tomorrow for some new and creative ways to fill your gluten free lunchbox!
I am happy to be participating and will be sharing tips on lunchboxes and snacks!  Here are the participating bloggers who will also be posting daily:
Getting Started – Linda @ The Gluten-Free Homemaker
Traveling – Karen @ Gluten-Free Travel Blog
Eating Out – Heather @ Gluten-Free Cat
Frugal Tips – Janelle @ Gluten Freely Frugal
Cooking – Carrie @ Ginger Lemon Girl
Baking – Jules @ Jules Gluten Free
Kids – Lynn @ Lynn's Recipe Adventures
Shopping – Laura @ Gluten Free Pantry
My goal for this series is to help people realize gluten-free lunches and snacks can still be great!  I hope to provide you with ideas that will help spice up YOUR daily fare with something you may not have thought of before.  Going gluten free is not a jail sentence: it's an opportunity to take care of yourself and feed yourself real, nourishing, and new foods.  Come along these next two weeks as we explore: Gluten Free Lunchboxes and Snacks!
Any of the links in my posts may be affiliate links. If you click on them and make a purchase, I might make a commission. Your support is much appreciated and pays for the cost of running this free resource!