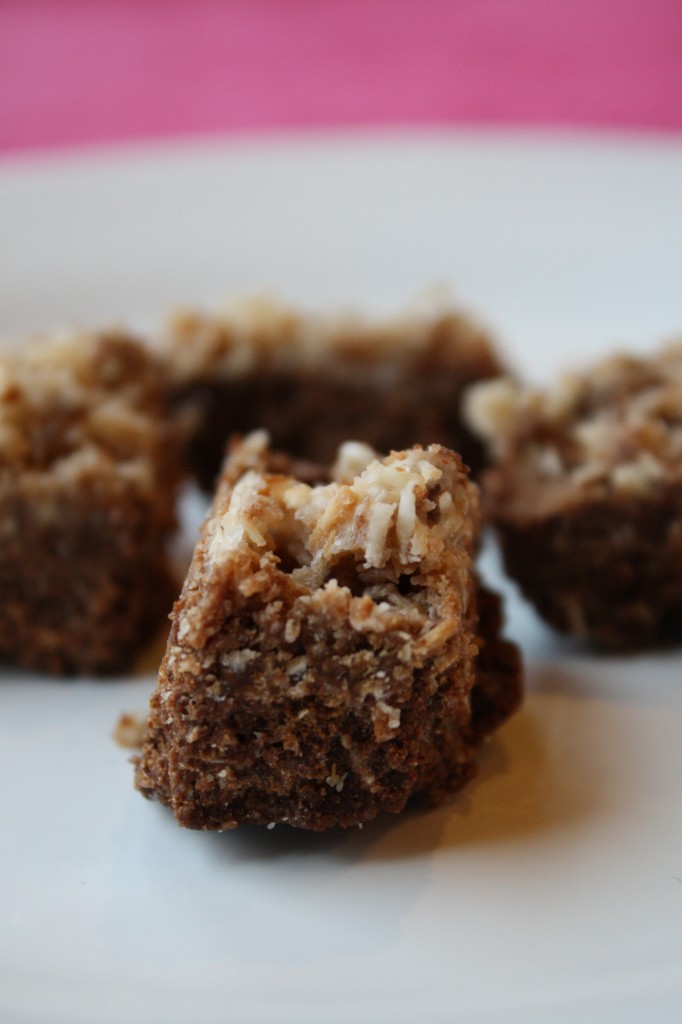 I asked Adrienne over at Whole.New.Mom if I could share her wonderful recipe on my blog. She is a very talented mom blogger, check her out! Chocolate and coconut….need I say more?! These bars are HUGE improvement from the original candy bar…and you can read all the ingredients! These are not soft and squishy like the original bars, but have a lovely crunchy topping. I have tweaked the recipe only slightly here. You can see Adrienne's original recipe too for more ingredient substitutions! These would make a fun candy to give away for the holidays…IF you're feeling generous!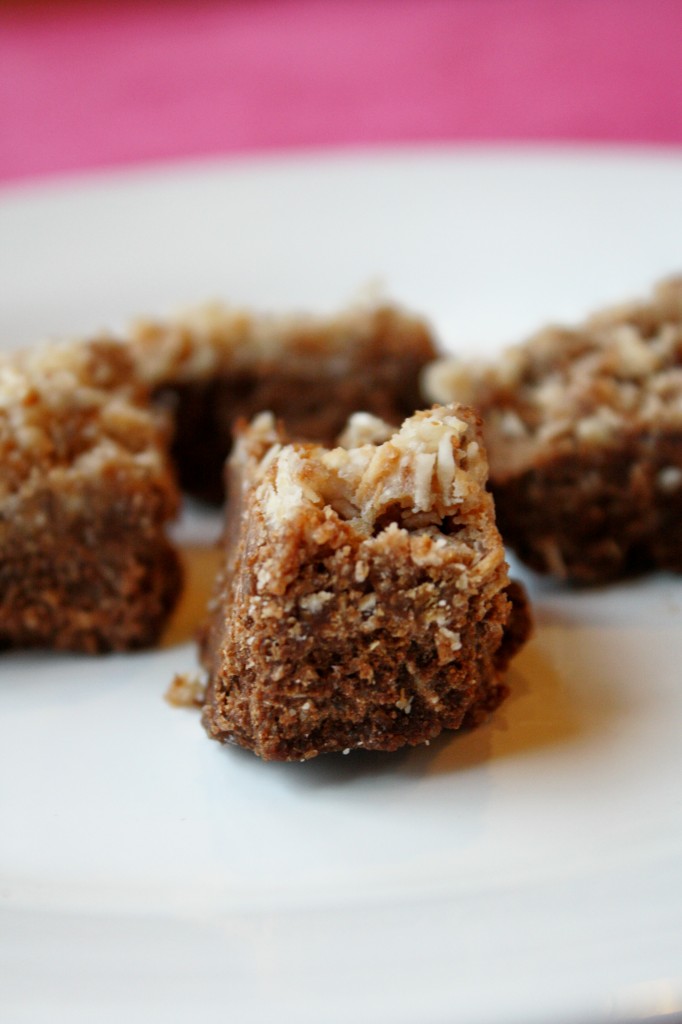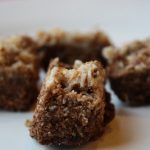 Paleo Almond Joy Bars
Ingredients
Chocolate Base:

1/2

cup

coconut oil

1/2

cup

almond butter

any nut or seed butter would work, but almond is especially nice.*

1/4

cup

granulated sweetener

I used palm sugar

6-8

Tbsp

cocoa powder

I used 8, of course!

3

Tbsp

honey or agave

1

tsp

vanilla

Coconut Topping:

1 2/3

cup

unsweetened grated coconut

split

7

Tbsp

coconut oil

1/3

cup

granulated sweetener

I used organic cane sugar

1 1/2

tsp

vanilla

2

tsp

arrowroot powder

cornstarch may be substituted

Almonds halves or slices

optional
Instructions
Preheat the oven to 350 degrees.

Base:

Melt oil and nut / seed butter over low heat. (This is important so you do not end up burning the chocolate!

Stir in cocoa powder

Mix in remaining ingredients. Continuously stir until it slightly thickens, and the sugar is dissolved, remove from heat.

Stir in vanilla.

Pour the mixture into an 8×8 pan and place in freezer to harden while you make the topping. For easy removal and slicing, line the pan with a piece of waxed paper or parchment, overlapping the paper over the side of the pan. When cool, the whole kit 'n' kaboodle just lifts out!

Topping:

Toast 1/2 of the coconut in the oven by spreading on a cookie sheet and placing in the preheated oven for 3-4 minutes. The coconut will be golden brown and smell toasted!

Melt oil in small pan and add coconut. Stir.

Add remaining ingredients. Simmer and stir until it thickens a bit.

Once the chocolate is hardened, gently smooth the coconut mixture on top.

Place slivered or whole almonds on top. Place bars back in the freezer until hardened. Again, the fridge will work, but it will take longer.

Slice into squares of desired size and enjoy! They'll probably be too hard to cut right out of the freezer so you may need to let them thaw a bit first.

Store in the refrigerator or freezer.
Any of the links in my posts may be affiliate links. If you click on them and make a purchase, I might make a commission. Your support is much appreciated and pays for the cost of running this free resource!