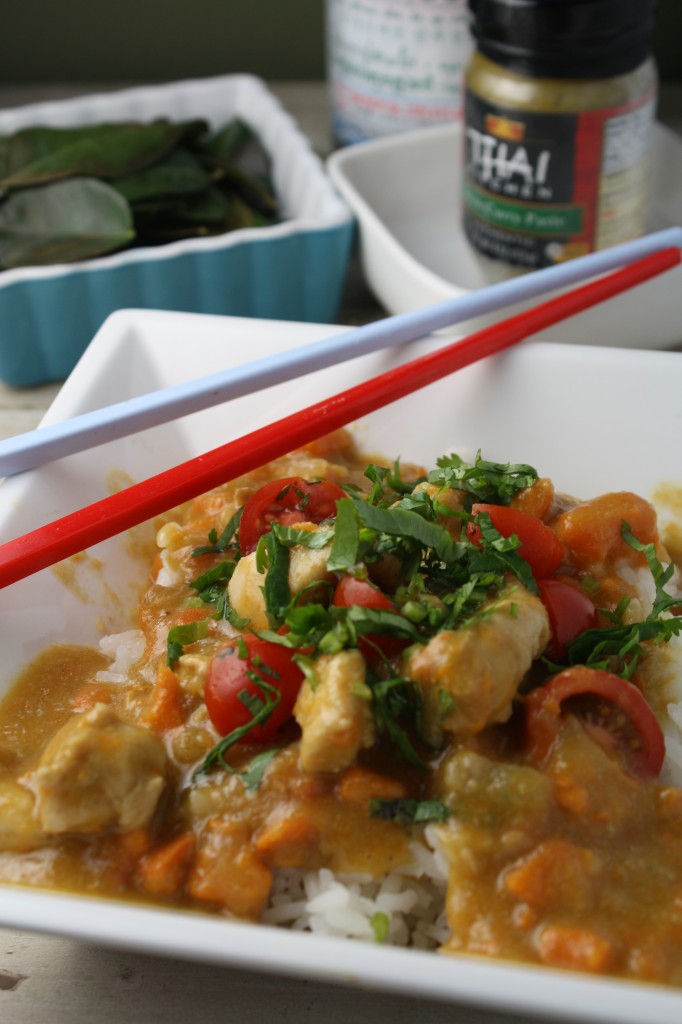 This was one of those nights where I knew I needed to to go to the grocery store, but it felt like just one more notch in my 'things to do' just might send me to the looney bin with all the other moms who are negotiating multiple tasks on any given evening.
I have told you before about my OCD about vegetables on the plate….and normally, green curry is the perfect carrier of multiple veggies right in the sauce.
But do you think I had anything green worth putting in this?  Not even close.  Only the hardiest of fruits and veggies stood edible in my drawers, and the rest were either consumed over the last week or were destined for my worm bin.
Not wanting there to be no veggies in this at all, I thought I would give a not-so -traditional curry veggie a try: sweet potato.  Good ole root vegetables to the rescue!  And you know what?  I'd do it again!
The sweetness of the yam marries well with the spicy creaminess of the sauce.  Normally of course, I would also add green beans, bell peppers, broccoli, maybe some eggplant.  So use the veggies YOU like, and give the sweet potato a whirl, quite delicious!!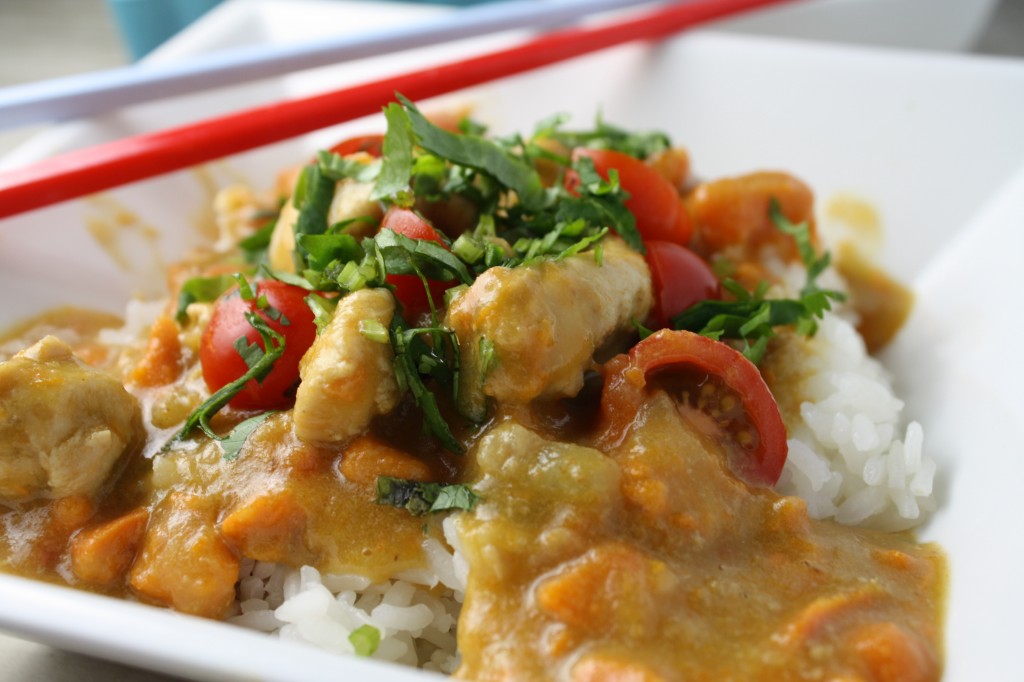 **Note: Lime leaves are found in any Asian market in the frozen foods section, about a $1.00 for a bag of 100.  Some well-stalked grocery stores also carry them, in the produce section.  If you can't find these, you could try using lime  zest and juice instead, although I have not tried this myself.  Lime leaves store in the freezer and are great additions to lots of Asian foods.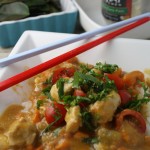 Thai Green Curry w/ Chicken
Ingredients
1.5

pounds

boneless skinless chicken thighs or chicken breasts

chopped into bite size pieces

3

tablespoon

Green Curry Paste 9 we use Thai Kitchen)

1-2

stalks trimmed lemongrass

cut into 6" pieces and smashed with a mallet to release its flavor (almost all well-stocked grocery stores carry this in the produce section)

1

medium onion

halved & thinly sliced

12

kaffir lime leaves

see note above, or 1 tablespoon lime zest and a bit of lime juice to taste

1

pound

or 3-4 cups bite size vegetables of your choice. I have used sweet potato, broccoli, eggplant, green beans, tomatoes, red bell pepper.

1 13.5-

ounce

can coconut milk

2

tablespoons

fish sauce

1-2

tablespoons

palm sugar

or brown sugar (may use 8-12 drops liquid stevia)

2

tablespoons

arrowroot or sweet rice flour plus 3T water for mixing
Instructions
Rub the curry paste all over the chicken pieces and set aside to marinate while you prepare the remaining ingredients.

Heat a large frying pan with a lid over medium-high heat,

Add 2T oil and saute the onion, lemongrass and lime leaves until fragrant.

Stir in the chicken, then let it sit undisturbed to get a nice brown underside.

Stir, and then add in the diced sweet potato over the top.

Shake the coconut milk can. Pour over the the chicken along with the fish sauce and palm sugar.

Place any raw veggies over the top, bring to a low boil, cover, and simmer until vegetables are tender, about 10 minutes.

In a small bowl, whisk the starch with enough water to make a liquid.

Add the mixture to the dish and stir gently to combine.

Cook until the sauce is thick and bubbly, and the veggies are tender. (I sometimes steam my veggies by themselves and serve them along with the sauce to make sure they are not mooshy).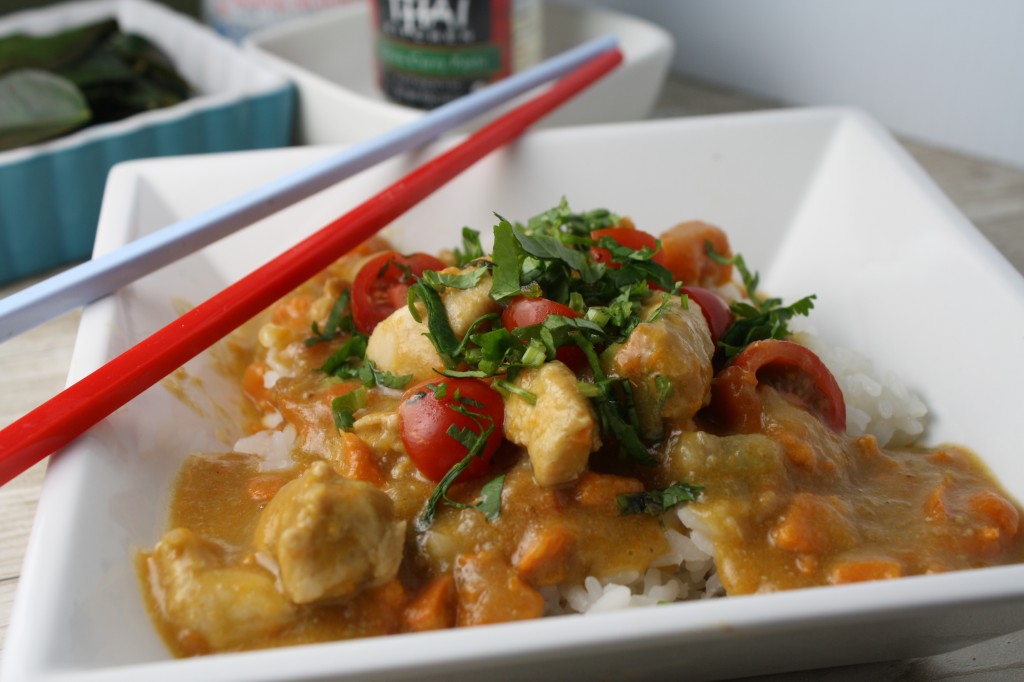 Any of the links in my posts may be affiliate links. If you click on them and make a purchase, I might make a commission. Your support is much appreciated and pays for the cost of running this free resource!