It has been quite a challenge prepping recipes for this blog.  I have to slow down and be very intentional about noting all the tweaks I make to individualize the recipes so that they can be recreated. For those of you in the glutenated world out there (OK, I made that word up!), go ahead and sub wheat flours!
In fact people, sub away….food preferences are so individual, just because I think something is amazing for my taste buds, you may need to tweak to make it so for yours.
The jury is still out on chocolate for me.  I love, no ADORE dark chocolate…but my little one keeps on reacting.  But maybe, just maybe, I figured it out.  Get this, because this was a surprise for me…baking powder?  Regular ole baking powder… is made with cornstarch!  Will wonders never cease?  Can they put corn in everything?  Geez Louise….sure makes my job difficult!
You know another surprise?  It's in powdered sugar too!
Today my little one is recovering from another corn reaction because I did a silly restaurant thing and didn't ask about the ingredients: Spaghetti Factory has gluten-free noodles, but…they use a corn and rice blend!   I know better, but sometimes it happens.
Well, enough about my corn woes, who wants to make some scrumptious dark chocolate raspberry muffins?  An amazing combination: dark chocolate and raspberry.  They marry well in these little gems, a cross between a muffin and a cupcake, they are begging for a cup of fresh coffee to be served along side them, enjoy! (Inspired by a glutenfreegoddess recipe)
** ( I made my own baking powder from 2 parts cream of tarter, 2 parts arrowroot starch, 1 part baking soda)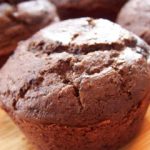 Chocolate Raspberry Muffins
Ingredients
1

cup

sorghum flour

1/2

cup

unsweetened cocoa powder

1/3

cup

brown Rice Flour

1/4

cup

millet flour

1/4

cup

potato starch

1/8

cup

teff flour

1

teaspoon

guar gum

Or replace gluten-free flours and gum with apx 1 3/4 cups wheat flour

1 1/2

teaspoons

grain free baking powder

1/2

teaspoon

baking soda

1/2

teaspoon

fine sea salt

1

cup

palm sugar

or other granulated sugar (I replace half with stevia equivalent)

1

cup

allowed milk-I used So Delicious Coconut Milk

1/4

cup

preferred light tasting oil

melted coconut oil, light olive oil, avocado oil

1

tablespoon

Ener-G Foods Egg Replacer or chia meal whisked with 1/4 cup warm water OR 1 egg

1

teaspoon

lemon juice

2

cups

frozen or fresh raspberries

1/2

cup

dairy-free chocolate chips
Instructions
Preheat the oven to 375 degrees F. Grease a muffin tin.

Whisk dry ingredients in a mixing bowl (through the palm sugar)

Mix in the wet ingredients.

Mix in your chcolate chips (if using)

Fold in the raspberries.

Fill muffin tins 3/4 full.

Bake in a preheated oven for 20-24 minutes until the tops are just set.
Any of the links in my posts may be affiliate links. If you click on them and make a purchase, I might make a commission. Your support is much appreciated and pays for the cost of running this free resource!