Sometimes, it is just easier to sneak good food into your kids without them realizing it.  This is especially the case with my middle child who promptly tries to remove ANYTHING resembling a vegetable from her plate.  If I sing song, "All food stays on your plate even if you don't eat it all!" one more time……well…you get the drift. I had loads of little things to use up in the fridge (which drives my admittedly anal sensitivities crazy) and came up with this recipe.  Everyone loved it  I hope I did a good enough job recreating the recipe for YOU all so it can be be recreated!  Very moist and divine!  I was going to make it as muffins, but my eldest picked the bundt pan.  Leave the chocolate chips out for a breakfast bread and add in some cranberries.
Mix the dry ingredients together: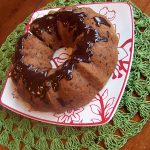 "Eat Your Veggies" Cake - Gluten Free & Vegan
Ingredients
1

cup

brown rice flour

1/2

cup

sorghum flour

1/8

cup

teff flour

1/2

cup

any starch

potato/tapioca/arrowroot

1

teaspoon

guar gum

or omit the above flours and gum and substitute apx 2 cups any wheat flour, I prefer whole wheat pastry flour

3

tablespoons

flax meal

1

cup

brown sugar

2

teaspoons

grain free baking powder

1

teaspoon

baking soda

1

teaspoon

salt

Add in :

1

cup

pureed sweet potato**

1/2

cup

light coconut milk

or any milk

1

tablespoon

Ener-G Egg Replacer whisked with 1/4 cup liquid or 2 eggs

1/2

cup

canola oil or coconut oil

Mix in:

1

cup

or more chocolate chips to taste. I used Enjoy Life Chocolate Chips
Instructions
Mix the dry ingredients together in a mixing bowl.

Add in the wet to combine.

If you need to add in a bit more milk to thin, go for it. The mixture should be like a regular ole muffin batter.

Place into a greased bundt pan and bake for 45 minutes until a knife inserted comes out clean.

Cool for 10 minutes and Invert on a cooling rack.

Melt 1/3 cup chocolate chips with 1- 2 tablespoons milk in the microwave to make a chocolate ganache frosting to spread as liked!
**I used a mixture of sweet potato, carrot, and a few pineapple tidbits as that is what I had on hand to use up.  I diced the carrot and sweet potato and boiled them in water, and then pureed them together with the pineapple in the food processor:  This is where the veggies and fruits come in, and the yummy moistness of the cake.  I imagine pureed prunes, bananas, roasted parsnip, winter squash or pumpkin, applesauce would all be good.  If you come up with a winning combo, let us know!
Any of the links in my posts may be affiliate links. If you click on them and make a purchase, I might make a commission. Your support is much appreciated and pays for the cost of running this free resource!