This is a fun recipe.  I grew up eating the regular Pop Tarts on occasion…but now I wouldn't feed them to my kids.  Even if they COULD do gluten.
When The Spunky Coconut did her Easter Holiday recipe round-up, this was one of the offerings by Kate Alice.  I tweaked it only a bit and made the kids quite happy.  I even had luck with leftover ones the next day in the toaster.
One batch makes about five  3″ X 4″ toaster tarts.  I think maybe making my own Nutella is next on the agenda:  it would be a heavenly filling in these I can bet!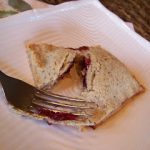 Healthy Pop Tarts
Ingredients
1/2

cup

almond flour

1/2

cup

oat flour

1/2

cup

millet flour

or all-purpose flour

2

tablespoons

flax meal

optional

2

tablespoons

light oil

avocado or light olive oil

1

egg

2

tablespoons

or less sugar

Jam of your choice

or cooked dates, or chocolate, or nut butters, etc
Instructions
In a bowl whisk the flours and sugar.

Mix in the egg and oil.

Shape the dough with your hands into a small rectangle.

Place it on a piece of parchment/baking paper or Silpat. Place another piece of parchment/baking paper over the top.

Roll flat with a rolling pin, until you have about a 12" X 6" rectangle of dough. You can notice the thickness of my dough in the picture, the dough is fragile, so make sure it is not too thin.

Cut the dough into five pieces (or smaller or bigger as you prefer), there is really no science, just make a shape you'd be happy with!

Place any filling you like onto half of the squares.

Wet the edges of the squares (this helps the dough stick). Put the other squares on top of the filled ones and press to seal along the edges.

Place in a 350 degree oven oven for around 15 minutes, until starting to brown.
Any of the links in my posts may be affiliate links. If you click on them and make a purchase, I might make a commission. Your support is much appreciated and pays for the cost of running this free resource!