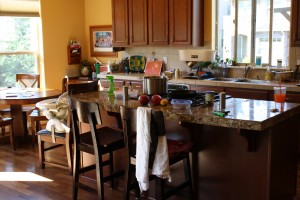 Here is my kitchen on a typical day, no staging!
In this post, I share my kitchen with you in the hopes you might be able to glean an idea or two to use in YOUR space!  What does a whole foods allergy kitchen look like?  What are some ways to organize all those helpful appliances and whole-foods ingredients?  I'll share some of things that I do to make my kitchen function well for me!
My kitchen is my haven, and it very well SHOULD be since I spend SO much time in it!  When we were looking for a larger home to accommodate our growing family, you can bet the kitchen was always the very first thing that caught my eye.  It was a happy day when we found a place that not only fit our budget, but also had a kitchen I loved!
Our house has a very open floor plan, and the being in the kitchen allows me to be connected to everyone on the first floor.  It is the largest kitchen I have ever had (and yet we still manage to cover the counters in an average day…so much for THAT theory!).  In fact, in my other houses, I literally gave away useful but infrequently used appliances simply because I did not have the space to store them!  While this may seem extreme to some people, when I started organizing homes for people, I quickly realized that the space you DO have needs to occupied with things that you USE the most frequently!  I became a master at maximizing space.  And while I have lots more space now, I still have a few tricks up my sleeve to help YOU in your kitchen!
Organizing a kitchen is nothing more than keeping things as close to where you need them and where you use them.  My coffee lives right above my coffee maker for example, and my spices and pots and pans are next to the stove where I use them.   Seems basic, but in practice, lots of people forget this.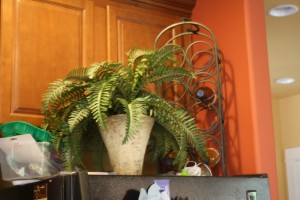 The top of a refrigerator is a great place to use up vertical space, if you have it.  Those common cupboards that no one can reach that lie above?  Mine are filled with things I almost never use (knee ice pack from my husband's surgery, and a grill insert to our stove that I will NEVER use b/c I don't want to clean it!)  Here you will see a small wine rack, well out of reach of baby hands, a splash of style with the green plant, epi-pens for quick access, and the kid's prize box.  You'll also notice I have a grocery list on the fridge, always accessible, because lets be frank: if I don't write it down, there is no way in HECK I am going to remember it at the grocery store!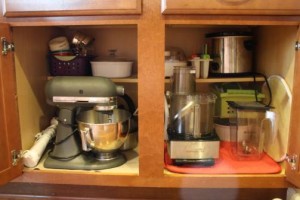 Next we have my small appliances cupboard.  Our cupboards are really deep, but anything stored in the back is kind of a pain to access.  Here I minimized this hassle by keeping the most used appliances in front.  The less used items are in the back, and containerized if they are small (all my cookie cutters, appliance attachments, etc). I also made use of a shelf divider to maximize the vertical space behind the appliances on the right.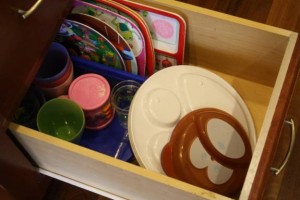 Next up are the kid drawers.  I have two drawers currently filled with all the kids dishes and cups.  They are easy for the kids to grab and use for themselves, and when they outgrow all this paraphernalia (oh please lord, can't wait!), these will be re-purposed.  Notice how I turn the plates on end to file them and use all the depth of the drawer.  Cups are within a basket so they don't fall all over the place.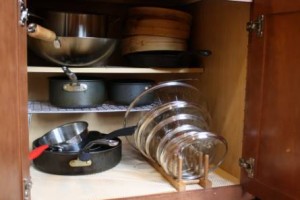 My pots and pan cupboard re-purposes a plate holder into a lid holder.  I have my beloved stainless steel and cast iron, and a few non-stick pans left for my husband who cooks everything on high!  I again used a shelf divider so that there was room to accommodate the pans and their long handles!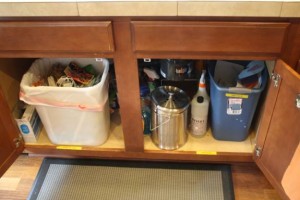 I am hoping most people recycle now a days.  Make it easier on yourself by having both a garbage and recycle bin under your sink or nearby.  It makes life much easier than running out to the recycle bin every time you need it!  This is also where my worm bin scraps live.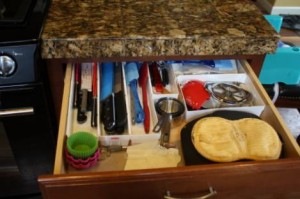 One not-so-great feature of my kitchen: they drawers are horribly shallow!  I store all my cooking utensils, compartmentalized by type within these.  I keep the bare minimum to keep the drawer organized and functioning smoothly.  If I added anymore, they'd constantly be getting stuck and jammed in the shallow depths.  And let me be frank, most people don't need 12 wooden spoons!!!  (You know who are collectors!, Hee hee!) I recommend knife covers to keep your fingers safe and your knives sharp if you store your knives in a drawer like this.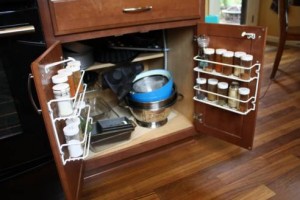 I love having my spices right at hand without being on the counter taking up space. Here is what I do (and here is an organizer like this_: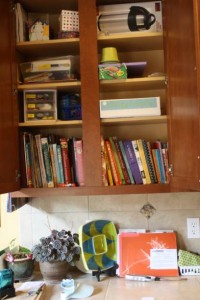 It's very hard to do (I could collect cookbooks, I ADORE them!), but I have limited my cookbook collection to this one shelf above.  I check most new books out at the library and decide if I must have them in my collection or not.    Below the cupboard, you will notice file folders within a recipe holder.  This I where I store printed recipes to test out, categorized by food course.  The upper shelves are loaded with items for the kids that have been moved here so they can't use them without my knowledge (I have had more than a few causalities with a curious kid and pair of scissors! Anyone ever had to re-string mini blinds?  Not a fun endeavor!).  There are also little beads and pieces I need up and out of the way of my son…although I am sure it is just a matter of time before he is up on those counters exploring…and then another change will be in order!  My systems constantly morph to fit my needs in the present.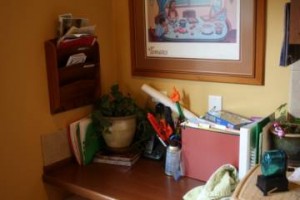 This area is our messy homework center.  Each kid has a file folder of projects and unfinished coloring pages.  When it's full, they clean it out.  There are also paper and project ideas stored here.  We also have a couple of things to make it look pretty….it was certainly worth a shot!! The wall sorter is used for to-go menus and coupons.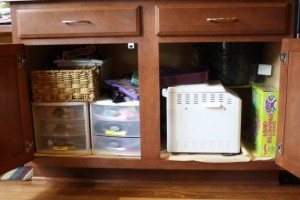 Here's a continuation of a project area for the kids.  They can grab coloring books, materials, and all sorts of crafty items down here when they want!  And there is a bread machine that is on the list of bye-byes in the near future (Don't find it useful for gluten free breads).
So there is my kitchen, at least most parts of it.   I hope you were able to glean at least one useful tip!  I did a whole post on how to organize a pantry complete with pictures and how-to.   Need any tips for some problem area in your kitchen?  Ask away, I am happy to brainstorm with you!
This post was shared on  Natural Living Monday, Mostly Homemade Monday,  Fat Tuesday,Tuesday Talent Show, Totally Talented Tuesdays, Tasty Tuesdays,  Hearth & Soul, Gluten Free Wednesdays, Waste Not Want Not, Wildcrafting Wednesday, Real Food Wednesday, Fresh Foods Wednesday,  Wellness Wednesdays,  Full Plate Thursday,  Simple Lives Thursday,  Pennywise Platter, GF Friday,  Real Foods Friday, Fight Back Friday, Simple Meals Friday, Savouring Saturday,
Any of the links in my posts may be affiliate links. If you click on them and make a purchase, I might make a commission. Your support is much appreciated and pays for the cost of running this free resource!