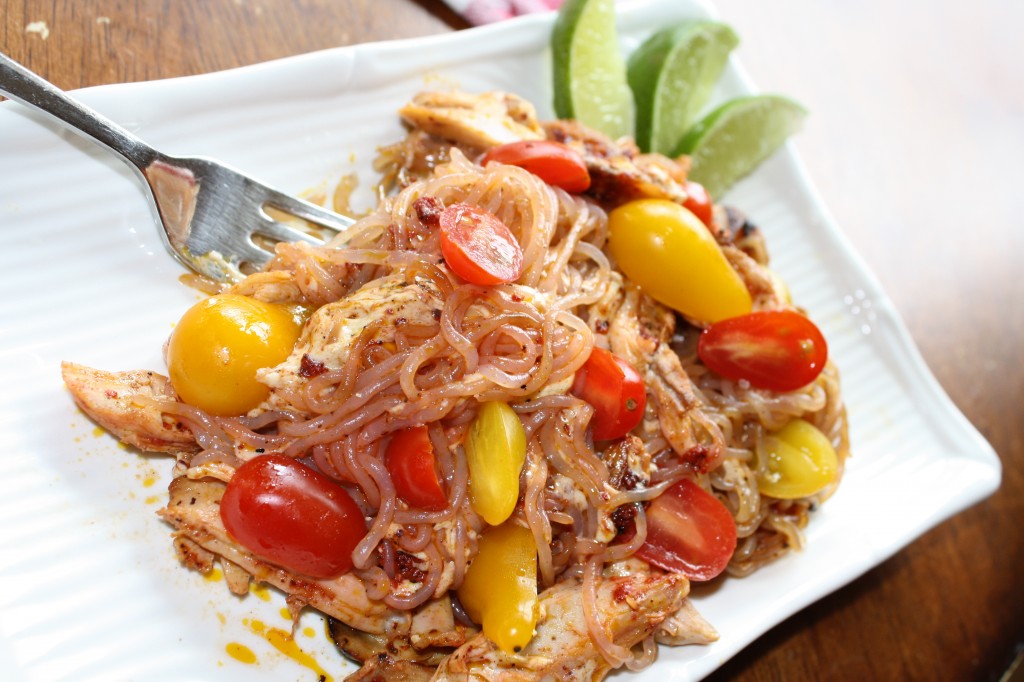 We recently returned from a family trip to see family in upstate New York. When we first got into town, I headed to the grocery store to stock up on all the 'yes' foods for our family (sound familiar to any of you out there with food issues?!)  Of course I brought a couple of things with us in case of any weird travel things (and trust me, we had PLENTY of those too…6 hours on the Chicago tarmac anyone?!).  The cost of checked bags encouraged me to minimize the number bags we checked, and that meant doing the shopping IN New York.  As I perused the gluten free aisle for any new, as yet undiscovered gems, my eye caught this strange looking bag filled with water and….noodles?! 
Noodles
?  What were these?!  Right there on the package, it is touting no calories, no carbs, no fat, no nothing?  Hmm….lets check out the ingredients for any weird unpronounceable items….water, yam flour, lime?  That looked OK too!!  So I just
had
pick some up and give these babies a go.  I was more than a little skeptical, but thought it was worth a couple of dollars to check them out!!  After throwing them together with some various leftovers in the kitchen, I was SO pleased!  It felt like I was eating a bowl full of rice noodles, hence a bowl full of calories, but NOPE!  I found the noodles to be a good filler and felt their texture mimicked rice noodles or bean thread noodles closest.  There was no weird taste, and I pigged out free of guilt!  I checked them out online, and Amazon had the "
Miracle Noodles
" brand for a better deal at $2.10/bag, so I went that route.  I have yet to see these in my local markets, but give them a try, a tasty no calorie filler for those who can afford to shave a few calories!
No exact recipe here, I just sauteed some leftovers together with the noodles and spices, use your imaginations!
Mexican theme
(shown): chicken, cherry tomatoes, chili powder, lime, Daiya Cheese, and hot sauce.
Asian
: any chicken/pork/tofu, tamari (soy sauce or coconut aminos), sesame oil, green onion, garlic, ginger, honey, broccoli, bok choy, bell peppers.
Thai
: Any protein, fish sauce, lime juice, raw agave, Sriacha, spinach, green beans, bean spouts.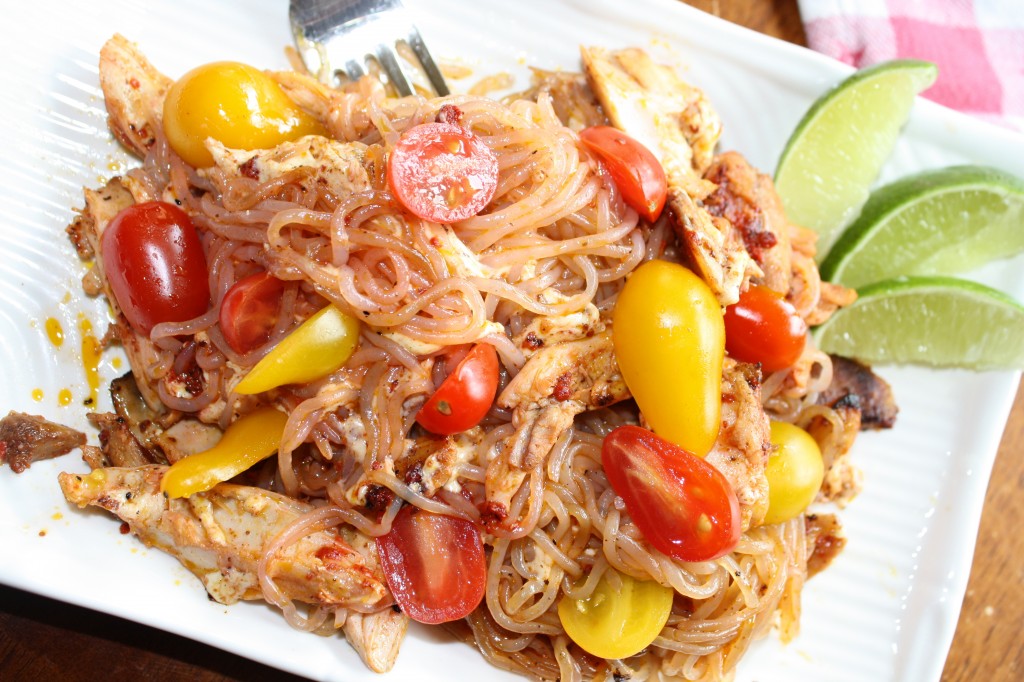 Any of the links in my posts may be affiliate links. If you click on them and make a purchase, I might make a commission. Your support is much appreciated and pays for the cost of running this free resource!