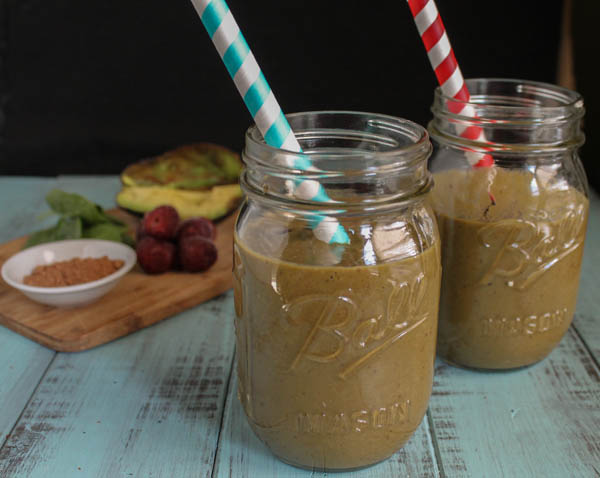 Smoothies are a busy mom's best friend.  They are also a life saver when it comes to getting LOADS of nutrients into our picky kiddos.
My 3rd child has pushed me further than I ever thought I could be when it comes to the finickiness of most children's palates.  It has been enough to almost drive me loco in tired moments.  And I know I am not the only one!
 Raise your hand if you have a picky kiddo in your midst!!  
(If you are one of those lucky ones with kids who eat a variety of nourishing and flavorful foods…well then, lucky you!  Your kids probably also slept through the night at 2 weeks old too, right?!  )
Smoothies are great way to feed our bodies in a pinch.  Quick, easy, and infinite possibilities.  When our local Costco started carrying organic frozen cherries, this smoothie was born and is a regular in our rotation.  It includes all the essentials in my book:
Healthy fats: avocado, great for skin, hair, and loaded with potassium. This is important for satiety as well.
Vegetable: while fruits are great…loading a smoothie up with pints and pints of fruit is not necessary and can overload systems with fructose.  So I like to make sure there is always some veggies in every smoothie, especially since picky kiddos get some valuable nutrients this way (I know my kids are not going to eat several cups of greens plain!)
Protein:  Key to keeping you full and providing a balanced meal.  We use gelatin as it is flavorless and so nourishing to our guts.  But greek yogurt, cottage cheese, nuts, and protein powders are all options here.
Low/No Sweetener:  No sense in taking a perfectly healthy meal and mussing it up with tablespoons of added sugar!  Sweetness is sometimes achieved by the fruit alone, but depending on the fruit's flavor (we all know perfect fruit is not always within our grasp, as much as we want it to be!)  When the smoothie needs a sweetness boost, we like to use stevia…Nu Naturals Clear Stevia is our favorite brand with no fillers and no bitter aftertaste.  Raw honey is another good option.
No Banana:  Ok, just kidding….but in my family, I am the only one who really doesn't like bananas in my smoothies…I'm weird, I admit it!
Enjoy this delectable smoothie…no one has to know it isn't a chocolate milkshake!
Head on over to the The Happy Housewife where I shared this recipe!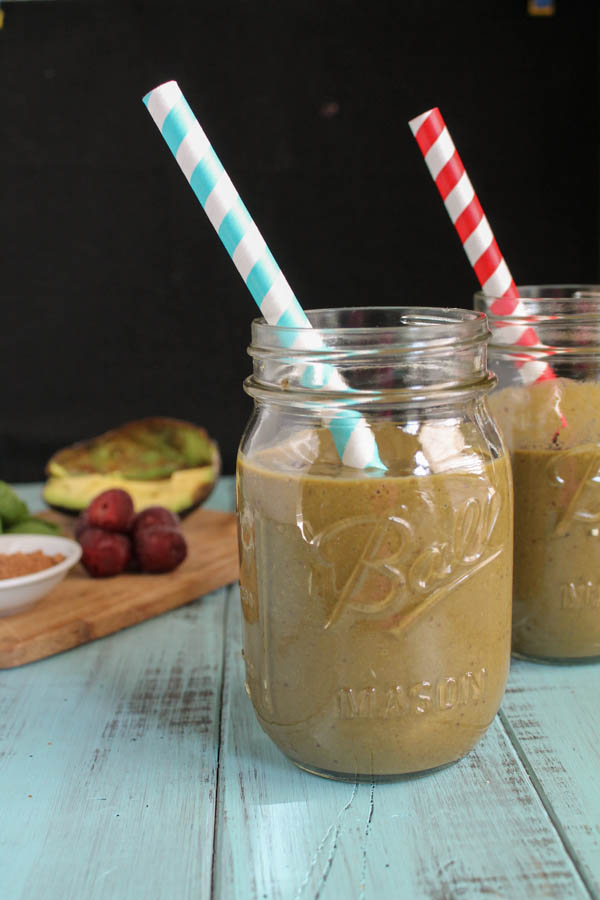 This post was shared with
Hearth & Soul, Fat Tuesday, Homestead Blog Hop, Waste Not Want Not, GF Fridays, Foodie Fridays, Let's Get Real, 
Any of the links in my posts may be affiliate links. If you click on them and make a purchase, I might make a commission. Your support is much appreciated and pays for the cost of running this free resource!