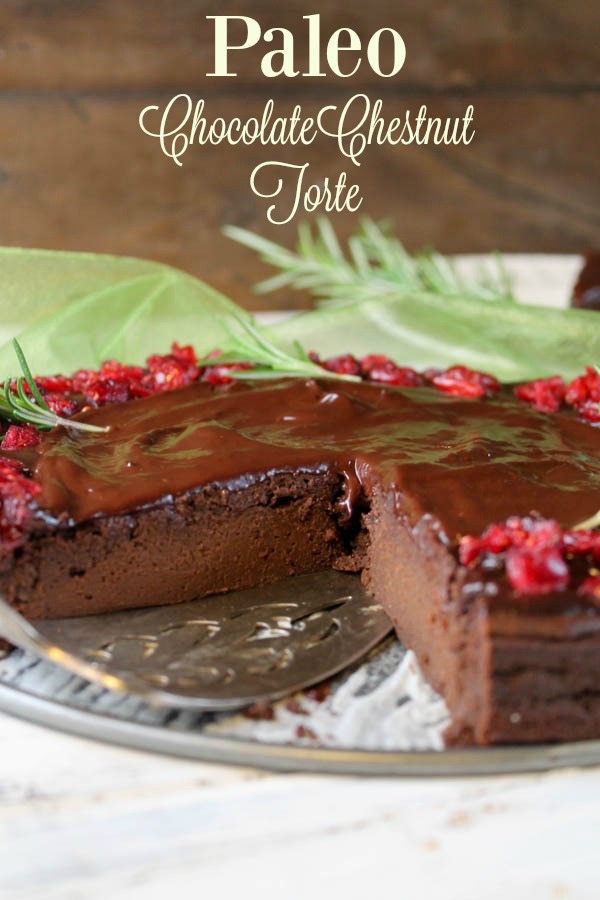 When it was time to come up with some new ideas for holiday fare, chestnuts were one of the first things to pop into my brain.  Seasonal, and totally speaking Christmas…I have always wanted to play around with them.
Italians use chestnut in many ways.  They eat them roasted, pureed with sugar and milk, as well as dried and ground into a flour to bake with.  I have seen very creative recipes with Thanksgiving stuffing, and some pretty amazing looking pasta dishes too.  Slightly sweet and nutty, the chestnut has a mild flavor and is easy to play with AND snack on.  I think they would be a great trail snack if you like to hike!!  Portable, loaded with natural sugars and starch, as well as a decent amount of fiber….they are a good energy boost!
I have added them to this decadent, rich, chocolate torte.  While I think they could be left out if you can not find them in the grocery store…they are worth trying!!  I purchased mine pre-peeled and roasted.
For the pictures, I added a glossy ganache (melted chocolate with coconut milk to thin) and the cranberries at the end…but this torte is good by itself!!  I think some tart leftover cranberry sauce on top would be fun too!
NOTE ON CHOCOLATE: I used unsweetened chocolate squares in my recipe as I could avoid the soy found in most commercial chocolate, and I could also choose the sweetener.  Any chocolate will work in the recipe, but you will have to greatly reduce the amount of sweetener if you use one that is already sweetened..start with a 1/2 cup total and go from there!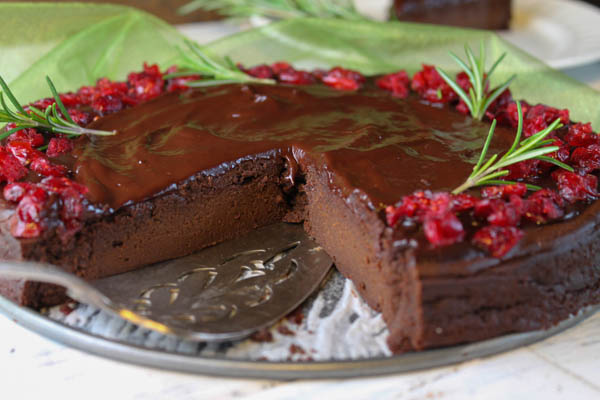 Any of the links in my posts may be affiliate links. If you click on them and make a purchase, I might make a commission. Your support is much appreciated and pays for the cost of running this free resource!