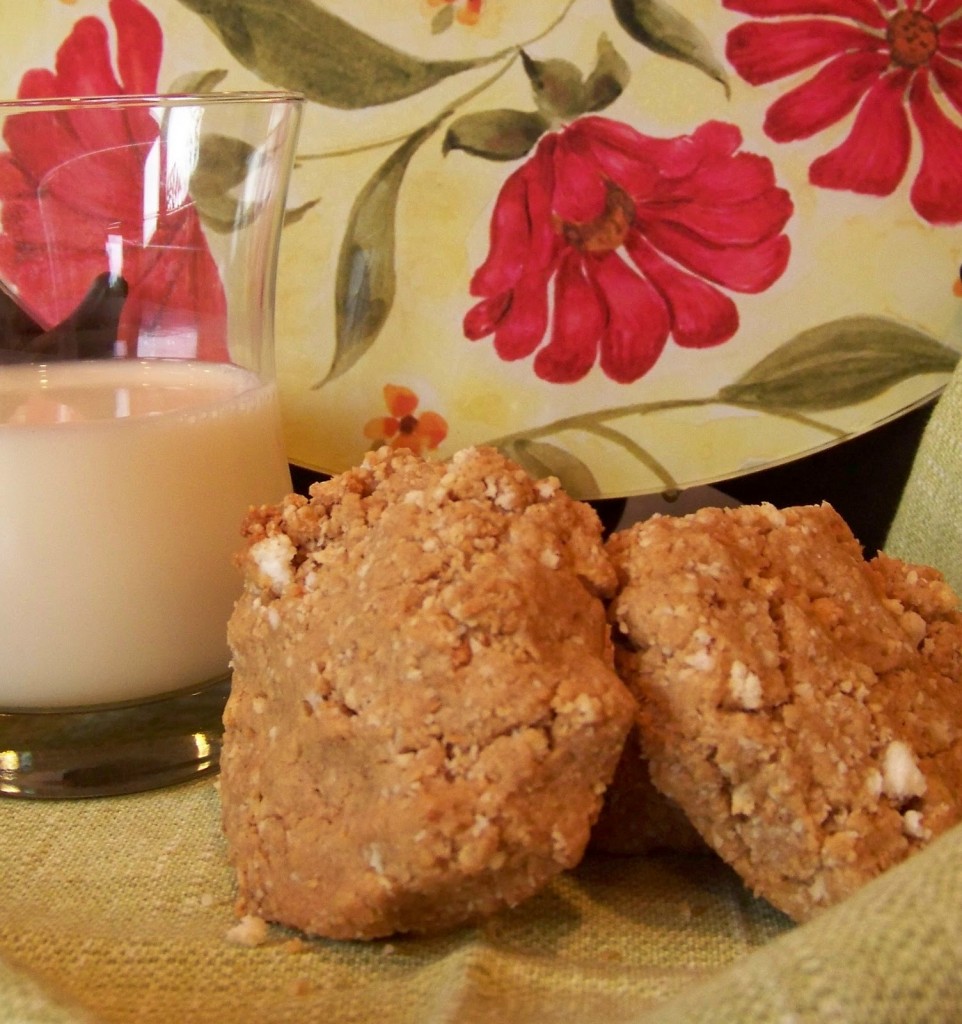 When I went gluten free…I made some really nasty things that were destined straight for the garbage can – and really, I put them there. It was totally frustrating for this experienced cook! "What a waste!" I lamented in my brain.  But when I made these gems….I was is cookie heaven again…doesn't matter if you have to be gluten free or not, these rock! Even better, they are wholesome to boot (perfect after-school snack!) I adapted the recipe from Gluten Free Goddess.
Preheat oven to 350 degrees F. Line a baking sheet with parchment paper or a Silpat
In a large mixing bowl, whisk together the dry ingredients:
1 cup sorghum flour

1 cup Ancient Harvest Quinoa Flakes
(gluten free quick oats would also work)
1/4 cup millet flour
1/2 teaspoon fine sea salt
2 teaspoons grain free baking powder
1/2 teaspoon guar gum

(Can replace flours/starch and gum with wheat flours if you prefer, about
1 cup, but still need to use either quinoa flakes or rolled oats)
Add in:
1 cup palm sugar or brown sugar
1/4 cup honey or agave
1 cup peanut butter (or any nut butter allowed)
1 tablespoon vanilla
2 tablespoons flax meal
(optional)
1 tablespoon Ener-G Egg Replacer OR chia/flax meal
whisked with 1/4 cup warm water till frothy OR  (or one egg)
2-4 tablespoons any milk (start with less, add one spoon at a time)
Beat or stir the dough until all the ingredients are incorporated and you have a smooth, sturdy cookie dough that sticks together when you grab a piece and form a ball. It should not be wet or sticky. Add just enough milk until this occurs. Form the dough into 18 balls and place the balls of dough on the prepared baking sheet. Press down slightly to flatten just a bit- not too thin.
Place the baking sheet into the center of a pre-heated oven and bake until firm and golden- about 18-20 minutes. They will appear slightly soft to a light touch, but firm in the center; they firm up more as they cool.
This recipe was shared on Lunchbox Love,
Any of the links in my posts may be affiliate links. If you click on them and make a purchase, I might make a commission. Your support is much appreciated and pays for the cost of running this free resource!