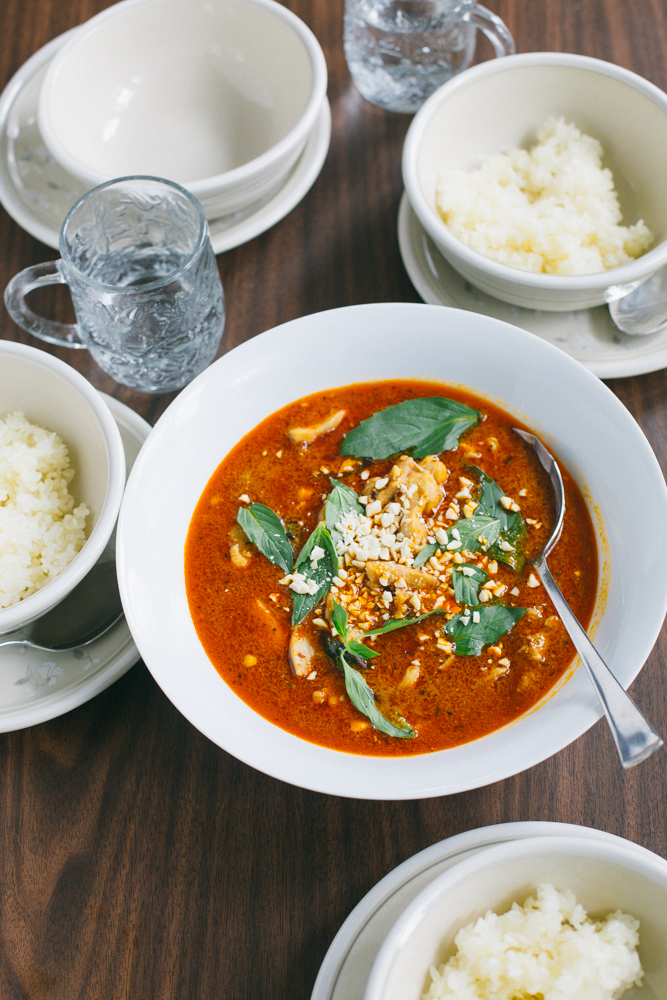 Oh Ancestral Table, how I love thee!
Russ Crandell, the man behind The Domestic Man blog has really knocked it out of the park with his debut cookbook, The Ancestral Table. Highlights:
I have made 8 recipes, and they all have been stellar. I have more earmarks in this thing…I could plan my menu for month!! (see the things I made below with my feedback.)
Fun little bits of history behind a dish with each recipe.
One thing that really draws me in are the variety of recipes. It is like a trip around the world in your very own kitchen, and you are in very capable hands with Russ's recipe writing skills. No one dish will seem too overwhelming.
I also love that Russ has a more moderate approach to the Paleo diet…he includes rice and potatoes on occasion. While certainly not for everyone (don't worry, he has all the ways to make something strictly Paleo carefully laid out in the back of the book) I appreciate the addition of rice and potatoes.
Russ also uses dairy in a few of the recipes, but again, that did not prove hard for me to circumnavigate, and he has another index for dairy free subs should you need them for each recipe.
Each recipe has full color photograph enticing you in…photographed by Russ himself!
Bottom line:

this is an amazing resource for any family (Paleo or not) looking to put excellent meals made with real food on the table. This will be a well worn and splattered cookbook in my limited collection of books, to be sure! Pick up your copy of Ancestral Table today, you will love it too!
Look at all the recipes I have used so far:
Tostones: Fried Plantains…an amazing party favor! A bit indulgent with the frying, but SO good! I used avocado oil to fry.
Salisbury Steak: Whole Family loved this one and it will be made again! I did pan fry instead of baking the patties…I was roasting veg for a side and needed the oven!
Loco Moco: Again…this dish wowed everyone and my husband insisted this would be in his top 5 'ask for' dishes! THAT good, and simple to whip up!
Beef Rendang: A great Thai dish of slow roasted stew meat, not spicy and I left out the cloves, nutmeg, and cinnamon.
Meaty Collard Greens: I used kale instead (4heads!!) and this was truly addicting as well. I even adapted the slow and low coking time for my pressure cooker so this was done in a fraction of the time! YUM~!
Roasted Chicken: I always like to try new roasted whole chicken recipes, an this one was easy and excellent results too!
Smoked Turkey Legs (ever had one of these at a Renaissance fair??!) : I was eager to try this recipe as my kids literally ATTACKED the leg we tried out at our first Renaissance fair last summer. It was SO flavorful, but I had never even thought to try making them on my own until seeing the recipe here. It worked like a charm, and was actually very hands off and easy. I soaked the wood chips, double wrapped them in heavy duty foil, and stabbed the top al over for the venting/smoke holes. This when right on the burner I left on, and smoked the legs perfectly! So fun, and AGAIN…SOO good!
Birthday Cake: I made the frosting with some ghee….really ridiculous and good and RICH! Sweetened only with maple syrup!
Russ has generously agreed to let me share a recipe from the book with my readers. The recipe I am sharing with you today is one the many recipes found in the poultry section: Chicken Panang. It is a flavorful, but not spicy Thai dish that has tender pieces of chicken swimming in a luscious Thai curry sauce. It was excellent. like every other recipe I tried. I have never attempted make my own curry paste before…but it was a snap to pull together thanks to Russ's great directions, and I still have 2 more servings of the paste ready to go for another two dinners! The only modifications I made:
Left out the cashews for garnish
I used brazil nuts in the paste instead.
I am not a huge fan of Thai basil, so I left that out and sprinkled a touch of cilantro.
Added fresh steamed veggies to the finished dish (broccoli and peppers)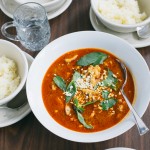 The Ancestral Table: A Mouthwatering Cookbook w/ International Flare! Plus Paleo Chicken Panang
Ingredients
PANANG PASTE

3

large mild red chiles like guajillo or anaheim

1

tsp

coriander seeds

toasted (I used ground coriander)

1

tsp

cumin seeds

toasted ( I used ground)

3

" piece of lemongrass

white base of one stalk, coarsely chopped

5

fresh kaffir lime leaves

1

tsp

shrimp paste

I used 1T fish sauce

2

green cardamon pods

I left this out

2

small shallots

2

cloves

garlic

1

Tbsp

sea salt

1

tsp

black peppercorns

I left out

1/4

cup

coarsly chopped cashews

I used Brazil nuts

1

tbsp

water

CHICKEN PANANG

2

Tbsp

coconut oil

1/4

cup

panang paste

1 13.5

oz

can coconut milk

divided

2-3

pounds

boneless skinless chicken thighs

sliced into bite size chunks

1/4

cup

chopped cashews

I left out

10

Thai basil leaves

I used chopped cilantro

2

teaspoons

fish sauce

1

Bird's Eye Chile. seeds and ribs removed

sliced into rings (optional)
Instructions
MAKE YOUR PANANG PASTE:

Soak the chiles in warm water for 30 minutes, then remove the stems and seeds. Blend or process the chiles with remaining ingredients.

This paste will keep in the fridge for up to 2 weeks or in the freezer for up to 6 months. Before freezing, divided into 1/4 cup portions!

MAIN DISH

In a skillet heat the coconut oil on medium heat for 1 minute, then add the Panang Paste, stirring to combine.

Saute until it becomes aromatic and the oil starts to separate from the paste, 3-5 minutes. Add a third of the coconut milk and simmer, stirring often, for another 2 minutes.

Add in the chicken and stir another third of the coconut milk. Bring to a simmer, then reduce the heat to medium-low. Simmer, uncovered, until the chicken is nearly cooked through, 8-10 minutes.

Add in the chopped cashews, Thai basil leaves, fish sauce, and remaining third of the coconut milk. Add chile if desired. Raise the heat to medium and simmer for another few minutes until basil leaves are soft and slightly darkened. Serve with sticky rice or cauliflower rice.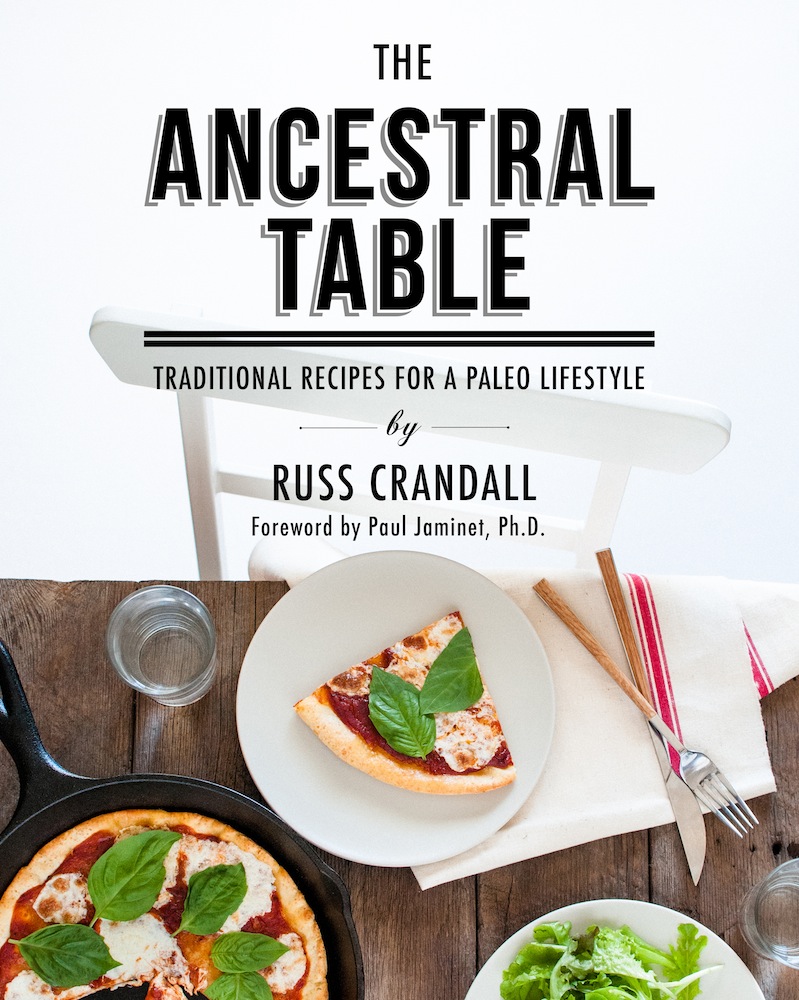 Any of the links in my posts may be affiliate links. If you click on them and make a purchase, I might make a commission. Your support is much appreciated and pays for the cost of running this free resource!