If you don't know it yet, or if you are new to my blog, you must know that I adore Asian cuisine.  When I had to cut out dairy…it was an easy cuisine to count on for no dairy as most of the fare inherently dairy free.  What it is definitely NOT though is inherently gluten free!  So when I read about The Gluten-Free Asian Kitchen being released, I pre-ordered a copy…which I never do….I mean I knew NOTHING about the book and it's merits, and I am usually more than willing to wait for the cookbook to show up on my library's shelf before I purchase it. But obviously, I was excited about this one, as it is completely unique and not duplicated anywhere that I have found.  It was an added bonus that the author was local to Portland, so I was supporting a local 'business'…yeah!
All that besides, I have tried several recipes, and have been very happy with all of them.  What I was most longing for was some recipes for dumplings and stuffed buns sans gluten.  Andrea Nguyen's Asian Dumplings is one of my favorite cookbooks, and I am so sad not to enjoy half of the recipes contained within anymore!  More recipes to come…but here is my first post from this book.
My daughter loved these meatballs and they promptly went into her lunchbox the next day (wohoo..another interesting possibility!)  Don't be put off by the ingredient list: these come together in a snap.
Just note that the meat needs to marinate, the longer the better!  I chose to serve mine as a Vietnamese  salad for a main course, but you could serve them as is like an appetizer if you wanted.  The flavors and textures blend perfectly here….it is truly a party for your taste buds!!  Thank you Laura Russell!!
TIP: The meatballs by themselves would make a good appetizer served with any variety of Asian dipping sauces!  Our favorite is mayonnaise mixed with some Sriacha!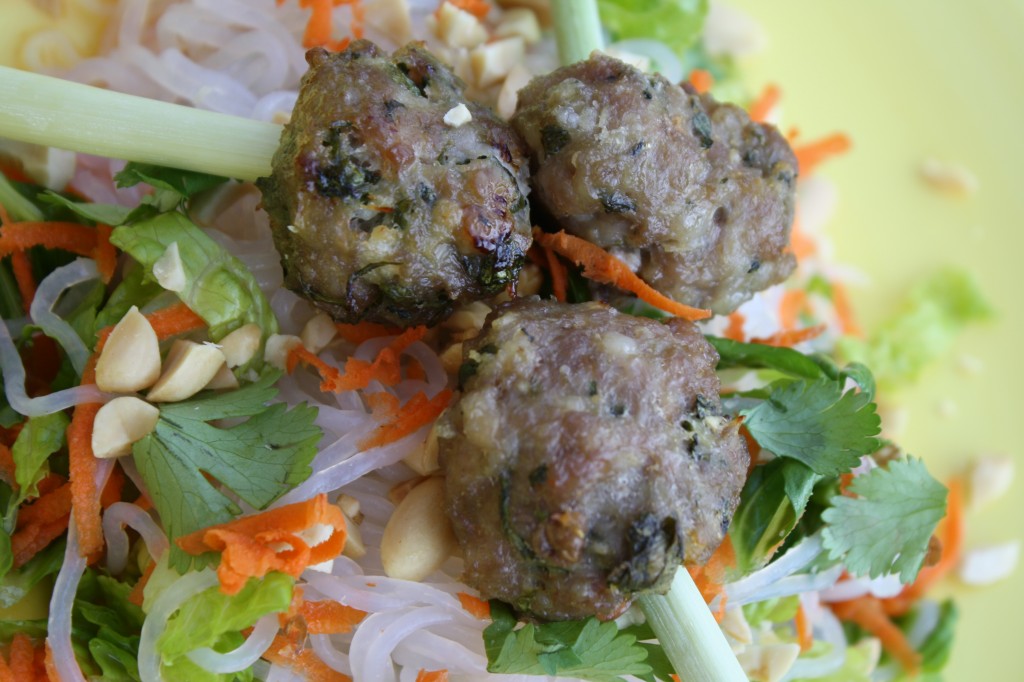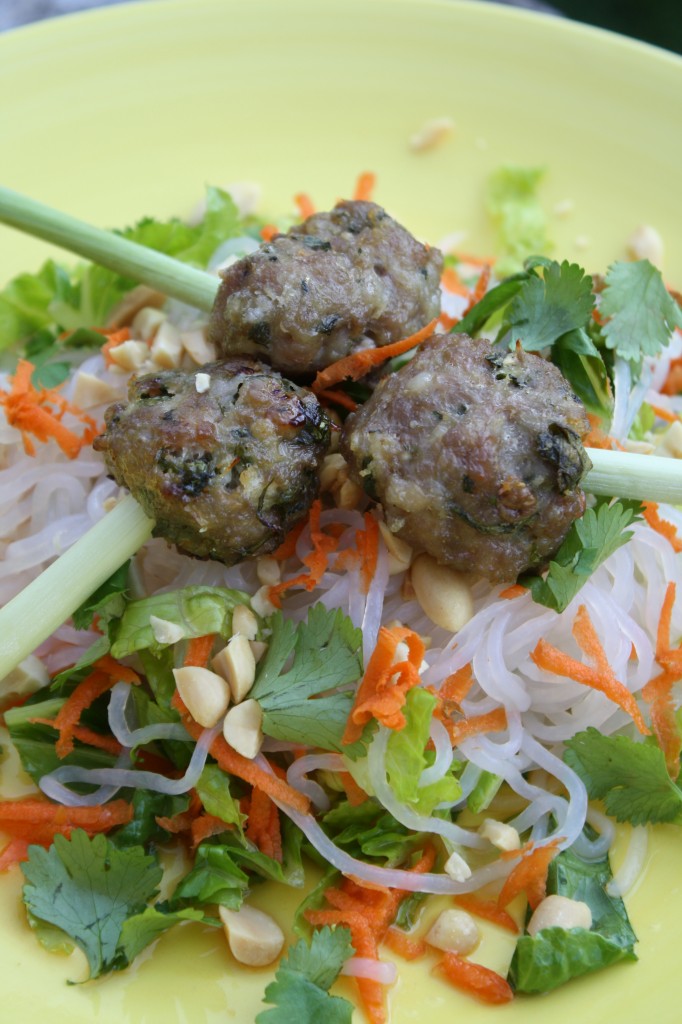 This recipe was shared on Slightly Indulgent Tuesdays, Allergy Friendly Friday, Monday Mania, Melt in Your Mouth Monday, Slightly Indulgent Tuesdays, Tasty Tuesdays, Fat Tuesdays, Hearth & Soul, Made From Scratch Monday, Gluten Free Wednesday, Cast Party Wednesday, Kids in the Kitchen, Healthy 2Day Wednesday, Real Food Wednesday, Frugal Days Sustainable Ways,Whole Foods Wednesday, FullPlate Thursday, Pennywise Platter, Simple Lives Thursday, Keep It Real Thursdays, Wellness Weekend, Freaky Friday, GAPS Friendly Friday,Gluten Free Fridays, Whole Foods Friday, Fresh Bites Friday, Foodie Friday,