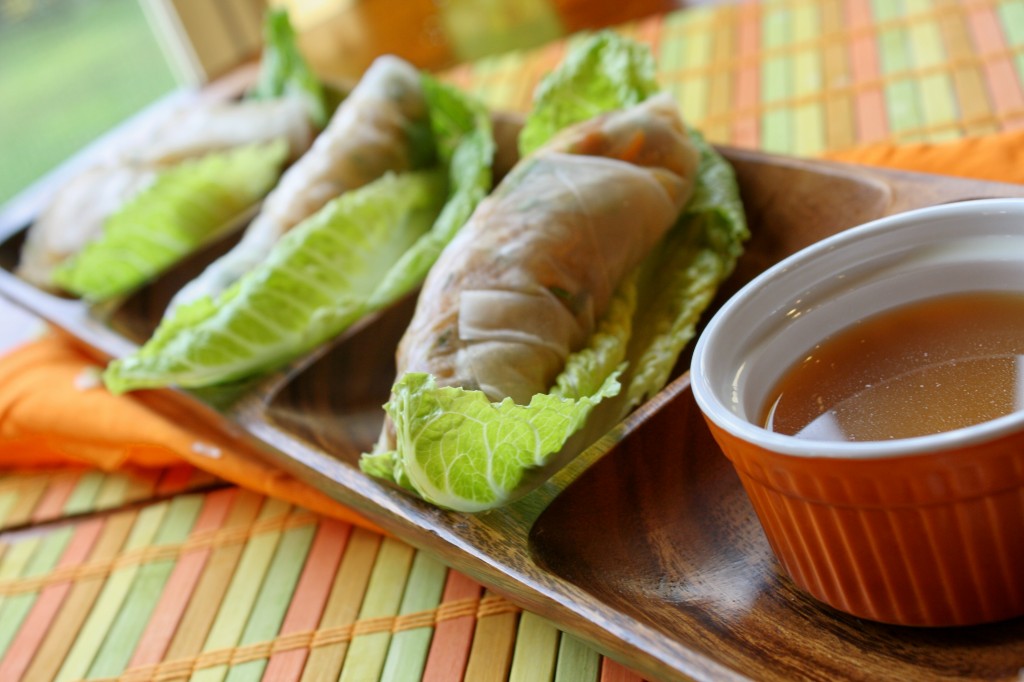 Salad rolls are an absolutely dear food to my taste buds.  I have had them so many different ways, each restaurant has their own style.  I love making my own at home for many reasons.
It's WAY cheaper!  I usually pay at least $2-3 per roll in a restaurant, ouch!
 I control all fillings and put lots of the stuff I prefer in, and leave the stuff I could do without….out!
My friend Amber, over at
The Tasty Alternative
has a fun version where she actually
bakes the rolls
for some added crunchy texture…awesome!  It was her recipe that got me on my latest kick of sauteed veggies inside the rolls as opposed to all raw ingredients.
The options are truly endless, but lately I have been buying pre-shredded and diced  mixtures of veggies at Trader Joe's to greatly simplify the prep and whip these together quickly for a light lunch.
The dipping sauce is really out of this world, a very traditional Vietnamese mixture called nuoc chom.  I make a full batch and store leftovers in the fridge.
Don't be put off by the fish sauce, I am SO picky about anything fishy, you really can't tell it's fish at all (even though the smell is rather pungent).  It's actually provides the salt in most Vietnamese and Thai cuisine!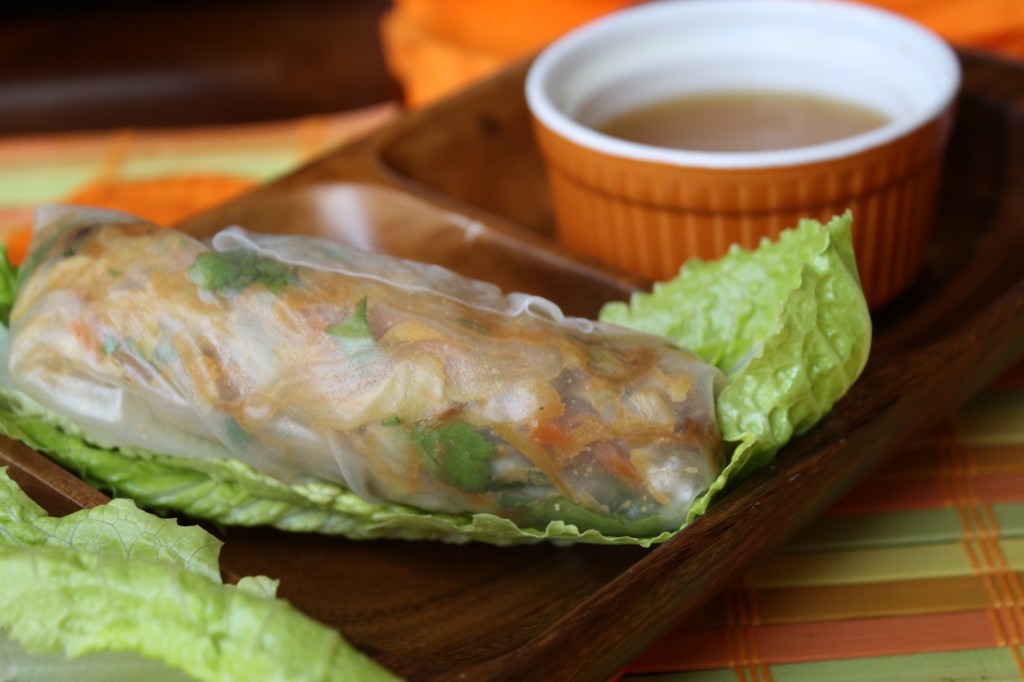 Vietnamese Salad Rolls w/ Dipping Sauce
Ingredients
1

tablespoon

toasted sesame oil

1

pound

about finely chopped/shredded vegetables (cabbage, carrots, celery, broccoli, red peppers, etc) It is important the pieces are very thinly sliced or diced so they cook evenly and quickly.

2

teaspoons

onion powder

2

teaspoons

garlic powder

2

tablespoons

tamari or coconut aminos

or more to taste

Sriacha to taste

Chopped fresh cilantro to taste

Spring Roll Skins

below

Dipping Sauce

not vegan, use a peanut dipping sauce, or sweet chili instead:

1/4

cup

lime juice

2

tablespoons

rice vinegar

2-3

tablespoons

sugar

1/2

cup

warm water

1/4

cup

fish sauce

I prefer Three Crabs brand
Instructions
Prepare your dipping sauce by mixing all ingredients together until the sugar is dissolved. Set aside.

Heat the oil in a pan and saute your veggies 3-6 minutes until wilted, but still firm. Add in the remaining seasonings, taste and add more of any seasoning as you see fit. Set aside as you prepare your wrappers.

Fill a 9" round cake pan (or any pan large enough to accommodate the wrapper) with hot tap water. Place the wrapper in the water, making sure the whole wrapper is submersed. After a minute (or more) the wrapper will be rubbery and pliable. Carefully lift it out of the water, letting the excess drip back in in the pan. Spread your wrapper out on your work surface. Now add the another wrapper to the water to soften while you work. As the water cools, it will take slightly longer, but it will soften!

On one side of the wrapper closest to you, put desired amount of filling down about 2 inches from the edge, spreading it out 5-6". Leave a little flap (closest to you) to fold over the filling. Fold the flap over the top tucking it around all the filling. Pull back a bit to secure all the fillings in. Roll once over, then fold the left and right sides into the middle to close the ends. Finish by rolling the remainder wrapper up. Serve fresh with the dipping sauce of your choice.

These are best eaten fresh, but will keep for about a day if they are wrapped very tightly in plastic wrap.
Any of the links in my posts may be affiliate links. If you click on them and make a purchase, I might make a commission. Your support is much appreciated and pays for the cost of running this free resource!