Coconut butter can be super spendy, and when you can easily make your own, it is a great way to save some money!
With only one ingredient, this coconut butter 'recipe' is healthy and versatile!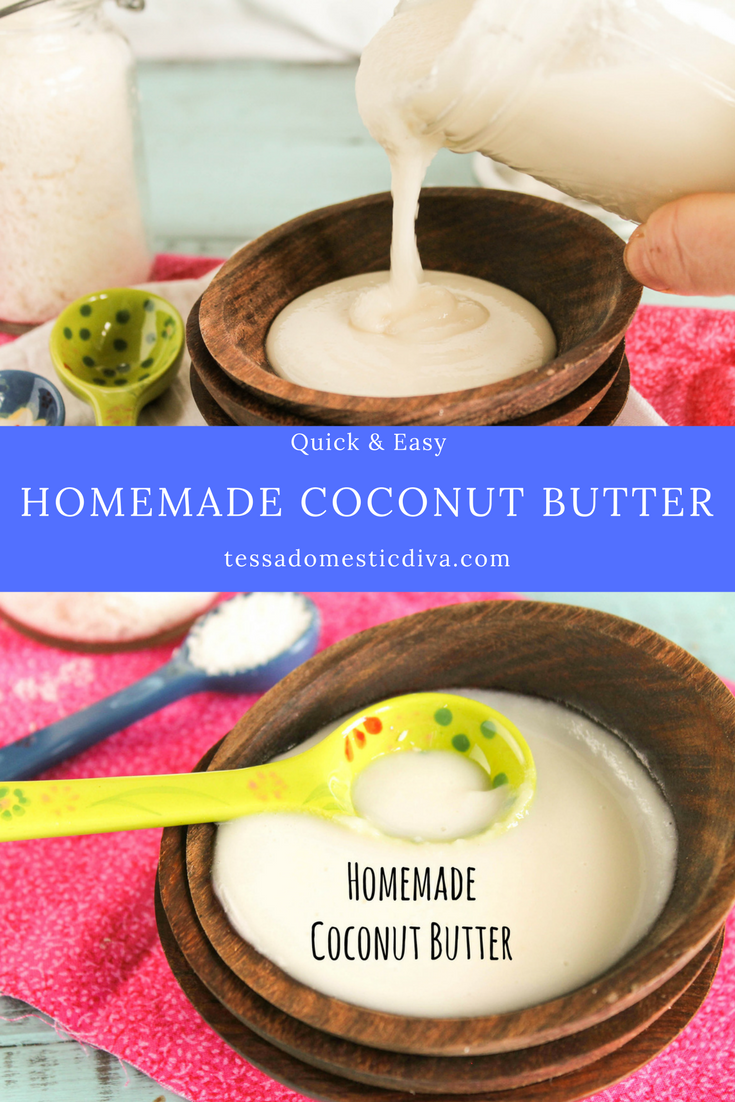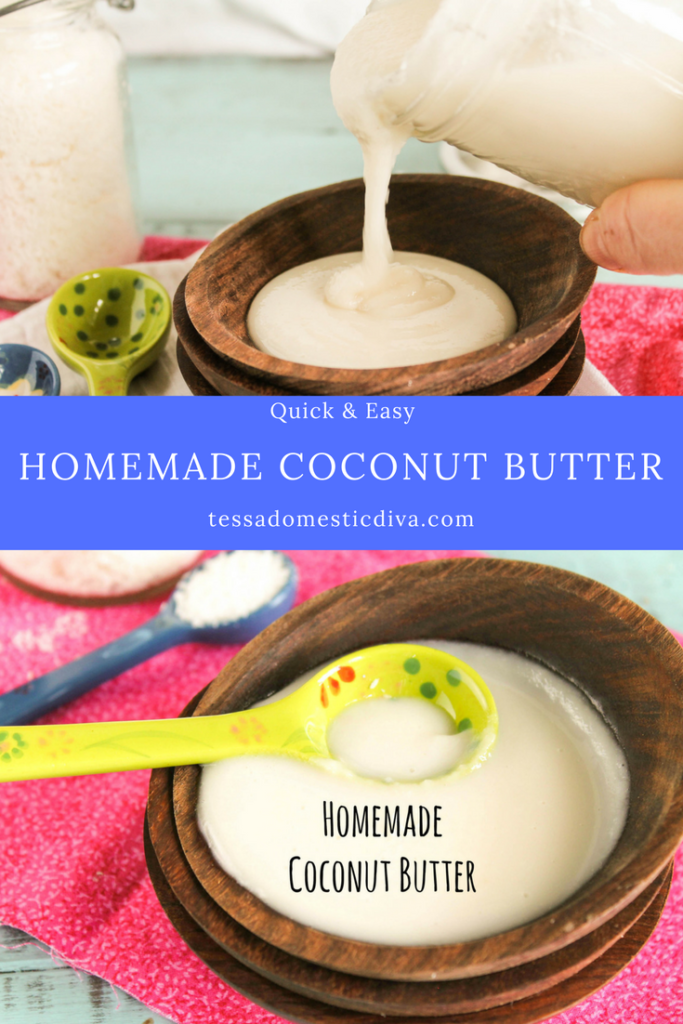 Love. I love this creamy, rich spread.
Loaded with MCFAs (medium chain fatty acids), this once shunned superfood has been reborn with new research and understanding of it's healthy profile.
Very simply, the medium chain fatty acids found in coconut are easily assimilated into energy within the body, fats your body NEEDS! So instead of storing it as fat, your body can USE it for energy!!
I remember when I first discovered coconut butter.
My sister and I had purchased a jar of it, not even knowing the difference between coconut oil and coconut butter at that time. (We figured they were same, they are NOT).
Coconut oil is just the oil, and coconut butter is all the coconut flesh INCLUDING the oil!!
We simply wanted to make a recipe of gluten free samoas, and the recipe called for it. But at one taste…we were hooked. And you will be too. Trust me.
Coconut butter nutritional information: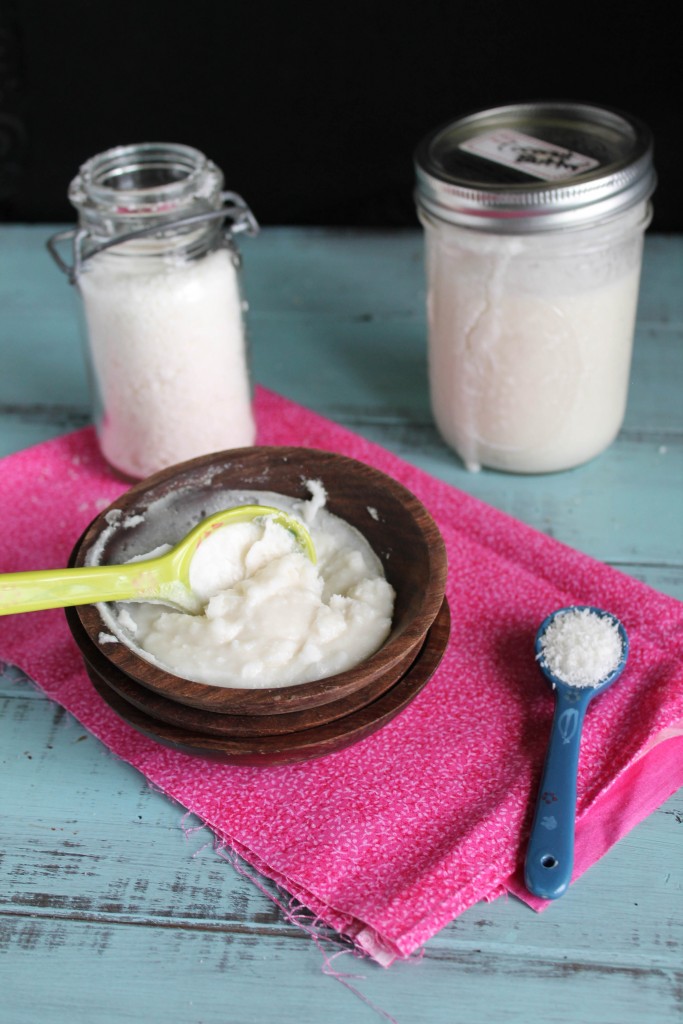 Do I need any special tools for making this spread?
How do I store my DIY coconut butter?
With its high antioxidant properties, coconut butter lasts for awhile (months) in the pantry!!
I store mine in a pint size mason jar!
Coconut butter recipe note:
If you end up adding some avocado oil to the mixture, it will be slightly more spreadable at room temp (70 degrees or so).
But throughout cooler temperatures, the coconut butter is hard!
For smoothies, I just chisel some out for use. For other uses, I prefer to just heat the butter slightly for 20 seconds in the microwave, or leave it a warm place on my stove. When it is actually warm outside here in the NW, this takes care of itself. and the butter remains more soft.
Recipes using coconut butter:
Here are some other ideas to use your homemade coconut butter:
Coconut butter recipe video:
My video is a bit long, but until I figure out how in the heck to cut clips out, this will have to do!
This is one of those posts that I even hesitated to write.
I figured most people already knew how to do it. But I also know there are some who do not, and that for some of you, coconut butter might be something new and unfamiliar.
And really, this creamy spread is so easy, anyone can do it, it just takes a tiny bit of patience, and 5 minutes of your time.
Let's also consider it costs upwards of $8 for a jar in the grocery store! This is a much more frugal option, and a very attainable luxury!!
Coconut Butter Recipe:
If you try this technique, be sure to come back and leave a comment!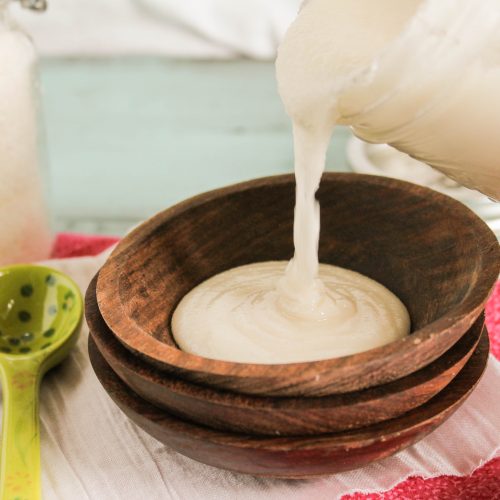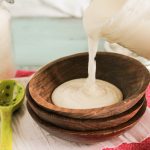 Coconut Butter 101: How To Make It and How To Use It
Rich and creamy homemade coconut butter is easy and much for affordable than store bought!
Ingredients
4

cups

unsweetened, dried, grated coconut

It is important not to use less than 4 cups, you need the volume to get the whole mixture moving.

1

tablespoon

avocado oil

if needed, this is only necessary if your coconut does not liquefy on it's own.
Instructions
Option 1 in a Blend Tec or other high-powered blender: Place coconut in and turn the machine on to level 1 or 2. The mixture will quickly climb the sides and leave a empty space around the blade (see image). Turn off, scrape the sides down, and repeat this process, many times!

OR, if you feel confident enough, just leave the lid off, and using a spatula or other long handled instrument, just keep pushing the climbing coconut back into the vortex, careful not to get your instrument in the blade!

Eventually, the heat from the machine starts releasing the oil, and the mixture will start to move freely without any scraping.

Once liquified and running smoothly (see image), puree for about a minute or two until silky smooth!

Store in an airtight container in the pantry. Once cooled, the butter will harden.

Option 2 w/ a Food Processor: This is the same process as above, however, it will take longer to get to the liquified state, so you will need to use a bit more patience and few more repeats of the steps! It is also worth noting that it will not get quite as smooth, it is just not as powerful of a machine!
Recipe Notes
recipe suggestions and ideas in post above!
serving size is about 1 tablespoon
Nutrition Facts
Coconut Butter 101: How To Make It and How To Use It
Amount Per Serving
Calories 74
Calories from Fat 63
% Daily Value*
Fat 7g11%
Sodium 4mg0%
Potassium 58mg2%
Carbohydrates 3g1%
Protein 1g2%
Vitamin C 1mg1%
Calcium 3mg0%
Iron 1mg6%
* Percent Daily Values are based on a 2000 calorie diet.

Any of the links in my posts may be affiliate links. If you click on them and make a purchase, I might make a commission. Your support is much appreciated and pays for the cost of running this free resource!