Homemade sunflower seed butter couldn't be any easier to make, and the results are over the top delicious!!
Unlike conventional store bought butters, YOU get to control the ingredients AND the fresh taste can not be beat! Extra creamy and smooth, the trick is in the technique!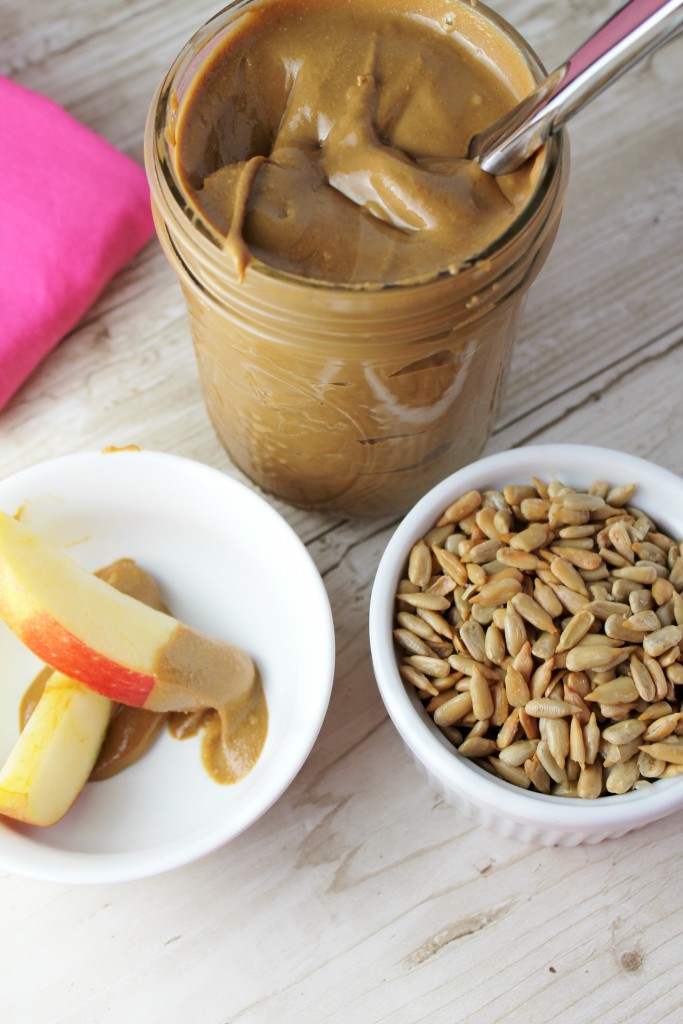 You may be thinking to yourself, "Really Tess?! Make my own sunflower seed butter?! As if I would go to the hassle to do THAT!!"
Well let me convince you to try making your own homemade sunflower seed butter:
This requires no special skills.
It is done in under 10 minutes.
It is more frugal than store bought.
And MOST importantly, the taste? You simply cannot compare it to anything you'd purchase!! My kids were lukewarm about sunflower seed butter until I started making my own. Now, we polish off one batch about once a week.
I have been making my own sunflower seed butter for sometime now.
Peanut butter used to be a staple in our house. Then my toddler started getting random hives in weird places around his body. After about a week of this, I finally figured it out: his older sisters had taken to peanut butter toast for the week, and their touches from unwashed hands were causing the hives!
Now, with all peanut butter out of the house (a blood tests confirmed a high IgE to peanuts), we had to find a replacement. Peanut butter was such an easy form of healthy protein for my picky kids!
Luckily, sunflower seed butter is equally as delicious, and my kids don't notice the difference anymore. AND now they ask for it all the time!
And really, making your own nut and seed butters is SO easy! You could try homemade cashew butter or even a pistachio butter!

Storing homemade sunbutter:
Ours have never lasted too long, but we had one jar out for three weeks, in the pantry with no issues. The oils in nuts and seeds do go rancid, so store in the fridge if you don't mind it a bit firmer and don't plan on consuming it within a few weeks.
Tools for making sunflower seed butter:
I used my 14 Cup Cuisenart Food Processor for this, and my Blend Tec.

Variations for this keto sunbutter:
A touch of vanilla and/or cinnamon makes for a special treat!
My kids love to mix in raisins and dip apples in it!
May add a tough of chosen sweetener, but make sure it is a dry one (so it does not seize).
SPECIAL UPDATE:
DON'T ADD ANY WATER OR ANY WATER CONTAINING LIQUID TO YOUR NUT BUTTER….IT WILL CAUSE THE CREAMY NUT OR SEED BUTTER TO SEIZE AND CLUMP!! THE OILS IN THE BUTTER LITERALLY CLUMP TOGETHER AND REPEL THE WATER!

Would you like to try your sunflower seed butter in some recipes?
A healthy version of peanut butter cup are easy enough for kids to make: Paleo 'Peanut Butter' Cups
My Sunbutter Blondies can be made with any nut or seed butter and are a healthy afternoon snack!
With only a five minute preparation all done in your blender, these grain free Paleo 5 Minute Muffins don't even have to have any additional sweeteners added!

Here is the progression of steps: flour, to clumping, to whirring smoothly, to blender cycle for creaminess.
Homemade Sunflower Seed Butter Recipe:
Have you tried this homemade treat? Leave a comment and rating to let me know!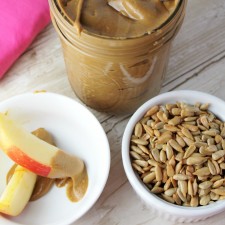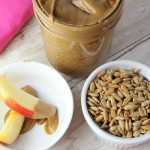 Homemade Sunflower Seed Butter, Extra Creamy
A creamy, ultra-delicious spread for everything!
Instructions
In the bowl of a 14 cup food processor, place the toasted sunflower seeds and process. (If you have a smaller processor, reduce the seeds proportionately. There needs to be enough room for the seeds to move to convert to butter!)


As mixture goes from a flour like consistency to clumping together (the oil is starting to be released from the heat of the machine and friction), add in 2 tablespoons of light tasting oil. Be patient, this can take a several minutes.

Continue processing, and as the mixture continues to warm and the oils release, it should turn creamy and smooth and whir happily, easily inside the bowl. If not, it is OK to add a bit more oil until the mixture is runny and whirring smoothly.

Continue to process for another 2-3 minutes.

Add in the stevia (or any low/no water sweetener), and salt to taste, and process to mix. Your sunflower butter should be ready at this point...but....

For an extra creamy punch, if you own a high powered blender

,

pour the mixture while still warm and liquidy into the blender cup and process one to two full cycles. (I have tried making it in my blender alone before and EVERY TIME it seemed like my blender was working WAY too hard to accomplish this, so I found the food processor/blender combo to be my best bet). If you do not have an high powered blender, it is also OK to process several more minutes in your processor for additional creaminess.
Nutrition Facts
Homemade Sunflower Seed Butter, Extra Creamy
Amount Per Serving
Calories 211
Calories from Fat 162
% Daily Value*
Fat 18g28%
Sodium 75mg3%
Potassium 216mg6%
Carbohydrates 6g2%
Protein 6g12%
Vitamin A 15IU0%
Vitamin C 0.5mg1%
Calcium 26mg3%
Iron 1.8mg10%
* Percent Daily Values are based on a 2000 calorie diet.

Any of the links in my posts may be affiliate links. If you click on them and make a purchase, I might make a commission. Your support is much appreciated and pays for the cost of running this free resource!