Simple to make, nourishing to eat, these homemade paleo almond joy bars are a healthy treat to take you back to a favorite candy bar flavor! I created these delicious bars in my attempt to recreate the Coconut Secret bar!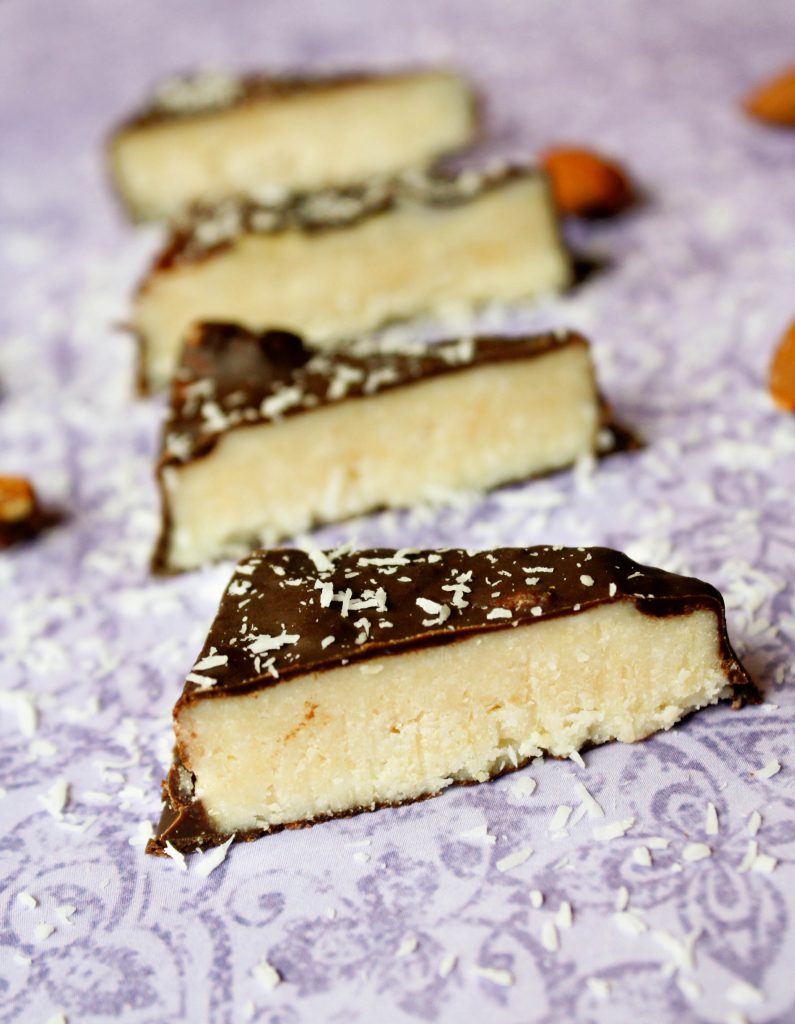 Homemade Almond Joy bars, or Mounds should you prefer the no nuts version!! These homemade almond joy bars are made with good for you ingredients and real food!!
Discovering the Coconut Secret Bar:
Dark chocolate? No sugar? Coconut? Meet the Coconut Secret Classic Coconut Bar.
I ran into my friend at the grocery store, and she was begrudgingly buying her husband a very expensive bar that he just loved and HAD to have: Coconut Secret Classic Coconut Bars.
While I was familiar with other Coconut Secret items, and love them all…I had yet to notice these. So I decided to buy one to see what all the fuss was about, and promised I would try to engineer a recipe if I liked it enough.
Liked it enough? No, that would not even begin to describe my feeling towards these bars.
The bars literally melt in your mouth, not too sweet, but a lovely dark chocolate coating setting the whole flavor through the roof. I am HOOKED!
But each bar is close to $3…ouch! Maybe because they are still too new?
Regardless, I had to try and recreate these beauties with a little reverse engineering….and succeed I did young Padawans! The force must have been strong with me on this one….and don't hate me for putting something so divine in your face. Homemade mounds or almond joy bars will have you swooning!

If you like Mounds Bars or Almond Joy…well these are a very close cousin that are allergy friendly and made with real food ingredients only – their ingredients:
semi-sweet chocolate, chocolate, corn syrup, sugar, milk fat, cocoa butter, coconut, salt,soy lecithin, PGPR, hydrolyzed milk protein, sodium metabisulfite, caramel color, sulfur dioxideto and milk).
My ingredients? All real food and nutritious.
Who wants loads of preservatives in their food anyways??!! Certainly not me! Especially when they are so east to make!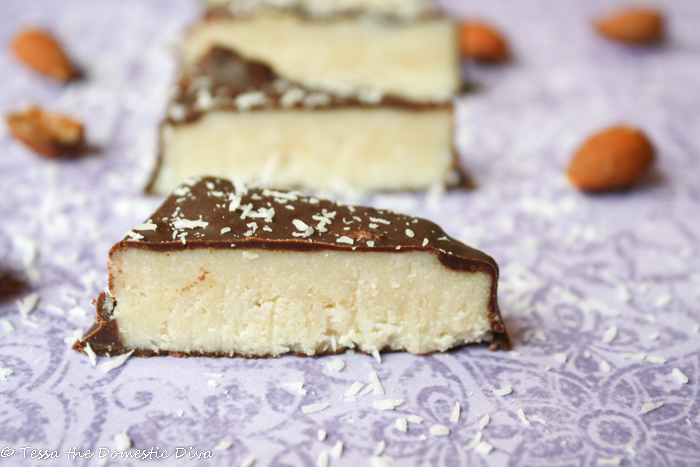 Why Fair Trade Certified Chocolate is Important
Whatever chocolate you choose, please select a Fair Trade Certified Chocolate. In this way, we can be sure our treats are NOT being created on the backs of children and their impoverished families. Please read more about why I choose Fair Trade Certified chocolate here. Or another great article here.
A couple of my favorite brands I regularly buy (there ARE MORE, LOOK FOR THE "FAIR TRADE CERTIFIED" LOGO):
If you love chocolate and coconut together, you may want to check out these other recipes: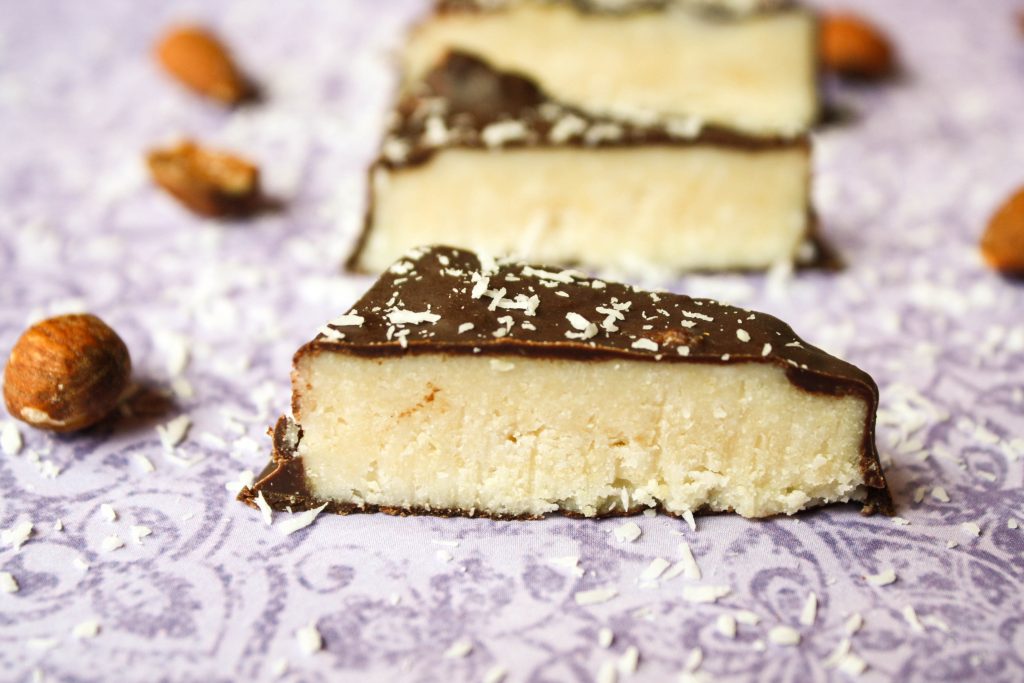 Paleo Almond Joy Bars Recipe:
Have you tried these paleo coconut chocolate bars? Tell me what you think by leaving a comment below!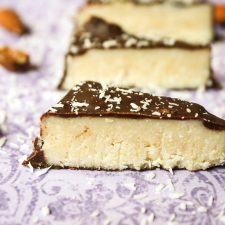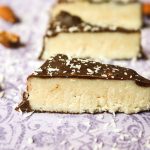 Paleo Coconut Secret Bars/Homemade Healthy Mounds
Ingredients
Coating
1 1/2

cups

dark chocolate chips

OR you can sweeten your own baking chocolatesquares-the ones with no sugar. I did a mixture of 6 ounces unsweetened chocolate/1/4 cup coconut nectar/40 drops vanilla creme stevia. Another great option is 1/2 cup food grade cocoa butter mixed with 1/2 cup cocoa powder and sweetener to taste, for low carb usepowdered Swerve.. I use about 2-3 tablespoons worth. I always add a dash of salt too.

1

tablespoon

coconut oil
Instructions
In a

food processor

, put the filling ingredients and process for several minutes. The mixture should soften and heat the coconut oil and the coconut pieces should begin to break down and move smoothly. The less time you process, the more chunky it will be. Some time is necessary so that the mixture will bind well.

Taste for sweetness, add more if you like. Coconut nectar gives the mixture a slight tan coloring...just like the original!!

Line an 8 x 8 or similar sized pan with waxed paper or parchment.

Pour the coconut filling in and spread around evenly. If you would like to use almonds, now is the time. Press them in!

Place the pan in the fridge or freezer to speed the solidifying process.

Meanwhile, melt your chocolate with the coconut oil.

Once solid, lift the whole chunk out by lifting the paper. Cut into desired shapes. Dip each piece in the chocolate, letting the excess drip back before laying it on A Silpat, parchment, or waxed paper to solidify. Store in an airtight container on the counter or in the freezer. Unlike most coconut oil delicacies, these are solid at room temp and travel well out of refrigeration, at least here in the cooler NW!

SHORTCUT?: I have also done these the easy way by spreading the chocolate coating right over the top of the whole pan and forgoing the dipping process!
Nutrition Facts
Paleo Coconut Secret Bars/Homemade Healthy Mounds
Amount Per Serving
Calories 317
Calories from Fat 243
% Daily Value*
Fat 27g42%
Sodium 26mg1%
Potassium 238mg7%
Carbohydrates 16g5%
Protein 2g4%
Vitamin C 0.4mg0%
Calcium 60mg6%
Iron 1mg6%
* Percent Daily Values are based on a 2000 calorie diet.

Any of the links in my posts may be affiliate links. If you click on them and make a purchase, I might make a commission. Your support is much appreciated and pays for the cost of running this free resource!