Nothing beats a warming bowl of chicken soup come cool weather.  As a kid, I loved the soup that came in a can, especially when I was sick.  But now, I prefer the homemade variety, and with this recipe, I can have all the homemade flavor without hours of cooking.
They key to this soup is using all the bones and skins you would normally dispose of and extracting their lovely flavor…you simply can't beat it!
Growing up, we had the tradition of making turkey noodle soup to use up the leftover Thanksgiving turkey…it was quick, easy, AND delicious!   And lets be honest here…after letting our belt notches out a couple of times from the previous days' gluttony, a lighter meal was perfect!
I think you will love this soup too, it goes well with homemade bread, gluten free vegan biscuits, or a slice of my Millet Cornbread. What better way to use up a turkey or chicken carcass than a quick and easy meal full of flavor!!??
Grab a steaming bowl and get cozy!
TIP: Gluten free noodles get mushy and absorb loads of liquid if left in a broth or liquid.  For this reason, I cook the noodles separately, add what I want to a bowl, and top with steaming broth.  I store leftover cooked noodles separately!  Tinkiyada is one of our favorite brands, although we almost always cook the noodles less time than they suggest!
AND, just because I absolutely ADORE mine, check this beautiful olive wood ladle out…I always look forward to using mine and think it makes a perfect gift to anyone!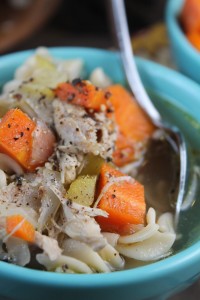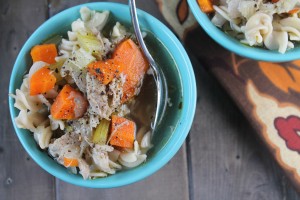 This recipe was shared on GF Wednesday, Waste Not Want Not, Real Food Wednesday, Tasty Traditions, Keep It Real, Pennywise Platter, Simple Lives Thursday, Fight Back Friday, GF Fridays, Frugal Days Sustainable Ways, Healthy 2Day Wednesday, Healing w/ Foods Friday, Lunchbox Love, Simple Meals Friday, Natural Living Monday, Make Your Own Monday, Slightly Indulgent Tuesday, Fat Tuesday, Tasteful Tuesday,