A delicious and tender loaf of wholegrain gluten free bread!
Like the brown bread of my youth, this gluten free yeasted bread is pliable and wholesome with a hint of sweet.
It holds up well to any preserves or favorite nut butter and makes a mean egg sandwich! A lovely dense texture you will find irresistible!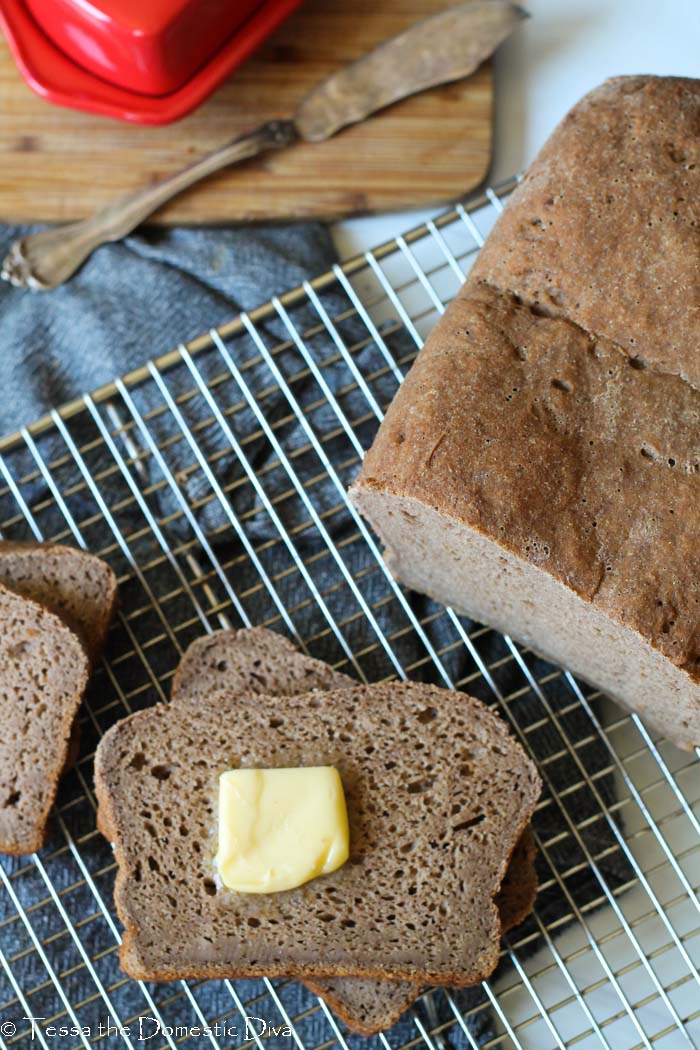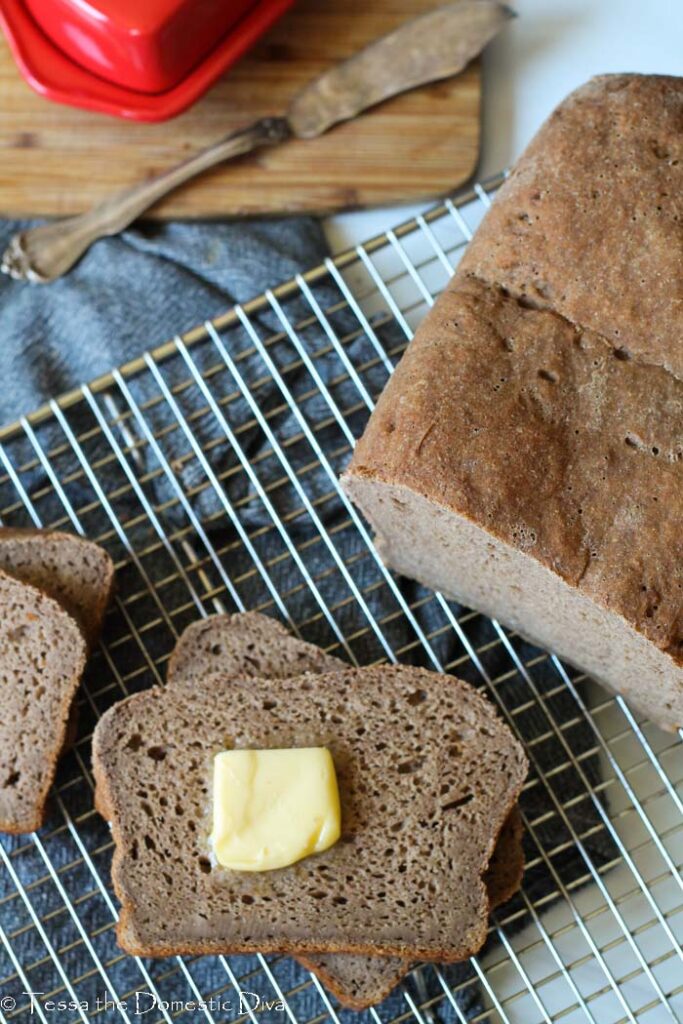 I set about creating a wholesome every day bread for my son and the rest of the family to enjoy. We really wanted a bread that held nicely for many days and that was simple to prepare. I have used my soaked teff bread which is also vegan primarily for years, but was wanting a recipe that would perform well as a loaf, and that did not require advance planning like my soaked version.
I played around with several flour combinations, and while all were tasty, this combination I share with you today has been my favorite!
If you do not normally have teff flour on hand, I highly recommend you order some or pick it up at your local grocery store. It is much more common and easier to find than it was 10 years ago when I first fell in love with it. It lends the classic brown bread flavor and color to this bread, and is easily the most whole wheat tasting of the gluten free flours.
As an added bonus, it is exceedingly nutritious and good for you and your family. And luckily, I have endless recipes using this sweetheart of a flour. Type teff into my search bar, or maybe try our absolute favorite gluten free and vegan teff pancakes, gluten free empanadas, or my vegan gluten free chocolate cake as recipes that all feature teff flour.

Making the best gluten free bread tips:
Proofing yeast
This step is essential to ensuring your yeast is alive and well ad ready to 'lift' your gluten free bread! I always use regular active yeast, it provides more consistent results for me. Yeast should be stored in the fridge, and a small amount of any sugar is necessary to 'feed' the yeast in bread. You'll want to use warm-hot water. You should be able to comfortably leave your fingertip in the water. If you have an instant read thermometer, you're going for 105-115° Fahrenheit. If your yeast doesn't develop a nice and poofy, creamy looking foamed top, either your yeast is bad, or the water was too cold or too hot. Yeast in finicky like that!
Rising tricks
Be patient with rising if necessary. I live in a cool pacific northwest climate, so 3 seasons out of the year, it can take a full hour or more to get my bread to rise to the appropriate level…but summer months I can sometimes cut that in half! I like to preheat my oven to 200° then turn it off (I've definitely had mommy brain moments of forgetting that important step, lol)! Let the bread rise in the warm confines of the oven. It speeds the process significantly. If you let it overrise, the texture and structure of the bread will be thrown off, so set a timer and keep watch!
Troubleshooting a wet or gooey middle
The two primary culprits would be either too much moisture, or not cooked long enough. Your elevation and ambient humidity will be unique to mine, so a couple of strategies to try: Reduce the water by a few tablespoons. Or replace 1/4 cup water with another egg. I like to use an instant read thermometer (I like the folding style since it takes up less space in the drawer!) to test the internal temp of the bread to help guide me. I look for a minimum of 185° up tp 200° Fahrenheit. If the top is getting too brown, place a piece or parchment paper or foil gently over the top to prevent further browning.
Which shelf in my oven
Always cook in the middle of your oven unless a recipe specifies otherwise…the heat is more uniform this way. Most ovens heat from the bottom.

Making gum free gluten free bread?
There are a couple of reasoning to replace the gum (xanthan or guar) in your recipes.
They cause you digestive upset. While not everyone reacts this way, it is a possibility.
Xanthan gum is often derived from corn, and therefor often derived from GMO ingredients.
In this recipe, I use 1/4 cup psyllium to add the lovely, bendy pliability to the bread's structure. I love to use psyllium in lots of recipe, like my wholegrain gluten free tortillas, and my keto bread with almond flour. It's also used in these gluten free bagels!
While I have not tested it yet, you could try subbing 1 1/2-2 teaspoons gum for the psyllium powder.
If you have the coarser ground psyllium HUSKS, then use 1/2 cup instead.
Using a kitchen scale?
I have provided both the dry measurements, as well as the weights for those who use a kitchen scale.
I love my kitchen scale and use it regularly. And it can really help improve recipe success when exact measurements can be used.
So while it is not a requirement for this recipe, if you are serious about baking and cooking, I totally recommend having this tool on hand!

Shaping gluten free yeasted bread loaves
Gluten free yeasted breads are batter style, not kneaded and elastic like traditional gluten breads.
This makes them much easier and quicker to prepare, but they can require a bit of technique.
Shockingly, no special tool required to form a loaf shape you are familiar with! Just a regular old rubber spatula and some water!
Run the spatula under water, and start shaping and smoothing the sticky batter. Add more water to it when it begins to grab and stick again.
Storing this gluten free brown bread:
My preferred method is to slice a few pieces (waiting until fully cooled of course), and store the cut pieces and the remaining loaf in an airtight container. If it takes many days, then storing in the fridge will add a couple days shelf life to the bread.
If you know it will take more than a few days to consume the bread, store your slices separately in the freezer and remove on demand.
I like to to keep a couple of super this 'sacrifice slices" on the end to help prevent the remaining gluten free bread from drying out. This is also why I only slice a few as needed, cut slices dry out faster.

Additional gluten free breads to try:
Wholegrain Gluten Free Brown Bread Recipe:
If you try this wholesome loaf, be sure to come back and leave a start rating and comment below!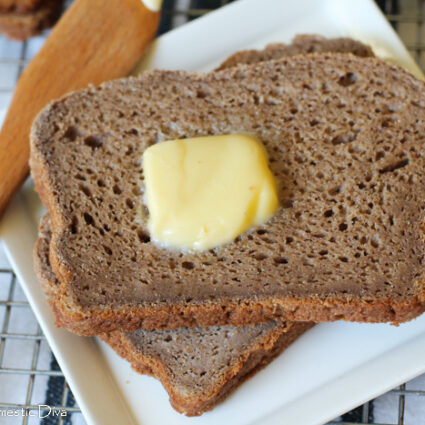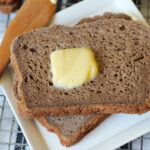 Wholegrain Gluten Free Bread
A tender and wholesome loaf of gluten free bread to make your perfect toast or peanut butter and jelly sandwich!
Instructions
Preheat the oven to 200 degrees and grease a sturdy loaf pan.
Proof yeast
In a glass measuring cup, whisk the warm hot water with the palm sugar. Stir in the yeast, then set aside to get puffy for 3-5 minutes.
Mix dry ingredients
While the yeast proofs, place all the dry ingredients through sea salt in a large mixing bowl. Mix well.

Once the yeast is puffy and proofed, pour into the dry mix along with the remaining ingredients.

Start your mixer, gradually increasing the speed. Beat for 2 minutes.

Using a sturdy spatula, scrape the sticky dough into the pan.

Wet your spatula and press and smooth out the batter into a loaf shape, wetting it again when it becomes sticky.

Hot 'cancel on your oven. Place the loaf inside the warm oven covered with a piece of wax paper, or parchment and let rise until the loaf is just at the pan's edge. Remove from the oven, and let it continue to rise while you preheat the oven to 350 degrees.

Once preheated, bake the loaf for approximately 45 minutes. You can use a thermometer to check the internal temp. I usually look for at least 190 degrees.

let the loaf cool for about 10 minutes, then invert onto a cooling rack. The best texture and ease of cutting is achieved after it has fully cooled.

Store bread in an airtight container.
Nutrition Facts
Wholegrain Gluten Free Bread
Amount Per Serving
Calories 155
Calories from Fat 45
% Daily Value*
Fat 5g8%
Cholesterol 26mg9%
Sodium 208mg9%
Potassium 113mg3%
Carbohydrates 25g8%
Protein 3g6%
Vitamin A 72IU1%
Vitamin C 1mg1%
Calcium 73mg7%
Iron 1mg6%
* Percent Daily Values are based on a 2000 calorie diet.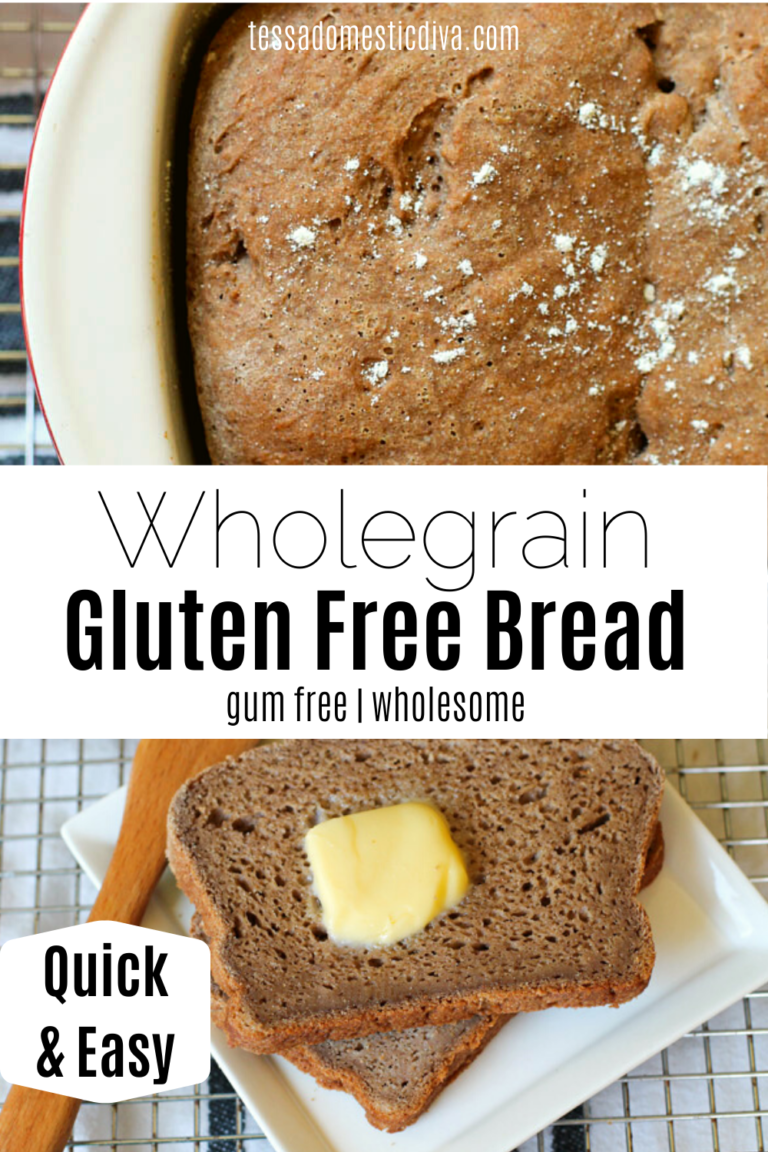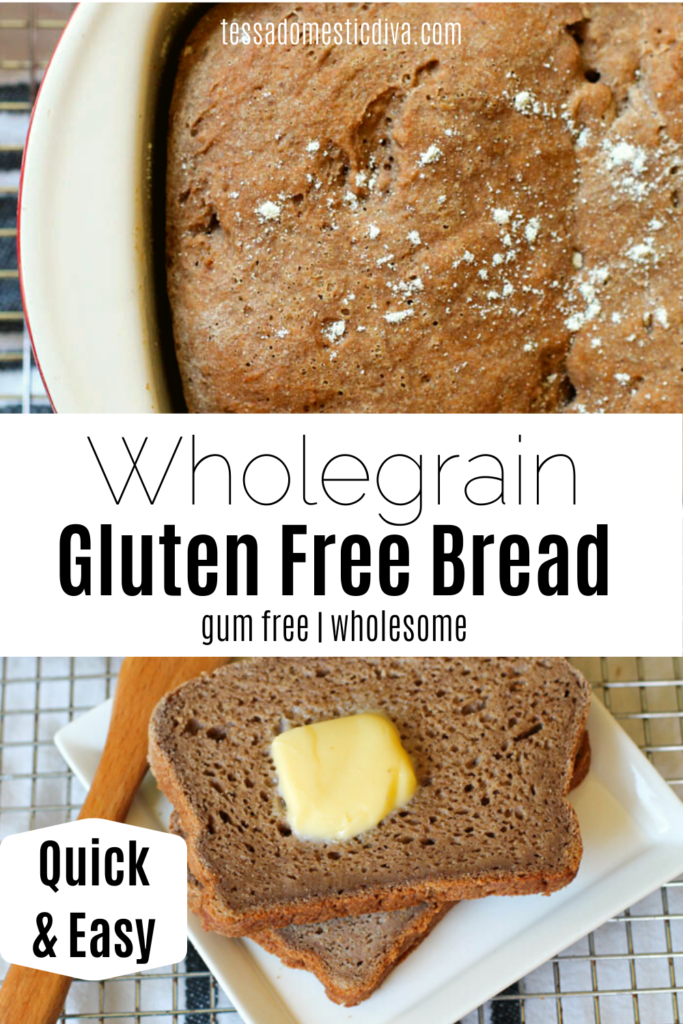 Any of the links in my posts may be affiliate links. If you click on them and make a purchase, I might make a commission. Your support is much appreciated and pays for the cost of running this free resource!