These gluten free teff pancakes are a tried and true recipe made hundreds of times and enjoyed by all my extended family!! They are egg free, dairy free, and gluten free, and totally nutritious too! If you are new to teff, it's time to start your own love affair with one of the most nutrient dense gluten free flours and grains out there!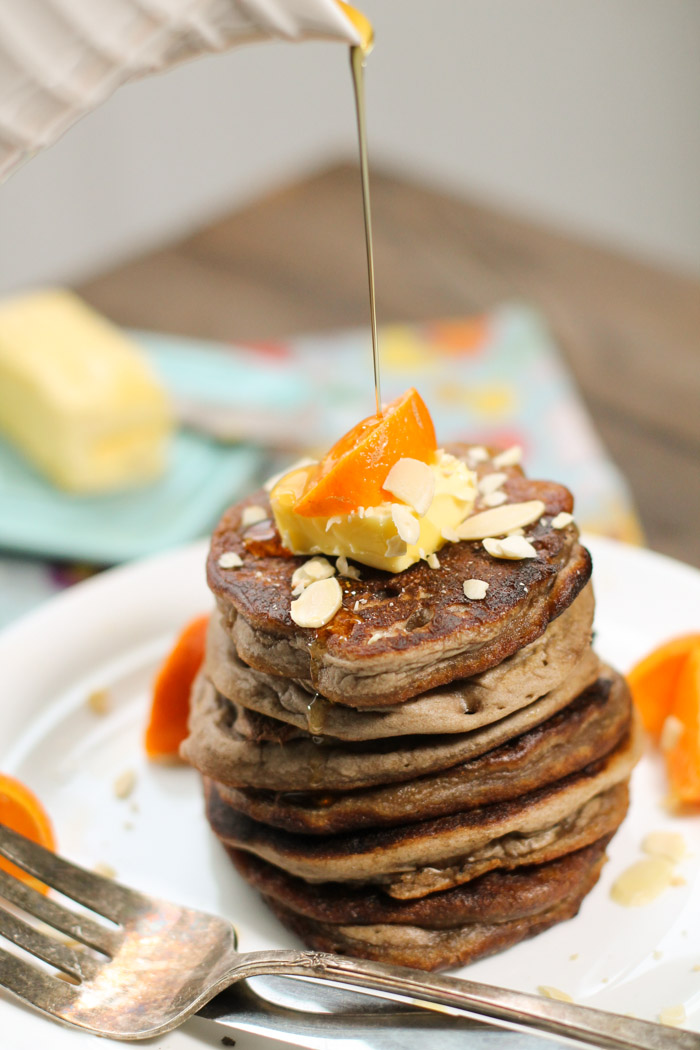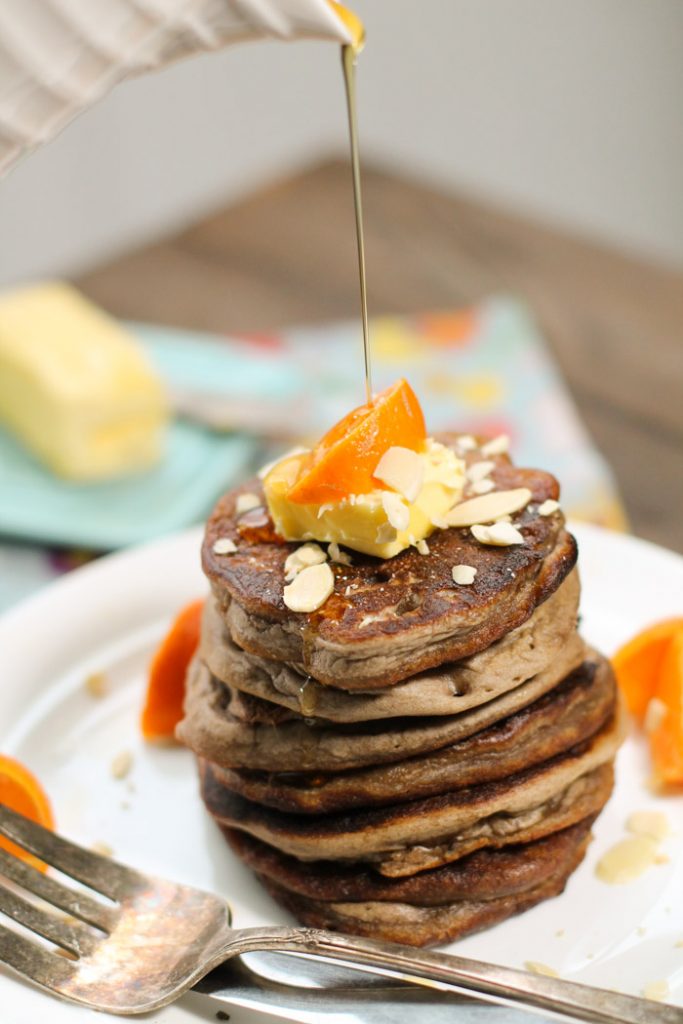 From early on in our allergy free journey, pancakes were an easy way for me to feed all the kiddos. The trick was getting a recipe that they all liked, and was also wholesome to boot. While we have many other pancake recipes we enjoy (check out these basic gluten free vegan pancakes, or these pumpkin ones!), these are the ones we bring to share whenever we go camping or on trips. Everyone always loves them, and for good reason!
We've made this recipe a bazillion times…i just never got around to posting it. I could pretend it was because I was perfecting the recipe….but that was ages ago. In reality…this momma shovels these pancakes onto the vulture's plates as soon as they are hot off the griddle….or occasionally into my pancake warmer…which is seriously the best invention ever! So pictures just never happened.
While today we can have dairy and eggs, we still choose to make these gluten free vegan pancakes——they are THAT good.

Teff Flour Nutrition – And More Teff Recipes
Teff flour is SO versatile and has a lovely nutty flavor that almost everyone enjoys. Once I tried it, it quickly became my BFF in creating nutrient dense foods for my food allergic son!
While teff has loads of nutrients, it has significant amounts of calcium, iron, and resistant starch as compared to other grains. Plus it's delicious. Did I say that already??!! Here's some more info for you.
If you type in 'teff' in my search bar…you will see a ton of recipes for you to try!! Here are some teff chocolate chip cookies I'd like to try, and these cheesy teff grits looks amaze balls too! I suppose I could force myself to eat one of these brownies while I was at it too!

Nutritious Add In Options:
While these are wholesome little gluten free pancakes….there are always options for upping the ante. Here are some we use at times!
2-3 scoop collagen. Increases protein content, adds gut healing amino acids into the mix,,,we add it to almost ANYTHING we can, especially since discovering our favorite brand that tests glyphosate free!
1 scoop grass fed whey powder – increases protein, great for energy!
A few tablespoons golden flax meal – fiber!!!
Acacia fiber – fiber, the easily digested kind!
I have a raspberry syrup you could make (with any mix of berries) that is rocking for a pancake topping and has far less sugar than maple syrup.
Whipped cream, believe it or not has less sugar too…just saying.
Can I Make These Gluten Free Vegan Teff Pancakes In Advance?
I have two tips for the typical busy family when it comes to pancakes.
When you know you like a recipe, make HUGE batch, and the freeze the extras (lay out side by side on a cookie sheet to freeze first)! Simply plop them in the toaster for a fresh tasting pancake anytime you like!
Make a large batch of the pancake mix by doubling, quadrupling, etc the ingredients. Makes it much quick to throw a batch together when you're ready. I do this regularly, and have a special container just for this pancake recipe always on hand in the pantry!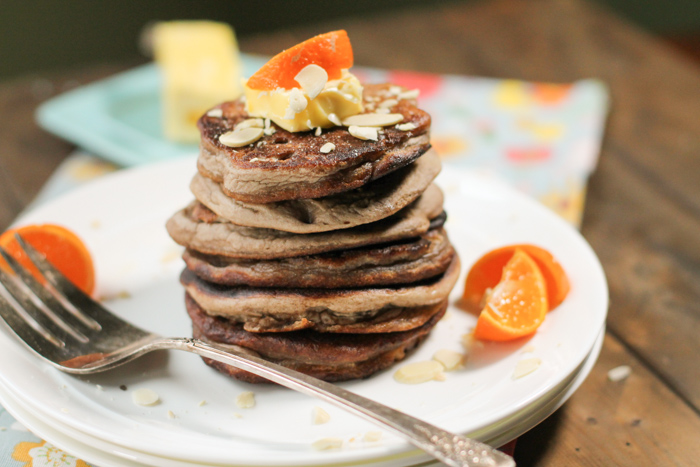 Additional Wholesome Gluten Free Breakfast Options
Vegan & Gluten Free Teff Pancakes Recipe:
If you try these teff pancakes, be sure to leave a comment and let me know!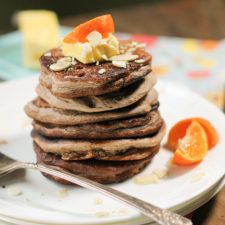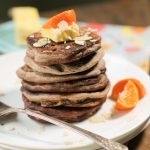 Teff Pancakes - Gluten Free, Vegan, Wholesome
Wholesome and delicious gluten free pancakes use teff, the most underused and amazing grain!
Ingredients
Liquid:
1

cup

water

or any preferred milk

1/2

cup

any yogurt

or any kefir, buttermilk (I originally used coconut milk yogurt, although I now use dairy versions)

1/2

cup

applesauce

unsweetened or 2 eggs (we still prefer the applesauce version best)

2

tablespoons

maple syrup

or equivalent in stevia

2

tablespoons

avocado oil

or other fat
Instructions
Place all liquid ingredients into a blender, and pulse to mix. Alternately you could whisk together dry ingredients in a bowl first, followed by the liquids.

If using a blender, Sprinkle in all the dry ingredient and blend briefly, but thoroughly to mix. 

Either way, let the batter rest for 2-4 minutes to give the the flours time to 'drink' some of the liquids...it will thicken a bit.

You get to play with the final thickness...some like their pancakes thick, others like them thin, play around with liquid/flour ratio to your liking.
Nutrition Facts
Teff Pancakes - Gluten Free, Vegan, Wholesome
Amount Per Serving
Calories 323
Calories from Fat 72
% Daily Value*
Fat 8g12%
Cholesterol 1mg0%
Sodium 447mg19%
Potassium 288mg8%
Carbohydrates 56g19%
Protein 6g12%
Vitamin C 0.3mg0%
Calcium 139mg14%
Iron 2.5mg14%
* Percent Daily Values are based on a 2000 calorie diet.

Any of the links in my posts may be affiliate links. If you click on them and make a purchase, I might make a commission. Your support is much appreciated and pays for the cost of running this free resource!