This soft gluten free teff bread wins every single person over…gluten free or not! Delicious gluten free bread IS possible, and soaking makes the grains more digestible and creates a lovely soft crumb!
With no eggs, dairy, or gluten, this a perfect bread to serve many people!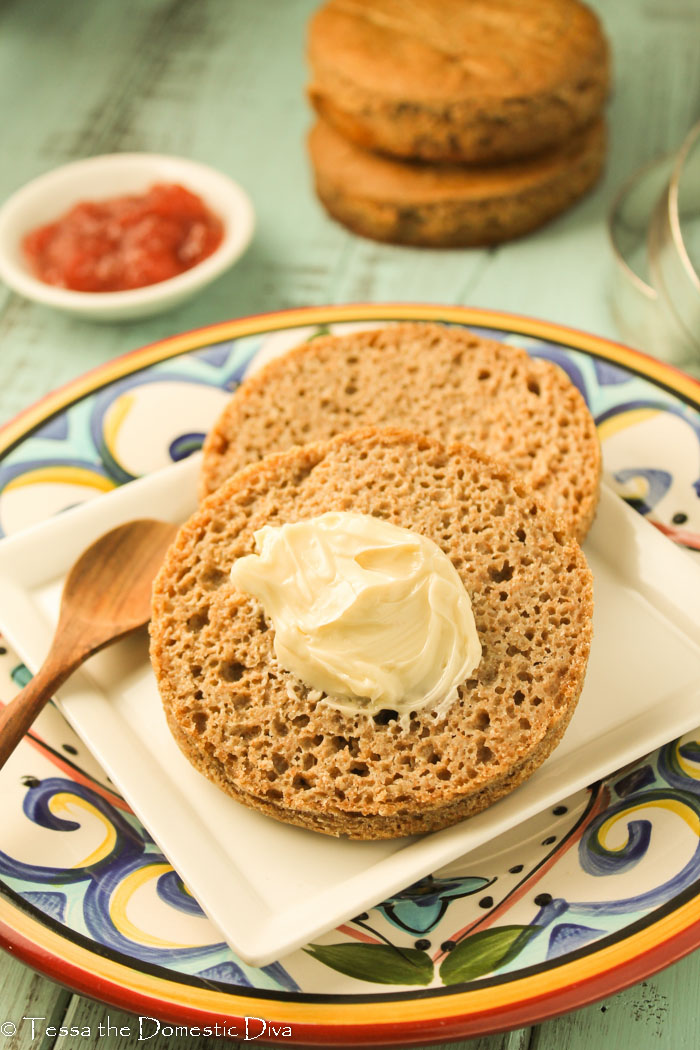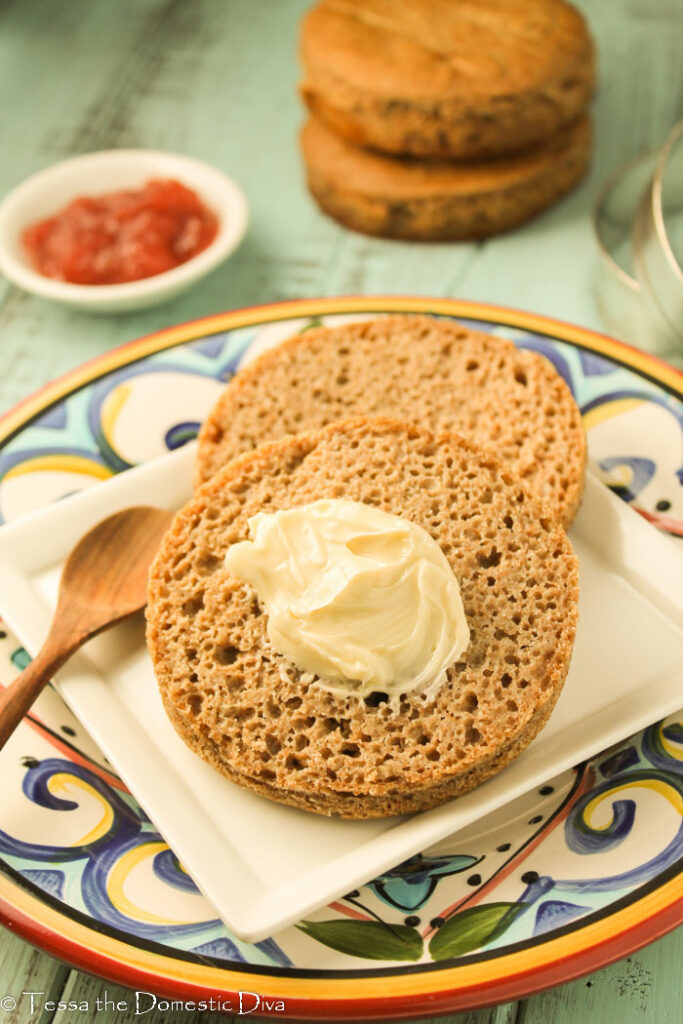 Soft and totally delicious gluten free bread that is wholesome and nutritious??!! It's here!
If it is one thing I am sorely lacking on this blog…it would be yeasted breads.
Gluten free AND vegan breads are a very tricky endeavor, and most recipes and experiments that I try are not worth sharing.

There are a couple of reasons gluten free and egg free breads are problematic:
eggs provide much needed lift to dense-leaning gluten free breads. Without eggs to lift away, dense bricks are a very common side-effect!
because we can't use wheat (and the structure gluten provides!), breads are not as willing to lift up …yeast or no yeast. And this lack of structure can also result in crumbly breads.
I have made more gluten free and vegan breads than I can shake a stick at. Without a doubt, using eggs makes gluten free breads SO much easier! Problem is…my son can't have them still, and he LOVES bread! So I also need to make sure the breads are as wholesome as possible, and as simple to digest on his belly as possible.
I ran across a recipe months and months ago and have been playing with this recipe ever since!

Why do we soak grains?
In layman's terms, soaking the grains in an acidic medium allows for those protective coatings to be broken down so that our bodies can digest them easier, and get all the nutrients more readily too! You can read more information here. As an added bonus, it lends a wonderful crumb to gluten free breads.
Multiple grain options!!
I have experimented with multiple grain combinations and ratios and have found they all work. I almost always find whole millet in the bulk food section, and buy my teff online.
UPDATE: We stopped using millet for my son recently and make this with half teff and half brown rice now…still great!!

Why do I prefer the English muffin style?
Since there is no eggs for additional loft, the lack of structure can result in a sunken cavity when you try to bake a whole loaf (a lot of weight to lift!). Baking in smaller portions fixes this!
And while I prefer the mini loaf and English muffin route, I have done this as a loaf as well. It is important to use a sturdy bread pan, here is my favorite loaf pan.
But English muffin rings are so darn cheap, and there is no sunken cavity afterwards…the small amount of dough is easy enough to lift!! I suggest at least 8 rings and at $5/4, they will not break the bank. Even better, you have convenient single servings ready to go!
A perfect, moist gluten free and vegan bread that holds for days and does not crumble.
A lovely sourdough tang…I simply cannot get enough of this bread! Yum! It is also worth noting that everyone who tries this, LOVES it….gluten free or not!

Can I use a food processor instead?
I tried doing this in my food processor for those who do not have high powered blenders, but the teff grains were just too tiny for my faithful Cuisinart to pulverize.
How about using the flours instead of the whole grains?
I HAVE ALSO tried this with soaking the flours and it worked well!
Reduce the soaking liquid to 1 2/3 cups water and use the same weight measurements as the grains for the flours.
Mix in the remaining ingredients after soaking and proceed as directed.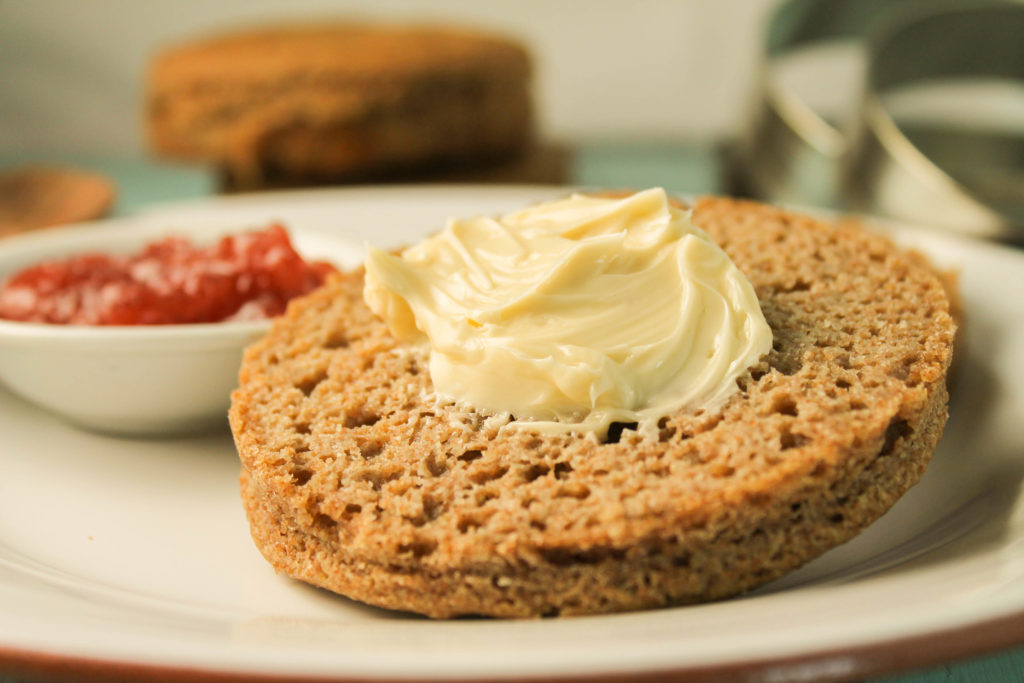 Here are some additional breads our family enjoys!
Soaked Gluten Free Teff Bread Recipe:
Have you tried this soft teff bread? I want to now about it! Please leave a comment below!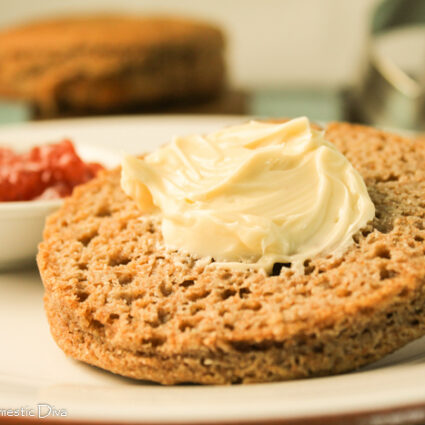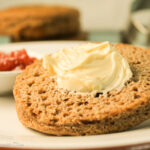 Moist Soaked Teff Bread - Gluten Free | Vegan
Ingredients
SOAKING LIQUID
2

cups

water

2

tablespoons

raw apple cider vinegar

or kombucha
GRAINS: About 18 oz or 500g total, whatever mix you choose
PROOFING MIXTURE:
1/4

cup

warm water

3

tablespoons

honey

you need to use at least a tablespoon for the yeast, but you can play with the amount if you like 'sweet brown bread', You can use maple syrup or coconut nectar for vegan. I always use part stevia.

2 1/4

teaspoons

yeast

or 1 packet
BLENDED IN WITH GRAINS WHEN DONE SOAKING:
Instructions
Overnight Soaking
Either before going to bed, or first thing in the morning, place the water and vinegar into a high powered blender jar (i.e BlendTec or Vita-Mix). If using the flours, start them soaking in a bowl.

Stir in the teff, millet, and brown rice, set aside for at least 8 hours. The longer you let it sit, the more fermented it will taste, fyi.
Proofing the next day:
Proof your yeast by whisking your yeast into the warm water and honey. Set aside for a few minutes to get a slightly poofy, creamy froth. If it doesn't do this, your yeast is old or the water was too hot and you likely killed it....start over.
Blending:
Pour in the proofed yeast mixture to the soaked grains, along with the oil and salt. Blend on high speed for one full cycle (about a minute) until all the grains are pulverized and the mixture looks like a batter. Teff is super tiny, so there will be some specs of it left.

While the blender is still whirring, add the chia meal and gum OR gelatin to the blender jar and whir until mixed (we wait on the thickeners until now so the blender does not work as hard and all the grains get pulverized!)

Decide whether you would like to use a loaf pan or English muffin rings (my preference) and grease them up. I can make about 10-11 English muffins with this batter.

Pour the thick, sticky batter into the rings (you should need the help of a spatula to move it), about 2/3 of the way up. If doing a loaf pan, use a sturdy pan, I linked to the one I use above.
Let Rise:
Let the dough rise in a warm place. I like to use my oven that has been briefly heated and then turned off. My English muffins rarely take longer than 15 minutes (the blender warmed everything up nicely) to rise to just under the rims of the rings, and my loaf takes at least 30-45 minutes. We are not going for double in size here, about half that!

Removing the pan when rising almost complete, turn the oven on to 375 degrees.

Bake in a preheated oven for 20 minutes until golden brown and the internal temperature is at least 205-210 degrees. If using a loaf, this takes me about 50-55 minutes to reach that temperature.

Remove from the oven and let it fully cool for the best texture.

Store in an airtight place, in the freezer if you like!
Nutrition Facts
Moist Soaked Teff Bread - Gluten Free | Vegan
Amount Per Serving
Calories 235
Calories from Fat 72
% Daily Value*
Fat 8g12%
Sodium 183mg8%
Potassium 191mg5%
Carbohydrates 34g11%
Protein 6g12%
Calcium 57mg6%
Iron 2.5mg14%
* Percent Daily Values are based on a 2000 calorie diet.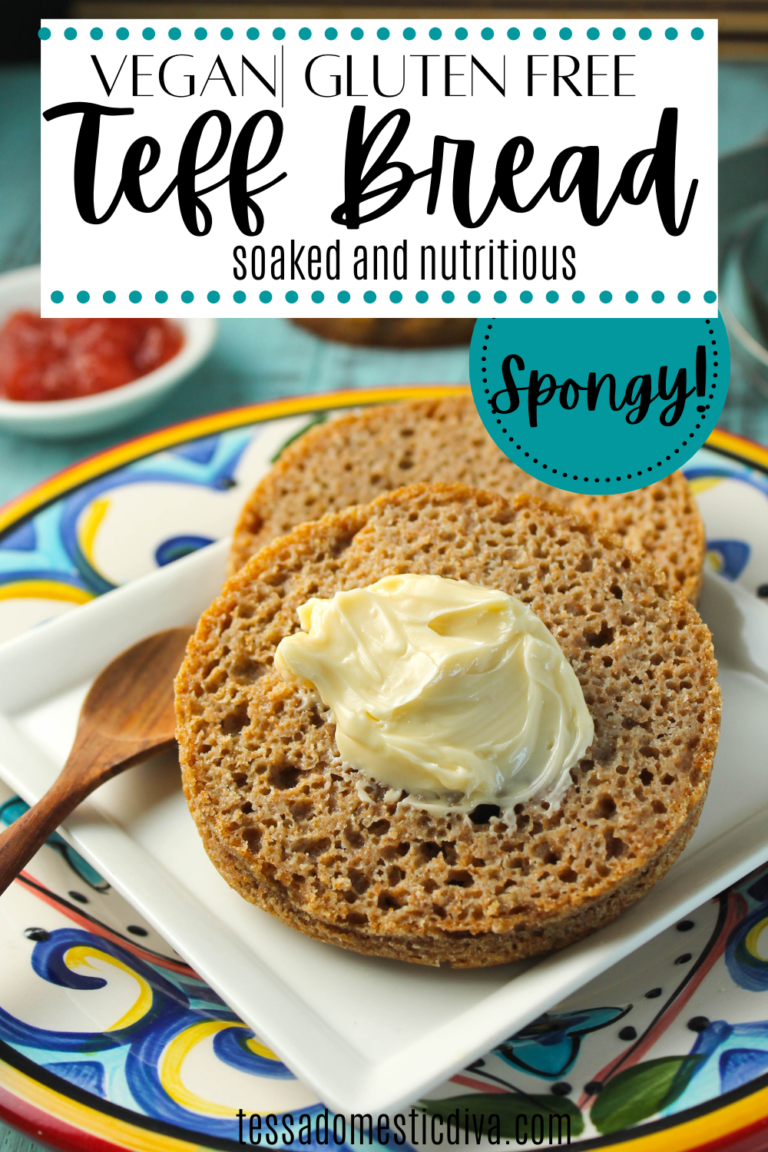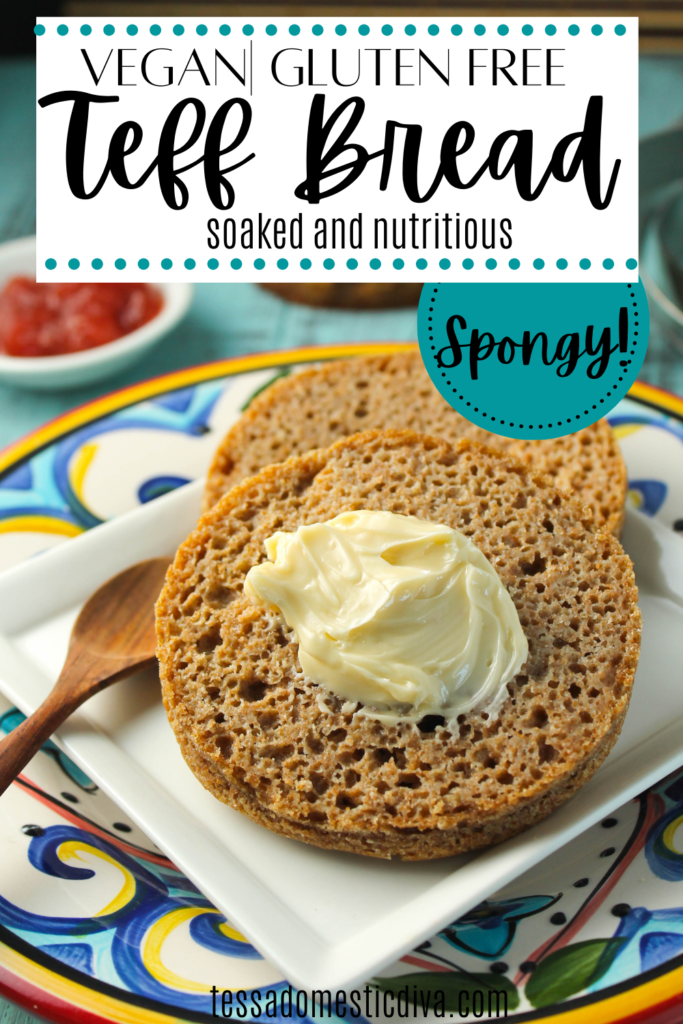 Any of the links in my posts may be affiliate links. If you click on them and make a purchase, I might make a commission. Your support is much appreciated and pays for the cost of running this free resource!