Super bendy and flexible gluten free tortillas are made with wholegrain gluten free flours for a nutritious and fiber filled wrap! I have even provided a keto and paleo version!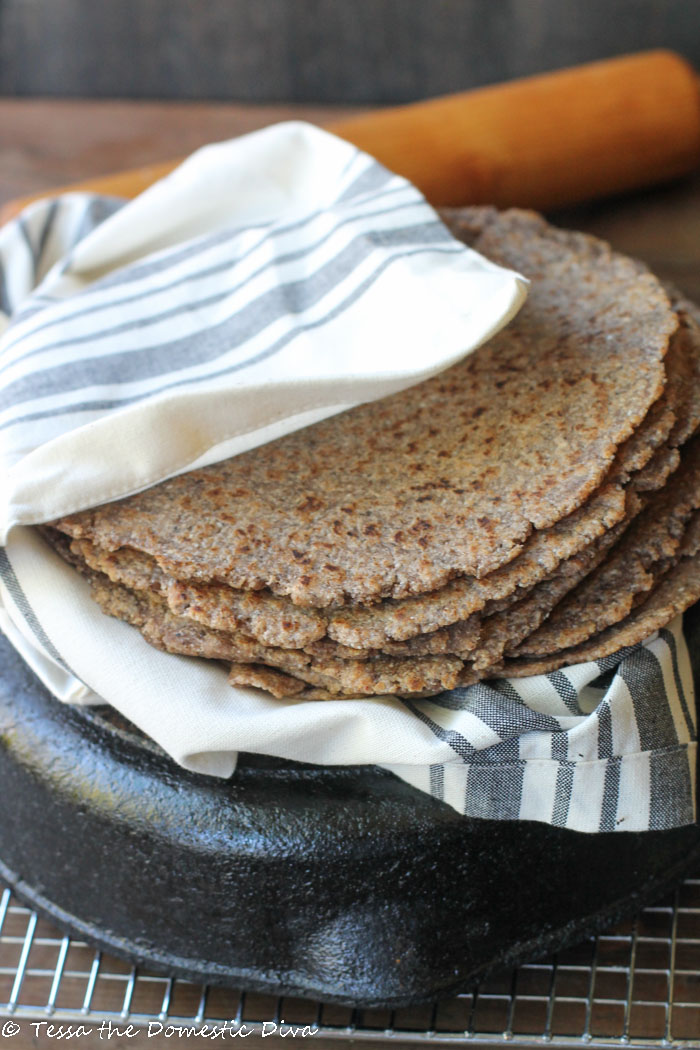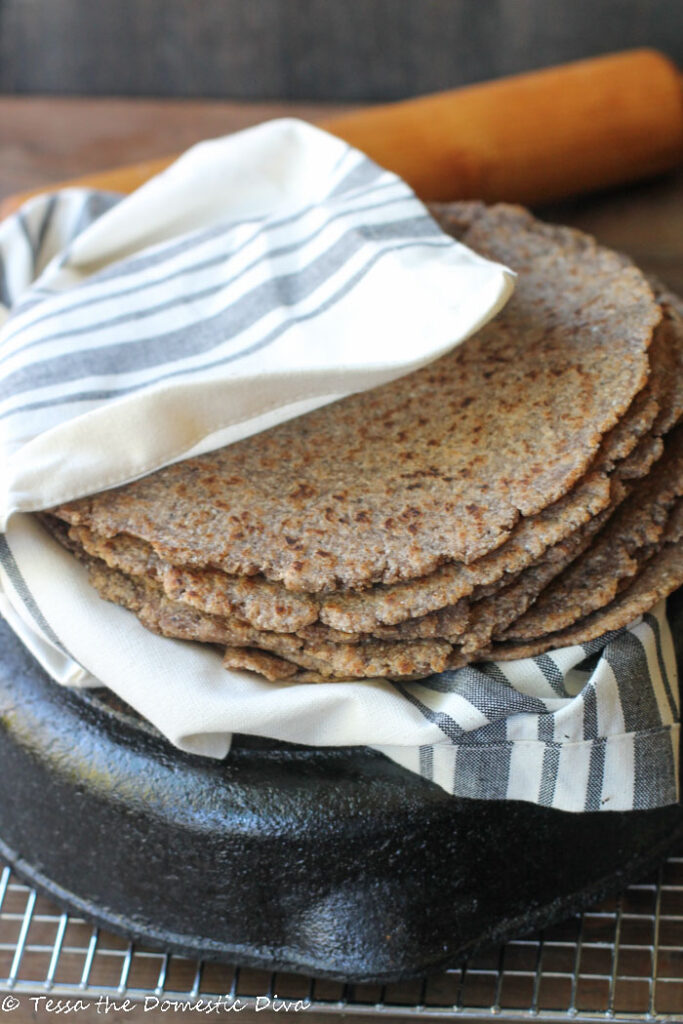 These gluten free tortillas were a hard one for me. Sure, corn are delicious…but I really wanted a super bendy version perfect for wraps!
I already had my favorite gluten free flour tortilla…which in and of itself took FOREVER to find! Gluten free flour tortillas are not all created equal, and most I tried left a lot to be desired.
The only problem with the old recipe I was using? It has a very distinct bean flavor…delicious in savory items, but not quite right for other applications.
So I set out to create gluten free AND paleo tortillas that were more like a whole wheat flour tortilla than anything else. It needed to be soft and pliable, as well as nutritious!
After more failed attempts than I care to admit….I am SO happy to be finally sharing this recipe with you!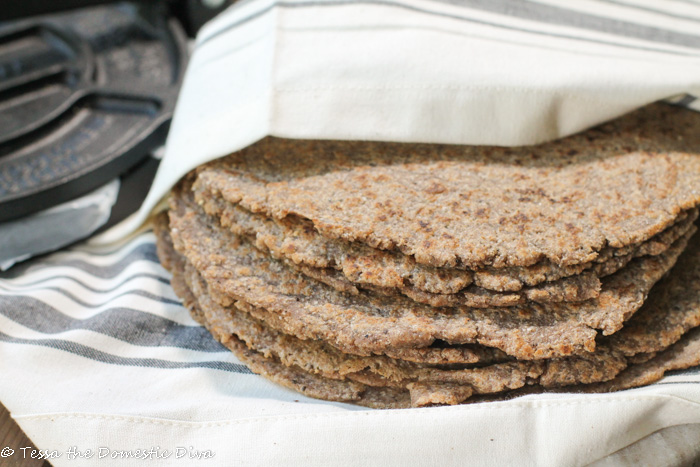 Can I make a paleo tortilla version?
Since my very first successful creation, I have played with this recipe to make it nut free, and then even paleo with success!
So now it is a perfect wrap for SO many people with special diets!
Replace the teff flour with additional nut or seed flour of choice. Almond, chestnut. sunflower, pumpkin seed would all work. You can make your own nut flours by whirring nuts in a blender. I prefer almond and chestnut flours.

Can I make a keto and low carb tortilla version?
Absolutely! Here's your adjustments:
Omit the teff flour
Increase almond flour to 1/2 cup
Coconut flour to 1/4 cup
Increase psyllium powder to 3 tablespoons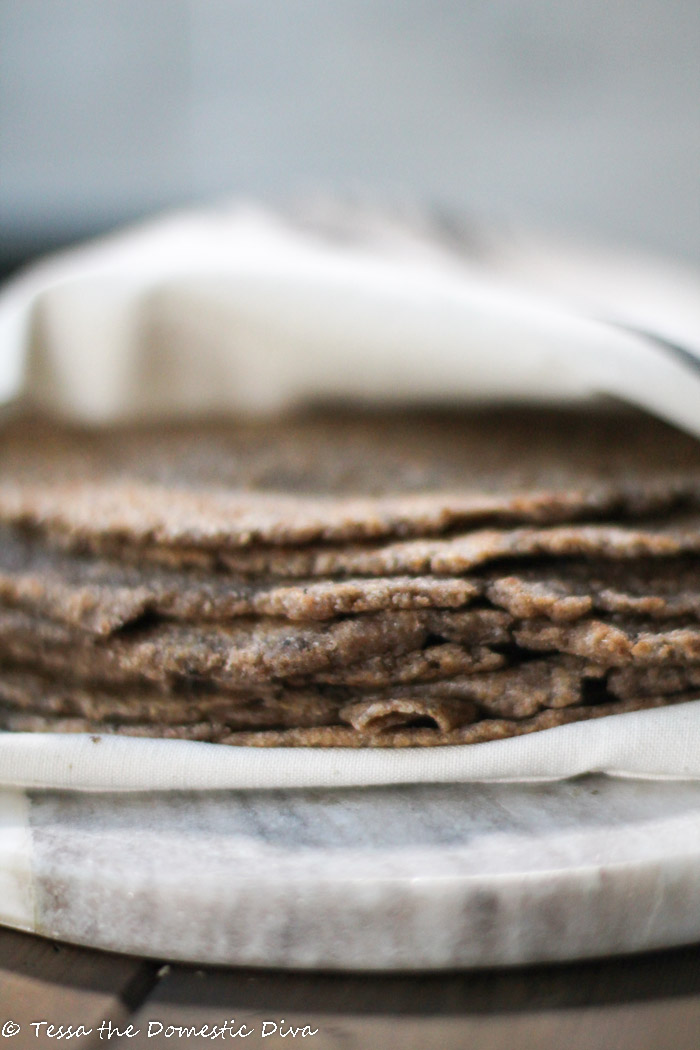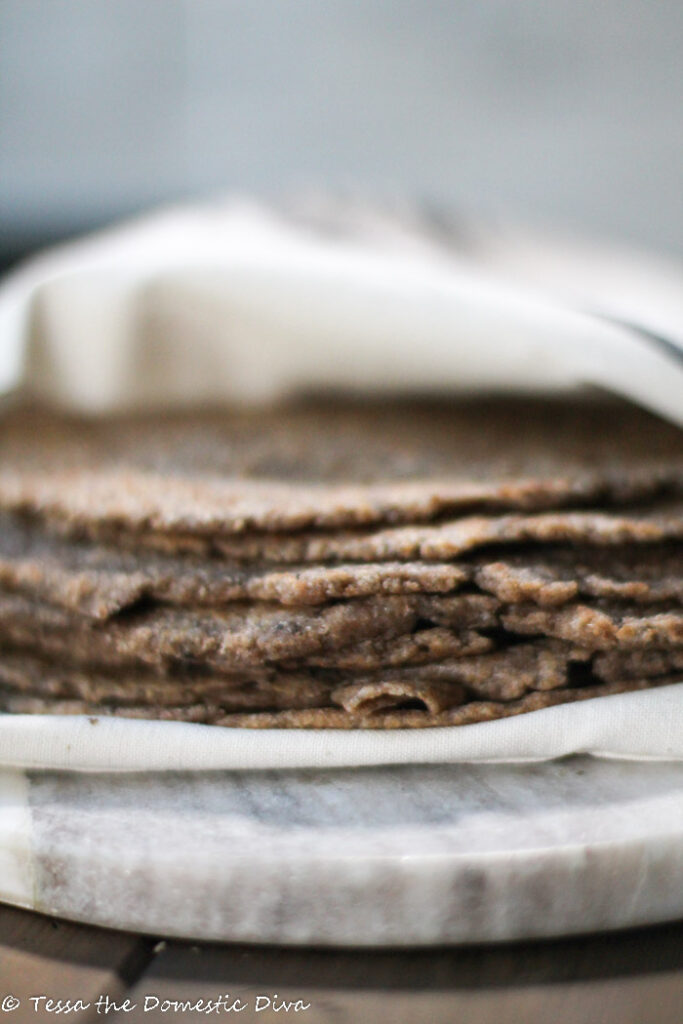 Gluten free tortillas assembly progression and using a tortilla press:
For my visual peeps out there, here are some photos that show you step by step how to make these tortillas!
When I first started out making these, I was rolling them out as pictured. I have since invested in a tortilla press that saves me LOADS of time! I highly recommend purchasing one if you make your own wraps or tortillas regularly!
A little tip with a tortilla press: using a clean plastic grocery sack in the best way to line the press! Simply cut up to give you enough to line the tope AND bottom, and voila….recycled genius!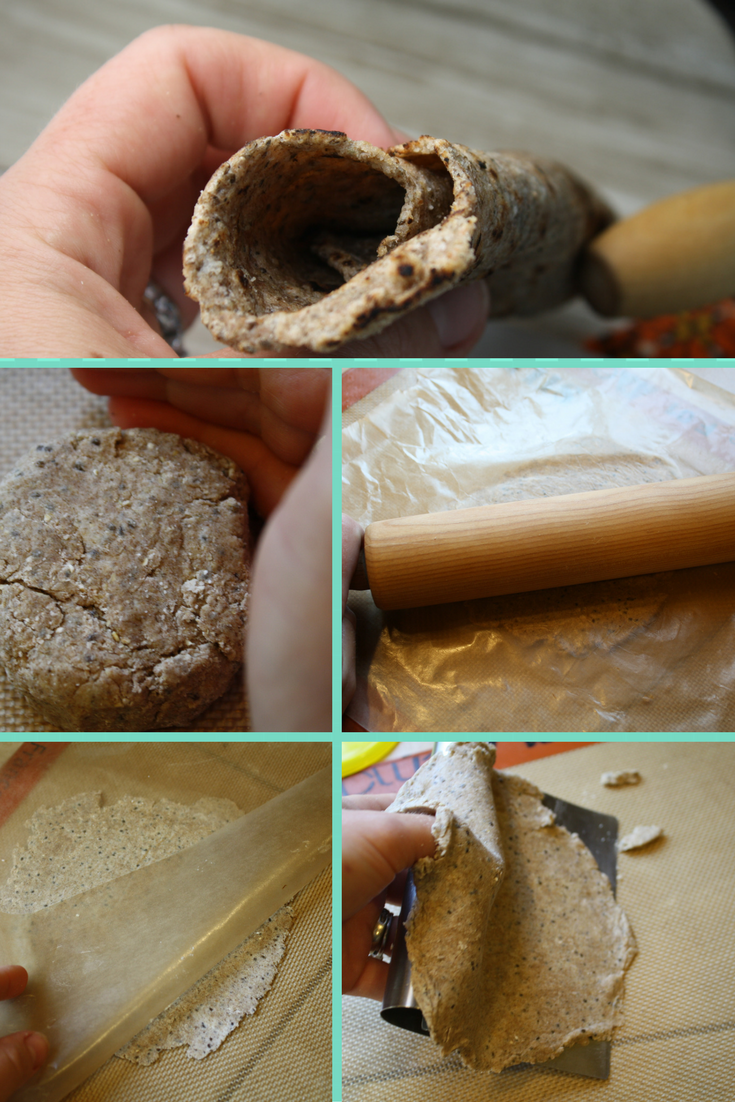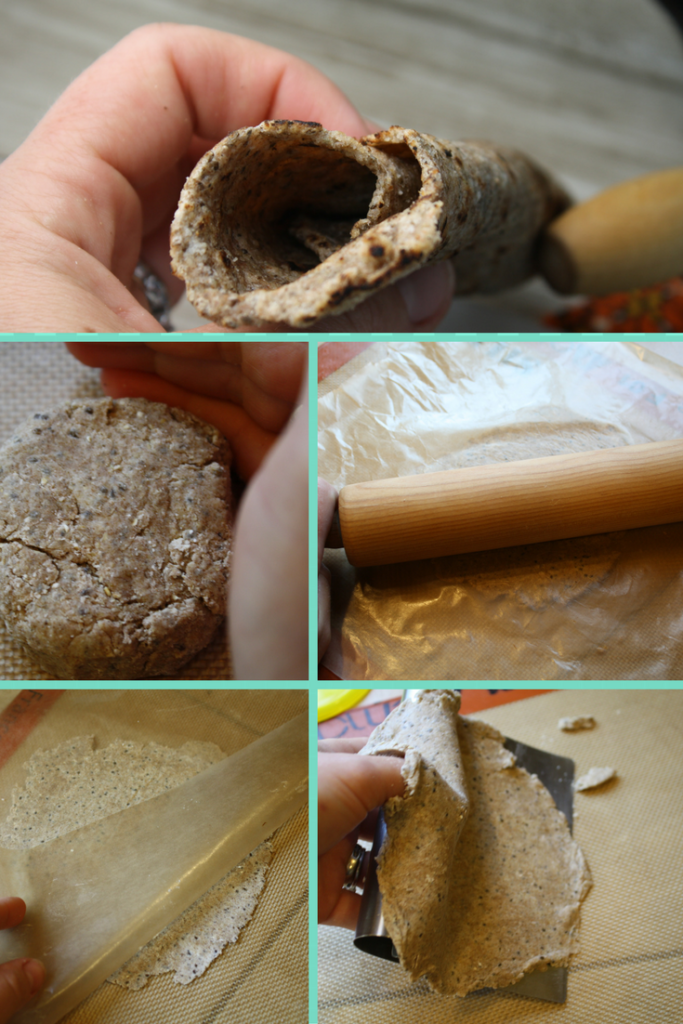 Some additional paleo wrap and bread ideas:

Gluten Free Tortillas Recipe:
If you try these tortillas, be sure to come back and tell me which version! Leave a comment!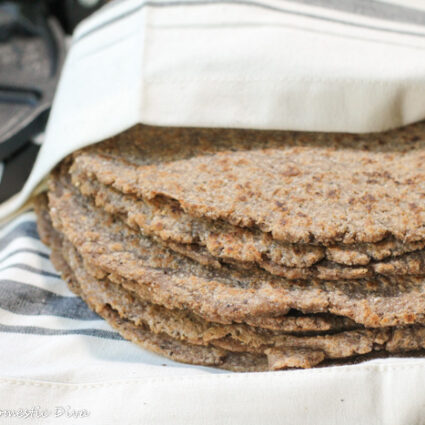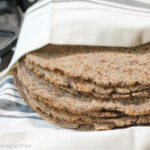 Gluten Free Tortillas w/ Paleo Opt
Wholegrain gluten free tortillas that are extra bendy and flexible!
Ingredients
Wet:
8

tablespoons

water

hot , omit 2 tablespoons if you're not using the psyllium

2

tablespoons

melted coconut oil

or avocado oil
Dry:
1/4

cup

chia meal

Replace 2 tablespoons worth with 1T psyllium powder for an extra bendy version. Or use 2T to replace chia entirely.

1/4

cup

almond flour

OR raw sunflower seed flour, or raw pumpkin seed flour (I make my own by whirring raw almonds or seeds in my spice grinder). I have also used teff here.

1/4

cup

tapioca flour

OR replace with additional almond flour for KETO version

1/4

cup

teff flour

OR for PALEO/KETO sub a seed or nut flour of choice, see notes in above post

2

tablespoons

coconut flour

1/2

teaspoon

baking powder

I make my own grain free, recipe on my blog

1/4

teaspoon

sea salt
Instructions
In a large pyrex measuring cup, blend the wet ingredients until well incorporated and gelled (the warm water melts the oils).

Sprinkle the dry ingredients over the top, in the order listed.

Whisk gently before fully incorporating with the wet. I use my hands to pull the dough together and knead it a few times to pull it all together. The dough should be soft, pliable, and easy to handle, ultra soft but not sticky.

Divide the dough into 4 balls, and preheat a cast iron pan over medium-high heat.

Using a non-stick baking mat or two pieces of waxed paper or plastic wrap, place one ball on a hard surface. Cover with a piece of waxed paper. Roll out to about 6-7 inches (double the dough if you want larger tortillas). If the edges are tattered, gently smoosh and mold the edges with your finger tips.  I have since purchased a tortilla press and LOVE it!  Makes my job SO much easier!!

Using whichever material you rolled out on, carefully lift the whole tortilla and invert atop the preheated pan. Carefully remove the material to roll out your next tortilla. Flip at about 30 seconds when there are a couple brown spots (time will vary based on stove temperature and pan used), and cook for another 15 seconds or so. You do not want to overcook these, they will lose their pliability! Err on the side of less time!

Cool and store in an airtight location, in the freezer for prolonged use if you need it! We have stored them in the fridge for 10 days with no issues (refreshed with a warm pan and a touch of oil to restore the bendy property).
Recipe Notes
Nutritional fact are for gluten free version. 
A keto option using just coconut and almond flours =
A paleo option using tapioca, almond, and coconut flours = 
Nutrition Facts
Gluten Free Tortillas w/ Paleo Opt
Amount Per Serving
Calories 236
Calories from Fat 135
% Daily Value*
Fat 15g23%
Sodium 159mg7%
Potassium 132mg4%
Carbohydrates 22g7%
Protein 5g10%
Calcium 74mg7%
Iron 2mg11%
* Percent Daily Values are based on a 2000 calorie diet.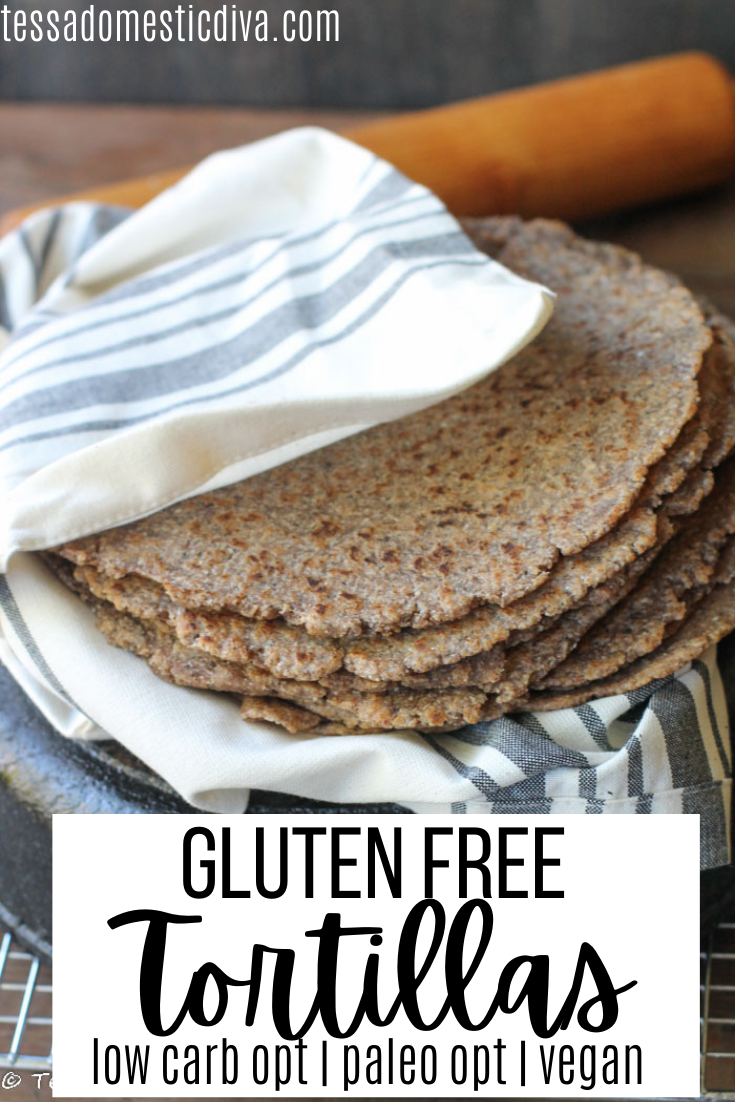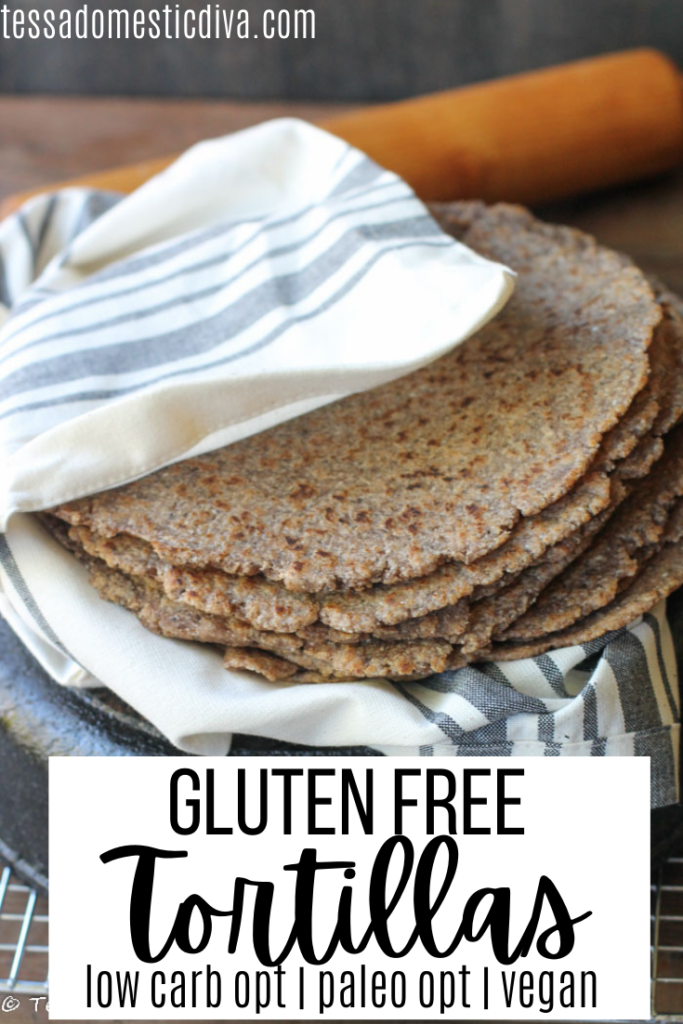 Any of the links in my posts may be affiliate links. If you click on them and make a purchase, I might make a commission. Your support is much appreciated and pays for the cost of running this free resource!