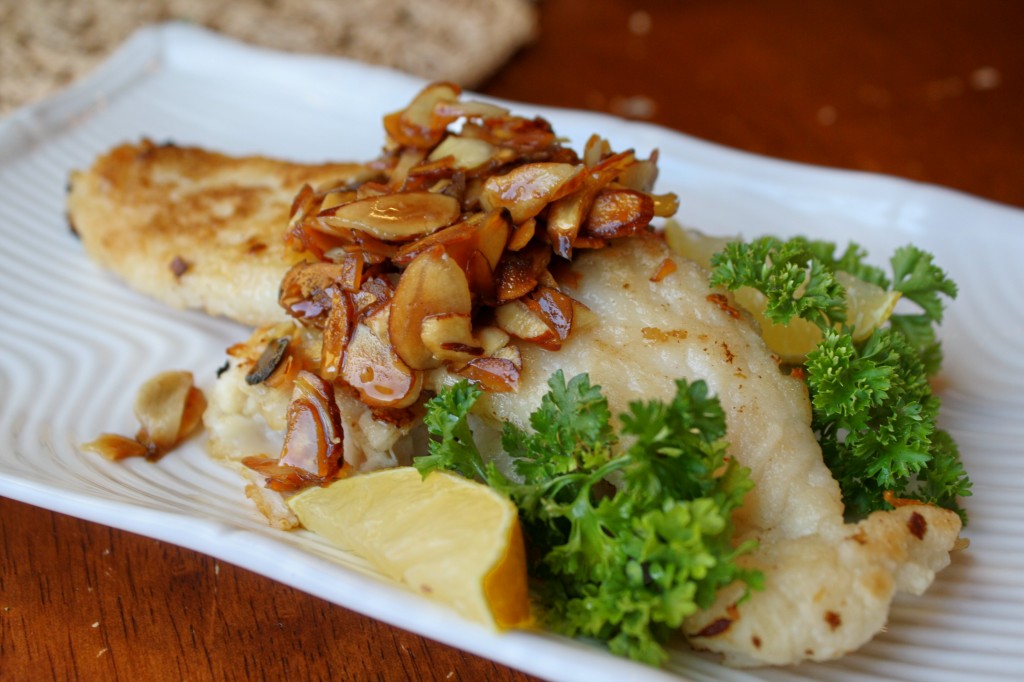 I am NOT a fish lover.  As a young girl, the smell could make me gag, and today, I'm not much different.  The key for me is to use VERY fresh white fish, or mild white frozen fish..any fishy aroma AT ALL and I run for the hills!  Of course, I know I am supposed to have fish regularly in my diet for health reasons, so I had to figure something out, plus I want my kids to grow up enjoying it even if it is not my favorite thing.  No sense in tainting their taste buds with mine!  This recipe is SO scrumptious, I have been making it regularly for years.  It wasn't too tough to make it allergen friendly, and it's not tough for you to revert it back to 'normal' if that is what you have on hand!  My kids even love this….and it is extremely easy and quick to put together!

Fish w/ an Almond, Garlic Lemon Topping (Amandine) - Gluten, Dairy , & Grain Free
Prep time:
Cook time:
Total time:
Ingredients
1 pound mild white fish, like Tilapia or Sole in thin fillets
½ cup preferred (unsweetened) milk (I used So Delicious Unsweetened Coconut Milk)
1 egg beaten (optional - I have made this without the egg and it turns out fine)
½ teaspoon cayenne (omit or reduce if heat sensitive)
½ cup sweet rice flour (Mochiko Blue Star is good brand. Sweet rice flour is milled much finer than regular rice flour, and is powdery like a starch) or other flour. For a grain free option, I have done this with half almond flour/half arrowroot!
½ teaspoon salt AND pepper
Oil/fat for pan frying
Sauce:
2 tablespoons olive oil
4 cloves garlic, sliced thinly
½ cup sliced almonds (Trader Joe's has these for the best deal I have found!)
2 tablespoons lemon juice
2 tablespoons allowed butter
Instructions
First, prep the sauce. Saute the almonds and garlic over medium heat in the olive oil until golden and toasted....watch it carefully so as not to burn the almonds. Turn the heat off when it the garlic and almonds begin to brown and then set aside.
In a small bowl mix the milk and egg. In another small bowl, mix the flour, salt, pepper, and cayenne. Dredge the fish fillet in the milk mixture, then the flour, pressing the fillet down to coat the fish evenly. Saute all fillets in oil over medium-medium high heat until golden, and then flip to the other side, adding more oil as necessary to prevent sticking.
When you are ready to serve, add the butter and lemon juice to the waiting almond/garlic sauce, heat gently to warm and melt. Serve atop fish!
This recipe was shared on Natural Living Mondays, Mostly Homemade Mondays, Totally Talented Tuesdays, Fat Tuesday, Tuesday Greens, Tuesday Talent Show,  Hearth & Soul, Gluten Free Tuesday, Tasty Tuesdays,  Waste Not Want Not, Gluten Free Wednesdays, Wildcrafting Wednesday, Real Food Wednesday, Fresh Foods Wednesday,Frugal Days Sustainable Ways,  Wellness Wednesdays,,  Full Plate Thursday, Thriving on Thursday,  Pennywise Platter, Fight Back Friday, Simple Meal Friday, Savoring Saturday, Simple Lives Thursday,  Whole Foods Friday, GF Friday,