This kale salad with cranberries is the perfect blend of sweet, tart and savory. With an irresistible combination of pecans, roasted butternut squash, goat cheese, and cranberries, the whole salad is complimented with an apple cider vinaigrette. Perfection!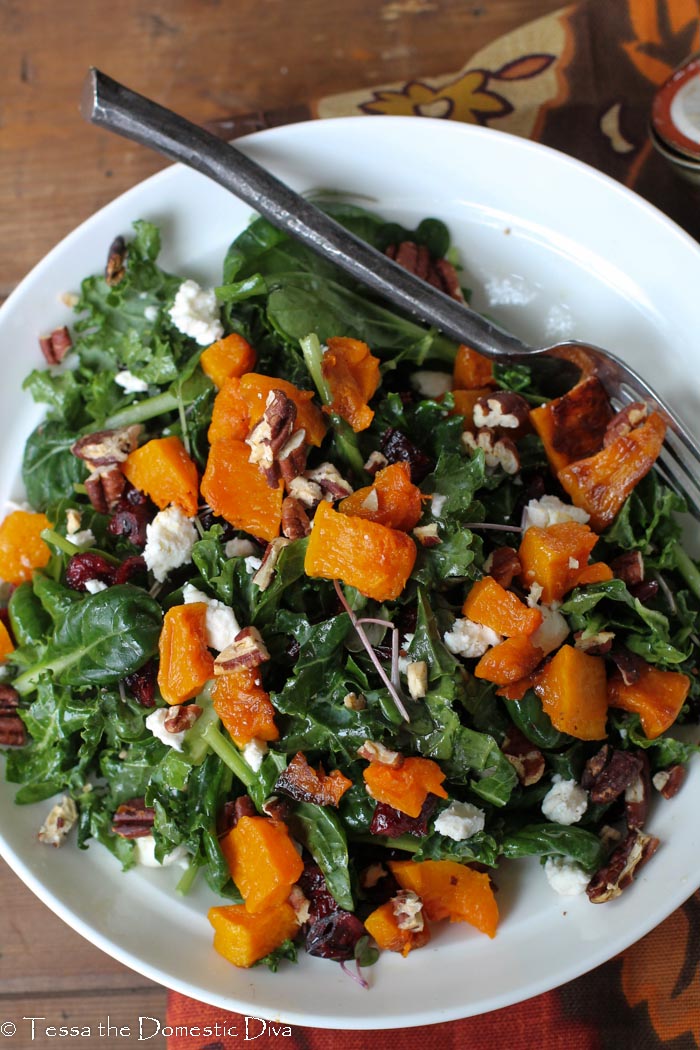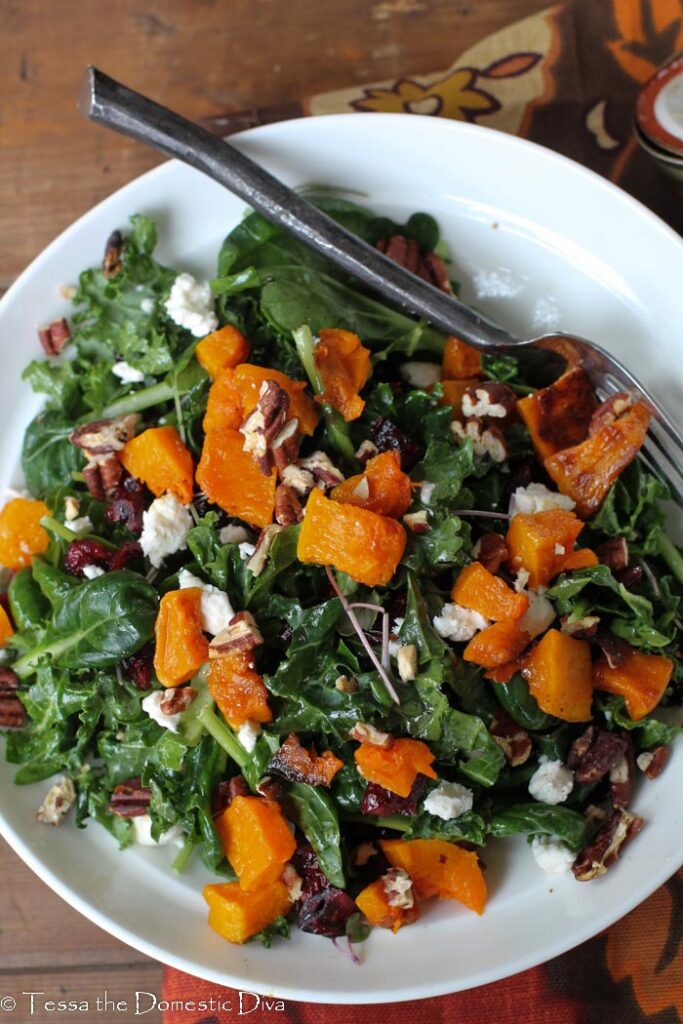 Years ago, my local market started carrying a ready made salad that was SO popular…that they ended up carrying it year round.
It became one of my favorite healthy grab and go hiking meals!
Slowly over time, the price kept inching up…to where eventually, I just couldn't excuse the ridiculous price tag.
Besides, if I made it on my own, I would get to enjoy it for many days in a row…a far better route in my world!
And while prepping the squash and the dressing take a modest amount of time…once you have everything prepared, the salad assembles quickly for days on end.
I save myself even more time and money by buying the already finely ribboned kale at the grocery stores…and you should too if you can find it!

Meal prep tips for making the best kale salad with cranberries
To save myself time, I prep all the salad fixings so they are on hand and ready to assemble on a whim…or daily if you are like me lately!
Ribbon your kale (see below). Store in a large gallon Ziploc, along with a single paper towel. Squeeze all the extra air out.
Roast the butternut squash cubes. I like to make my cubes no bigger than 3/4″ for bite sized perfection. Once cool, store in an airtight container.
Either buy ready made or toast your own pecans. In a skillet over medium low heat, scatter the pecans. Stir every minute or so, takes about 3-5 minutes. Alternately, toast them in the oven (do a whole pans worth then make my homemade Larabars,) 325 degrees for 7-12 minutes until smelling toasty and wonderful…shake the pan a couple of times throughout cooking time. Once the toasted pecans are cool, chop them up and put in an airtight container.
Prep your apple cider vinaigrette. I like to store it in a glass mason jar. Incidentally…this dressing is good on any salad!
Additional kale recipes

What is the best way to cut my kale for this kale salad with cranberries?
Ribbon it! A couple simple steps will have ribboning in no time!
Remove the tough center stem (or most of it).
Roll the remaining leaf up like a tortilla into a little cigar shape.
Using a sharp knife, tuck your finger tips under while you thinly slice the cigar into thin ribbons.
To save time, you can actually stack and roll up multiple leaves at a time!
Should I massage my kale?
Yes, or maybe no?!
The finer you ribbon your kale leaves (above), the less necessary the massaging step.
If you have larger bits of kale, a good massage is necessary so you aren't dealing with pokey sturdy greens in your mouth.
Also, Dinosaur or Lacinato kale is much softer and more tender than curly kale, so it does not always need to be give a rub down like it's curly counterpart.
Ultimately, it's up to personal preference.

Kale Salad with Cranberries Recipe:
If you try this addicting salad, I want to know about it! Leave a comment and rating below!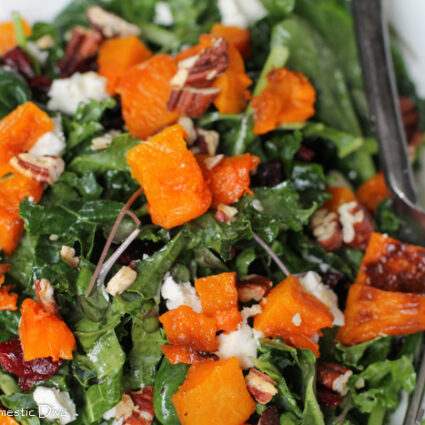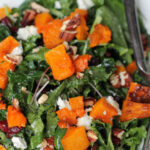 Kale Salad with Cranberries & Butternut Squash
A perfect combination of sweet and savory, this is a salad you will not want to stop eating!
Instructions
Place all your dressing ingredients in a blender and whir until well blended and emulsified a bit. Alternately, put it all in a half pint mason jar and shake vigorously.

Place your ribboned kale into a large bowl. Massage several tablespoons of the dressing into the leaves for 1- 2 minutes to tenderize to kale. Taste, and add more dressing as you like it!

Add the remaining salad ingredients, and toss to coat.
Nutrition Facts
Kale Salad with Cranberries & Butternut Squash
Amount Per Serving
Calories 386
Calories from Fat 270
% Daily Value*
Fat 30g46%
Cholesterol 11mg4%
Sodium 325mg14%
Potassium 506mg14%
Carbohydrates 26g9%
Protein 8g16%
Vitamin A 10875IU218%
Vitamin C 78mg95%
Calcium 152mg15%
Iron 2mg11%
* Percent Daily Values are based on a 2000 calorie diet.
Any of the links in my posts may be affiliate links. If you click on them and make a purchase, I might make a commission. Your support is much appreciated and pays for the cost of running this free resource!