These oven baked kale chips are a snap to make with simple ingredients and create a totally addictive and healthy snack!
Despite their decidedly NOT subtle green color, these crispy kale chips are surprisingly delicious and kid friendly! My kids BEG for them (but no other veggies, alas).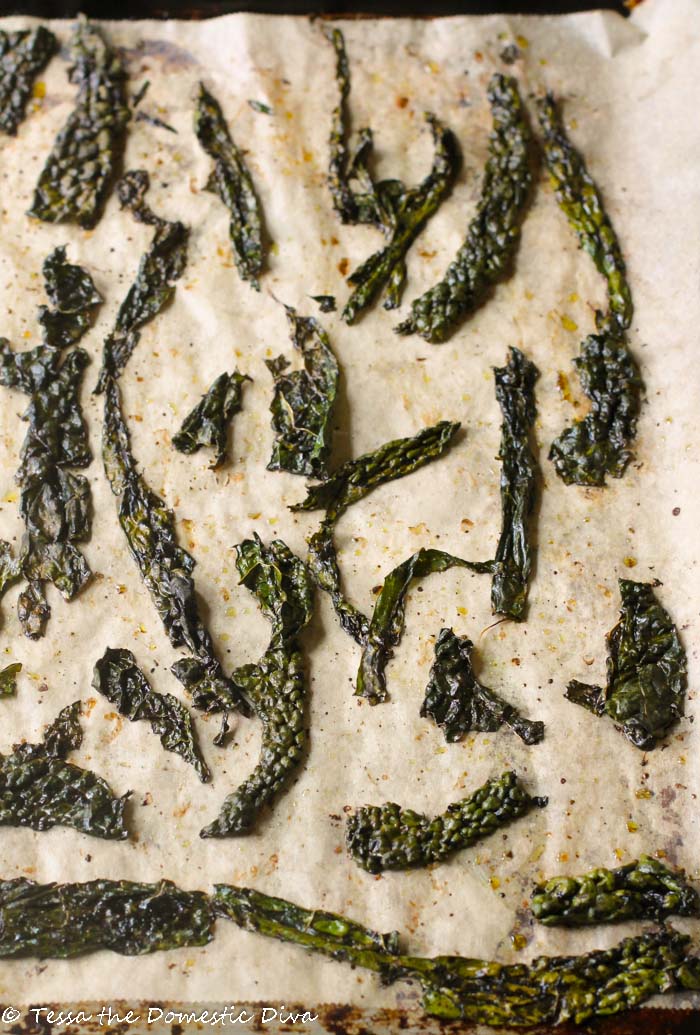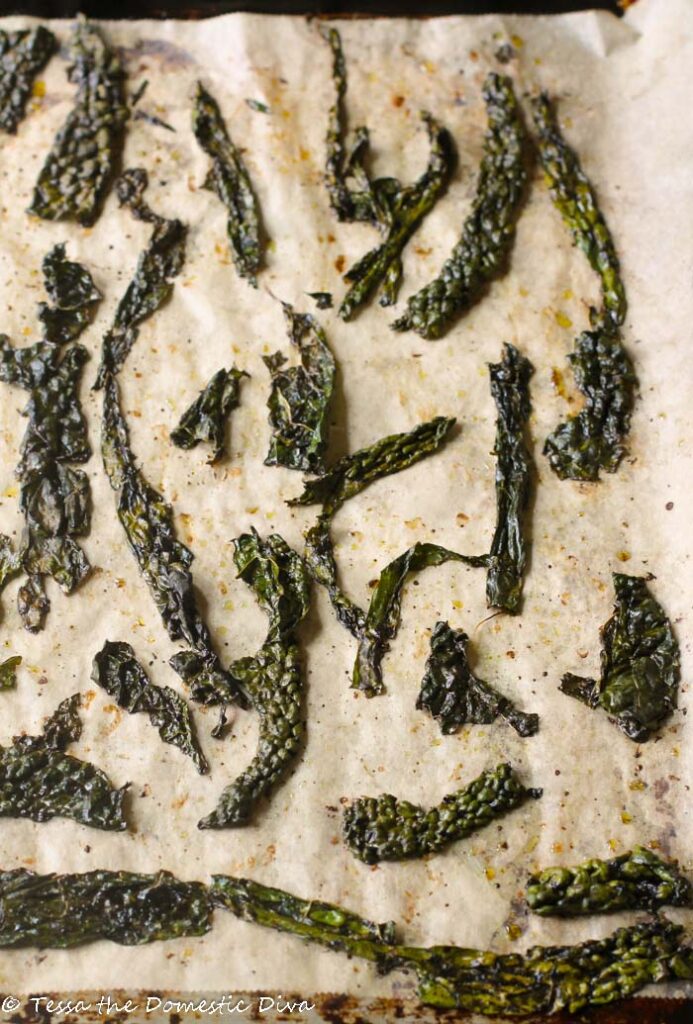 Kale chips: the world's most addictive snack…
REALLY
!
I have been obsessively noshing on these for the past two months. And my veggie averse kids have been right by side the whole way!
Confession: I am not a huge fan of dark greens (insert screeches of horror here!) I am so in to being healthy, I should like all those dark leafy greens, right?!
But alas my taste-buds from days of old still hang on in a couple of areas. The exception are these baked kale chips, and my
sauteed kale
recipe (that is one of my most popular recipes…go figure!)

Are kale chips good for picky kids?
Unfortunately, my kids are about as veggie averse as they come!!
I know how good greens are for me, but my kids could give a rip!
I get a huge high getting any sort of dark leafy green into my kids…but usually it is snuck in somewhere.
And let be honest here: kale chips are
not
subtle. They're the
opposite
of subtle. There is
no
sneaking happening here…it is a big, green leaf right before your eyes. Your kids just
might
shirk away from the horrible dark green monster staring them in the face.
But one taste, and it is over…these are SO SO SO darn good. You really won't believe it until you taste them. So even if your gag reflux starts just THINKING about dark greens…you have got to try these! I can eat an entire head of kale
all to myself
,
happily, and so can all my picky kids.
I also want to try these
cheesy kale chips
…yum!
Crunchy and delicate, one bite and you will be hooked too.
I only waited so long to share with you because taking a pretty picture of kale….well…it was difficult!
Crunch away…any nutritionist would tell you to eat as much of this addictive snack as you want!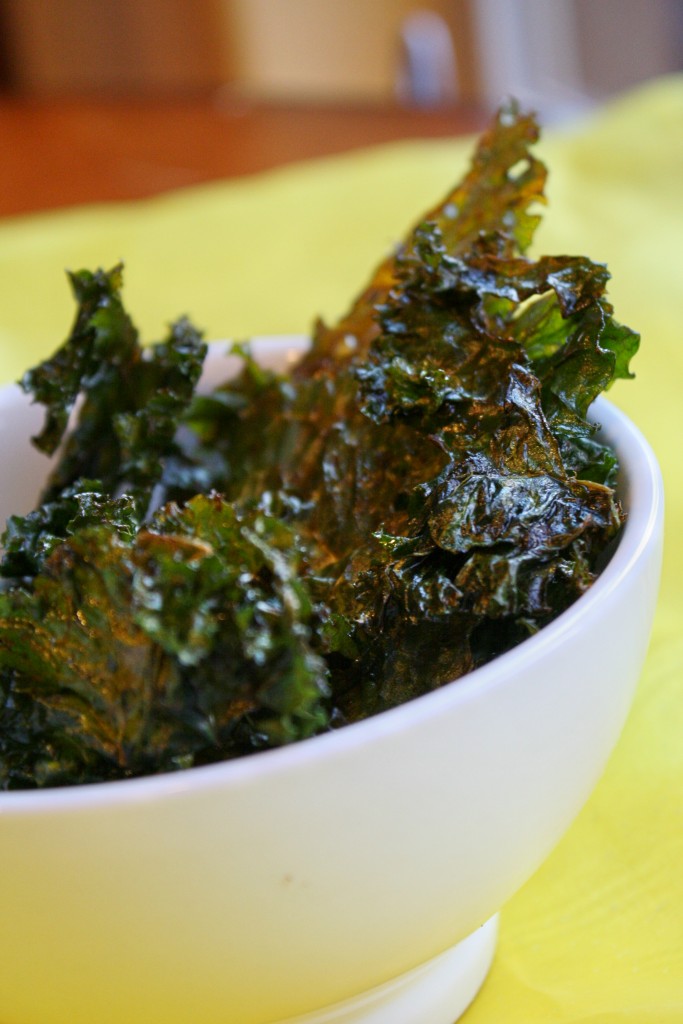 How to make kale chips in the oven:
First, a PSA: Have a glass of water handy for swishing you teeth or you will greet people with Grinch-worthy green flecks all over your teeth!
Second, once you have settled on your dressing for your kale leaves, you get to spread them out on a baking sheet.
It's important you do not overlap the pieces or they will not crisp properly, kind of like my oven baked sweet potato fries!
Place them in a 285 degree oven, it usually takes about 20 minutes…depending on your oven, depending how thick your leaves are, and depending on how much dressing you tossed your kale leaves with! If they are crispy to the touch, they're ready!
You can cook these at higher temperatures, but they go from being done to burnt in seconds instead of minutes…so it is much trickier. Don't say I didn't warn ya!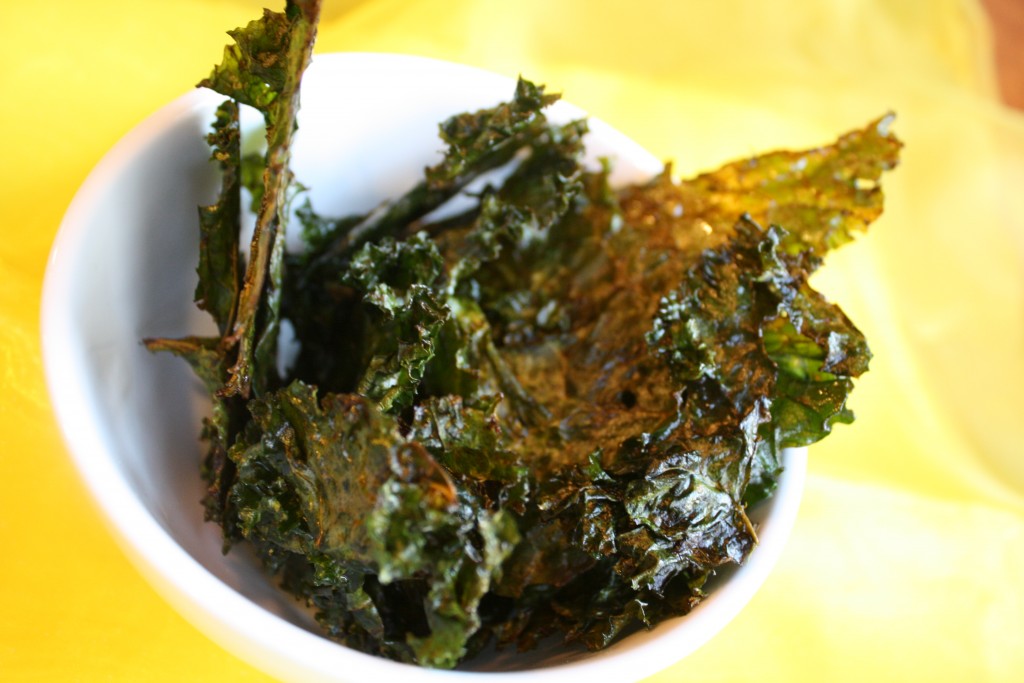 Oven Baked Kale Chip Recipe:
If try these addictive kale chips, be sure to come back and leave a comment!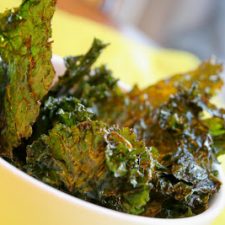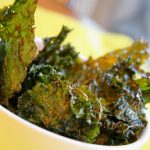 Baked Kale Chips
Ingredients
1

head

Lacinato kale

or Dinosaur, or curly kale

4

tablespoons

avocado oil

apx

3

tablespoon

lemon juice

depending on how sour you like yours

1/2

teaspoon

sea salt
Optional flavor ideas:
sesame seeds, cayenne pepper, smoked paprika, maple syrup, sesame oil. The options are really limitless. I have used Annie's Asian Sesame Dressing even.
Instructions
Preheat oven to 285 degrees.

Rinse and dry your kale leaves.

Using your hands or a knife, remove the thick, coarse stem in the center of each leaf. I just tear the leaves off in chunks away from the thick rib. No exact size necessary, make them as perfect or not perfect as you like.

In a bowl large enough to accommodate all the leaves, make your dressing by whisking all the ingredients together.

Place the leaves in the bowl and using your hands, toss and rub the dressing throughout all the leaves making sure they are all thoroughly coated.

Place in a SINGLE layer on a cookie sheet lined with parchment paper or a Silpat.

Bake for about 20-22 minutes. Check your leaves, they should be crisp and crunchy, if not, put back in the oven for a few minutes until they are. Just be careful, when they burn, they taste bitter! I have put 2 cookie sheets in at a time to speed the process up with success. This recipe usually fills about 2-3 cookie sheets, depending on your head size. Taste the first batch, and if you'd like to add a wee bit more salt before cooking the next batch, now is the time!

Store in an airtight container. I recommend eating them within a day.
Nutrition Facts
Baked Kale Chips
Amount Per Serving
Calories 253
Calories from Fat 252
% Daily Value*
Fat 28g43%
Sodium 582mg25%
Potassium 23mg1%
Carbohydrates 2g1%
Protein 1g2%
Vitamin A 50IU1%
Vitamin C 9.3mg11%
* Percent Daily Values are based on a 2000 calorie diet.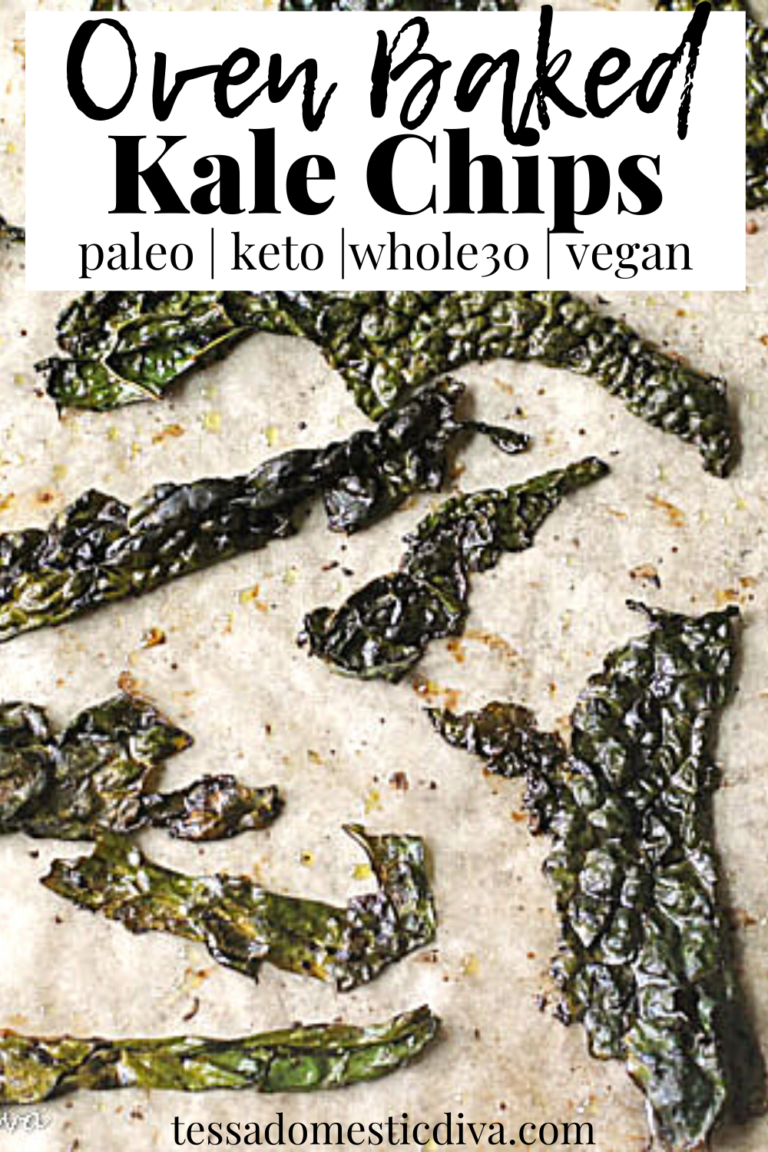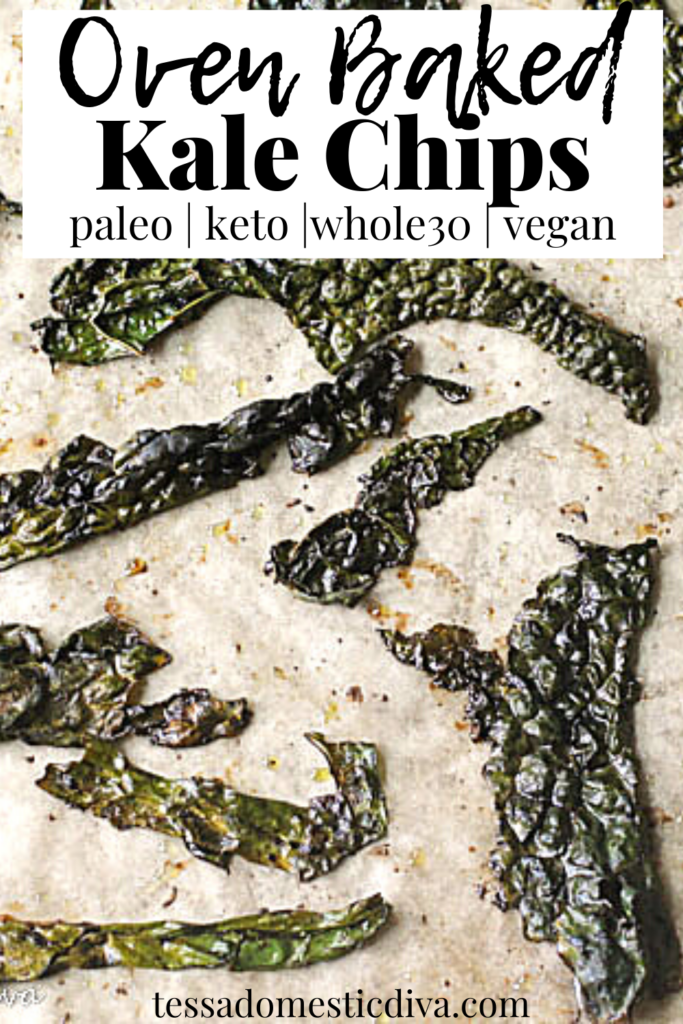 Any of the links in my posts may be affiliate links. If you click on them and make a purchase, I might make a commission. Your support is much appreciated and pays for the cost of running this free resource!