Perfectly crisped baked sweet potato fries are crunchy on the outside and melt in you mouth creamy on the inside.  Cooked in a healthy fat,  this is a nourishing food that requires almost no ingredients and provides exceptional results!
Sweet potato fries have always been a favorite of mine.  And while I used to buy a big bag on the frozen food section (and still do occasionally for convenience), they often use some nasty vegetable oils I'd rather not eat since they are pro-inflammatory and often loaded with GMO's
I have made more versions of sweet potato fries than I can shake a stick at, and let me tell you…regardless of the ingredients, it is the technique that has proven the key.
I have made this version of sweet potato fries so many times now, I am very confident sharing it with you!
Crisp on the outside, soft and tender on the inside….these are perfect oven baked sweet potato fries!!
Sweet potatoes have been our perfect Paleo carb for enduring energy on high activity days.  We like to dip our fries in an almost Paleo dip of my homemade mayo and Sriracha ( a spicy Thai chili sauce)!
It hard to believe such simple ingredients can yield such scrumptious goodies, but they do!  Dig in!
Crispy Oven Baked Sweet Potato Fries Variations:
Once you have mastered a basic sweet potato fry, you get to play with seasonings!  Some ideas you could try (all to be tossed with the oil and the uncooked sweet potato fries in a bowl before spreading out evenly on a cookie sheet):
minced garlic
Cajun Seasoning
Chipotle powder
chili powder
Italian seasonings
smoked paprika
cinnamon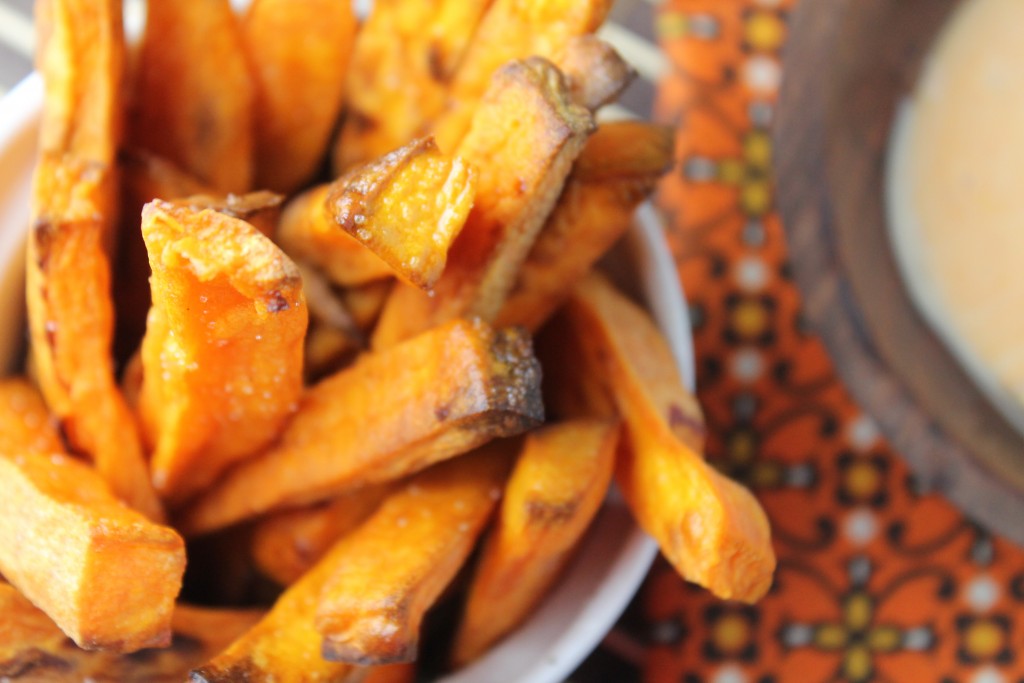 Perfect Crispy Baked Sweet Potato Fries Recipe: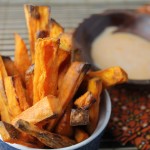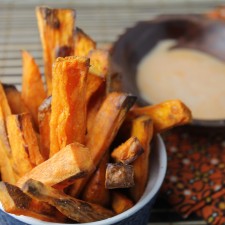 Paleo Oven Baked Sweet Potato Fries
Ingredients
4

smallish sweet potatoes

we prefer garnet, 6-8", 2-3" in diameter

4

tablespoons

avocado oil

(this amount is not an exact science..enough to make sure all your sweet potatoes are coated and glossy but not drowning!!)
Instructions
Preheat oven to 450 degrees and lightly grease 2 cookie sheets, or line with parchment.

Peel your sweet potatoes, but do not rinse them, you need them dry so the oil adheres.

Slice your sweet potatoes into french fries: no perfect way to do this, but keep the pieces equal in size and thickness. Fries should be between 1/2" and 3/4" (go ahead and grab a ruler, I promise, no one will know!).

In a large bowl, toss the fries with the olive oil, and any seasonings if you so choose. I wait to sprinkle salt when the potatoes are on the cookie sheet.

Spread the fries out in a SINGLE LAYER on a cookie sheet(I always use two, and if I need to, three!) Do not crowd your fries unless you want them mooshy! All fries must keep their hands to themselves!

Place no more than two cookie sheets in the preheated oven and bake for 15 minutes.

Remove cookie sheets and using tongs, flip the fries over, they should be golden on the flipped side. Return the cookie sheets, flip flopping the cookie sheet positions.

Cook for another 10-15 minutes until the fries are golden and crispy.
Nutrition Facts
Paleo Oven Baked Sweet Potato Fries
Amount Per Serving
Calories 235
Calories from Fat 126
% Daily Value*
Total Fat 14g 22%
Sodium 71mg 3%
Potassium 438mg 13%
Total Carbohydrates 26g 9%
Protein 2g 4%
* Percent Daily Values are based on a 2000 calorie diet.
Like step by step pictures?! Here's how to prepare crisp sweet potato fries!
Love sweet potatoes?  Here are some additional recipes using this nutritious tuber!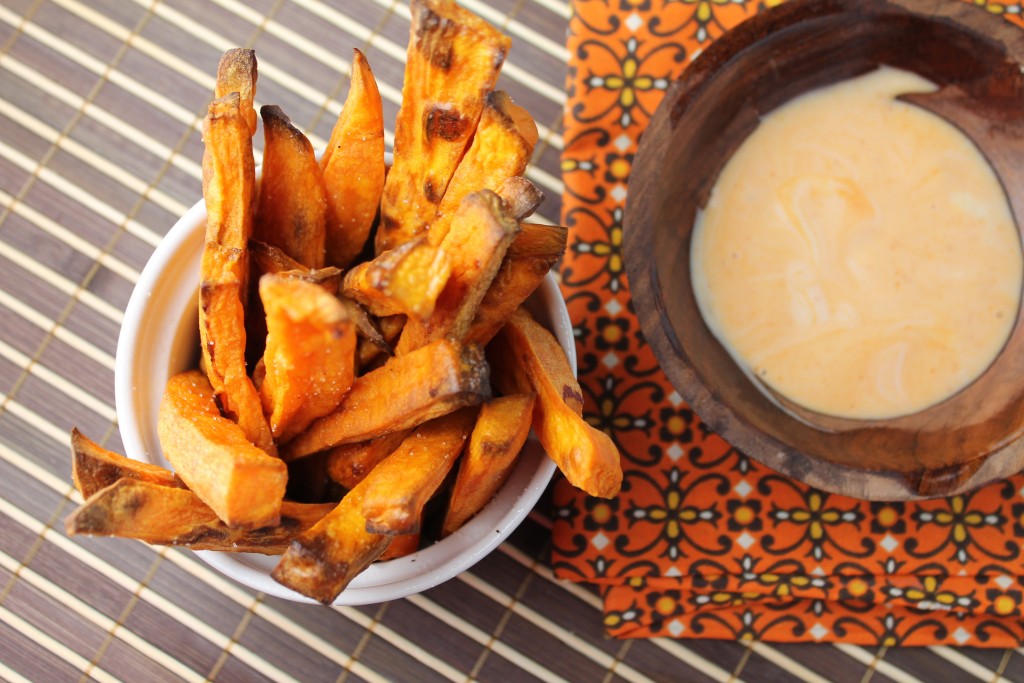 Any of the links in my posts may be affiliate links. If you click on them and make a purchase, I might make a commission. Your support is much appreciated and pays for the cost of running this free resource!