I went a wee bit crazy in the kitchen today.  I was experimenting with similar ingredients (although very different recipes).  I discovered a wonderful recipe on Chocolate Covered Katie's website and just had to give it a go.
I have a chocolate torte recipe that has butter and eggs, so THAT was out, and this looked like it had potential!!
I added a few changes, but the technique is the same, and the results?  Well I certainly felt like I was having a rich and decadent dessert tonight!!  But I don't have any guilt over it, and you won't either!  If you don't love chocolate, this recipe is NOT for you.  Otherwise…prepare your taste buds for a touch of the divine!
This recipe calls for coconut butter…a rich and lovely butter made from dried and unsweetened coconut shreds.  You can can make your own easily or buy it in the store ( a bit pricey).  I have also included directions if you do not have any of the butter on hand!
SPECIAL PAN OPTION:  I use some cute individual tart pans for these!
Decadent Chocolate Fudge Torte w/ Raspberries - Gluten Free, Vegan, Paleo
Ingredients
1 cup frozen or fresh raspberries, thawed if frozen
3-4 tablespoons cocoa powder (to taste)
1 cup unsweetened grated coconut, OR 6 tablespoons coconut butter
Scant ⅛ teaspoon salt
¼ cup coconut nectar, honey, or maple syrup, add to taste. I like to replace 2 tablespoons of the sweetener with liquid stevia, about 12-16 drops!
¼ cup allowed dark chocolate melted w/ 2 teaspoons coconut oil
Fresh or frozen raspberries for garnish
Instructions
First, make your own coconut butter if needed: Place the dried, unsweetened coconut in a food processor and process for about 7-10 minutes until a nut-butter consistency is reached. Periodically scrape down the sides. Please refer to my linked coconut butter post above for more detailed directions.
When smooth, add in the remaining ingredients through the sweetener and process until uniformly smooth and mixed.
Taste and add more sweetener if you like.
Place into a greased loaf pan or two mini tart pans and place in the fridge to solidify.
When ready to serve, drizzle with the melted chocolate and garnish with raspberries! Out of the fridge, this softens quickly, this is due to the coconut base. Coconut oil and coconut butter are solid at room temperature,but liquify when warmed. Coconut butter is the oil AND the coconut meat together, where the oil has the coconut solids removed.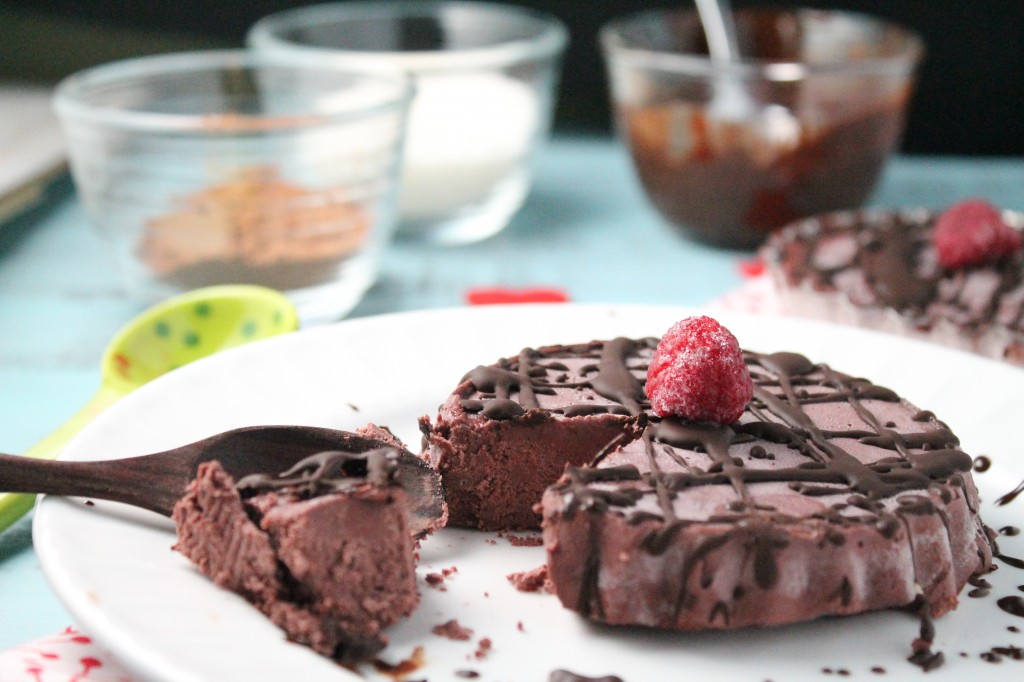 This recipe was shared on Fat Tuesday, Hearth & Soul, GF Wednesday, Waste Not Want Not,  Real Food Wednesday, GF Friday, Lets Get Real Friday, Savouring Saturdays, Gluten Free Recipe Fix Savouring Saturdays,

Any of the links in my posts may be affiliate links. If you click on them and make a purchase, I might make a commission. Your support is much appreciated and pays for the cost of running this free resource!