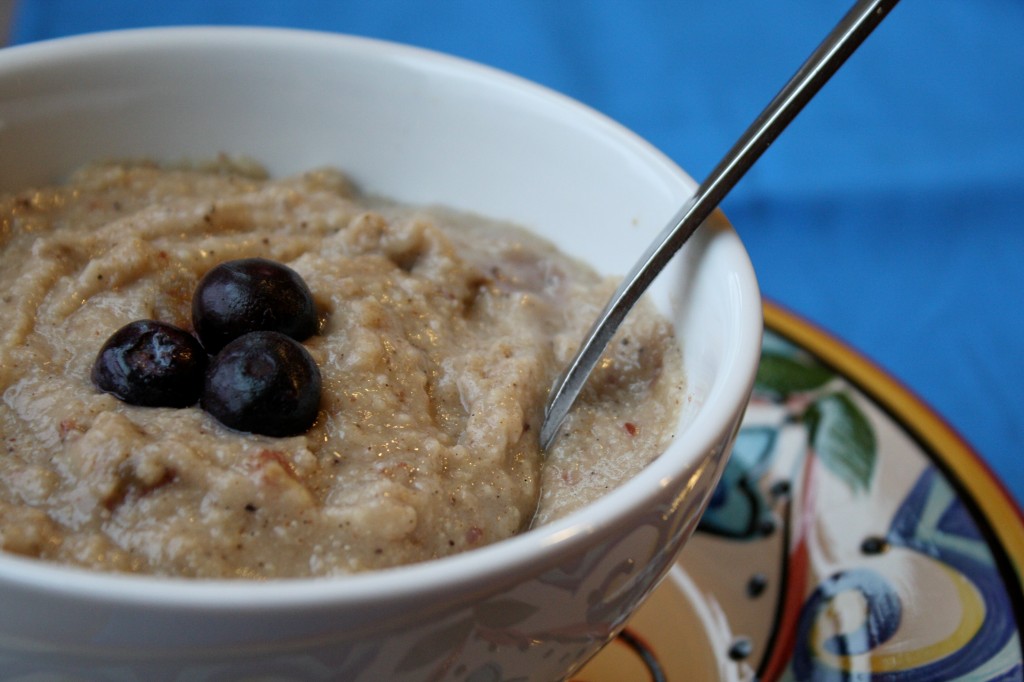 My eldest had been recently reading a version of Goldilocks and Three Bears when she noticed me eating a new concoction I discovered in The Whole Life Nutrition Cookbook
.  If I haven't told you yet, I really like this cookbook and thank my sister continually for my birthday present!!
Let me give you a bit of history here:  I love hot cereal in the morning: it's a comfort food for me.  My favorite has always been Cream of Wheat and I have many memories of being sick and only wanting a bowl of that stuff.  Maybe it was just my mom's special touch?!  So when my Eva asked me if I was eating porridge, my mommy brain started rapid firing and I quickly decided to play along with this idea.  "Why yes Eva, it IS porridge!"  "Oh Mommy, can I please have some of your porridge?" she begged me.  Inside I am jumping for joy that this healthy morning cereal might find it's way into my child's awaiting belly.  I waited with baited breath to see the verdict: She wanted the rest of porridge!!  Score!!   Only problem was, I was enjoying it too much myself to be so selfless, so I gave her a bit more and promised a trip to the store to stock up on 'porridge' that afternoon.
Millet is a healthy little grain you should give a try…the steps might seemed involved for a morning meal, but make a large batch of the meal to have at hand when you are ready for your own breakfast porridge.  If you're interested in the many nutritional benefits of millet, check here!  (And please notice there are no refined sugars in this either, double bonus!)
TIP:  For those of you with little ones, millet is a GREAT grain to feed to them in cereal form.  Many nutrition experts agree that waiting as long as possible to introduce highly allergenic foods (like gluten found in many baby cereals) to little ones, is ideal  My little guy LOVES this cereal, and for him I just make the millet flour and cook it with water.  I add in fruits and vegetables after the fact.  I have also done this with teff.  For an especially creamy texture, get the bag of the flour, it is ground very fine and is silky smooth at the end.  I wish I had thought of giving this grain to my two oldest when they were babies.  Nutritionally, millet and teff are far superior to the traditional rice cereals.
Millet Porridge - A Gluten Free Hot Cereal
Prep time:
Cook time:
Total time:
Ingredients
3 tablespoons prepared millet meal (how to below)
¾ cup water
¾ cup any milk (I used So Delicious Coconut Milk)
2 Medjool dates, chopped fine
cinnamon to taste
vanilla powder or extract to taste
dash of salt to taste
Instructions
Millet meal: In a large pan, toast the whole millet grain (in most bulk food sections) over medium heat, shimming the pan frequently to disperse the grains and not burn them. When they smell toasty and start popping, it's done. Maybe 5-10 minutes, depending on the quantity you are doing at one interval: I did a whole pound at once in my cast iron skillet. Grind grains in a clean coffee mill/spice grinderuntil powdery like flour: ready to use! You could also skip the toasting step, but the toasted flavor of the grain IS delicious and adds another flavor dimension to this simple cereal!
Bring the millet meal, water, milk, dates, and salt to a calm simmer over medium-low heat, whisking occasionally to prevent clumps
Let the mixture simmer for at least 5 minutes: this helps the dates disintegrate and gives the cereal sweetness.
Add more milk or water for desired consistency.
Add in vanilla if you choose!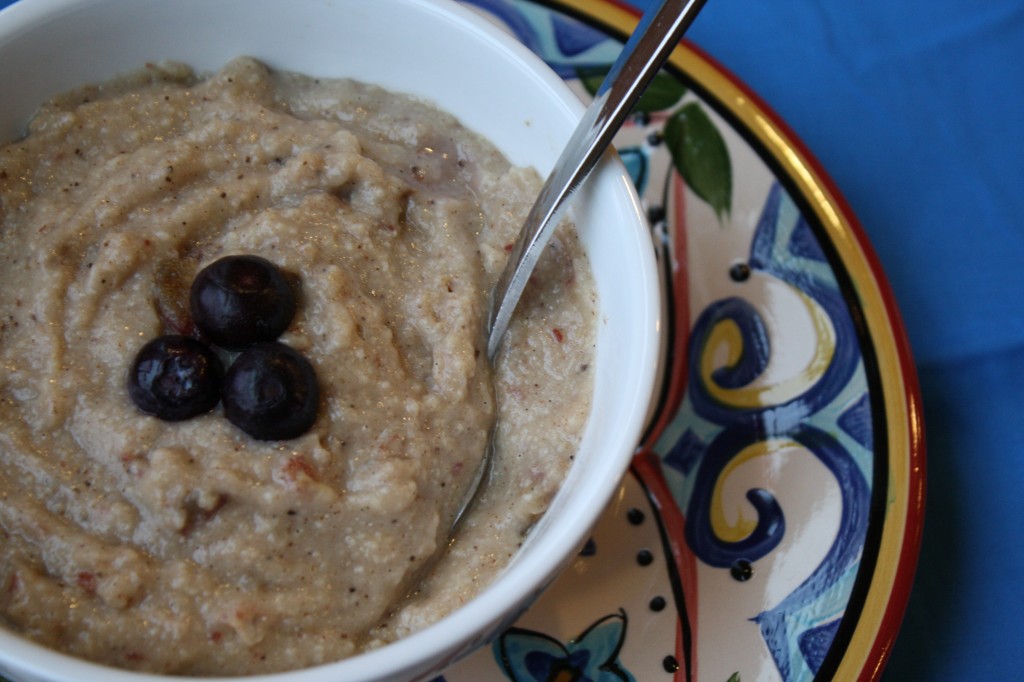 This recipe was shared on Z's Cup of Tea 'Go Ahead Honey It's Gluten Free" event,Healthy Vegan Fridays, Wellness Weekend, Seasonal Sunday, Sugar-Free Sunday, Monday Mania, Better Mom's Linky, Make Your Own Monday, Natural Living Mondays, GF Mondays, Slightly Indulgent Tuesday, Tasty Tuesday, Fat Tuesday, Hearth & Soul, GF Wednesday, Wheat Free Wednesday, Frugal Days Sustainable Ways, Health 2Day Wednesdays, Kids in the Kitchen, Whole Foods Wednesday, Real Food Wednesday, Traditional Tuesdays, Thank Your Body, Simple Lives Thursday, Pennywise Platter, Keep It Real Thursdays, Whole Foods Friday, GF Fridays, Fill Those Jars Friday, Fresh Bites Friday,
Any of the links in my posts may be affiliate links. If you click on them and make a purchase, I might make a commission. Your support is much appreciated and pays for the cost of running this free resource!