Pumpkin donuts.  In a word, …
yum
!  I have made these several times now, and since they are so delicious, they get gobbled up quicker than I can set up a photo-op.  I am pretty sure a picture of crumbs wouldn't snag
anyone's
interest, so I finally put to the task after all the kids went to bed last night.  I have promised several tasters I would be putting this recipe up….they have been waiting patiently (and anxiously!) for over 2 weeks now.  Any mom food blogger knows…finding time to take the picture that you like while the vultures are hungry and circling you is…well…..IMPOSSIBLE!  In my house, it means waiting for a time when they are not around or sleeping to get it accomplished, especially as I tinker and learn how to take better pictures of food.  I am not going to put off those who'd like the recipe any longer.  SO…here it is, without any further ado!
LUNCHBOX TIP: The kids love these tucked into their boxes!
SUPPLY NOTE:  It is no big deal to cook these as muffins or free-formed donuts if you are lacking a donut pan.  In fact, I do this often when I want a bigger, meatier donut!  I simply plop a round ball of dough on a cookie sheet, and wiggle my pointer finger to make a hole in the center!
INGREDIENT NOTE: Please refer to this post for how to bake your own squash or pumpkin if you're interested.
Makes about 1 dozen mini donuts, plus a few extra!  With no frosting, 90 calories, 4.3 g fat, 12.1 carbs, 1.1 g fiber, 4.6 g sugar, 1.4 g protein per donut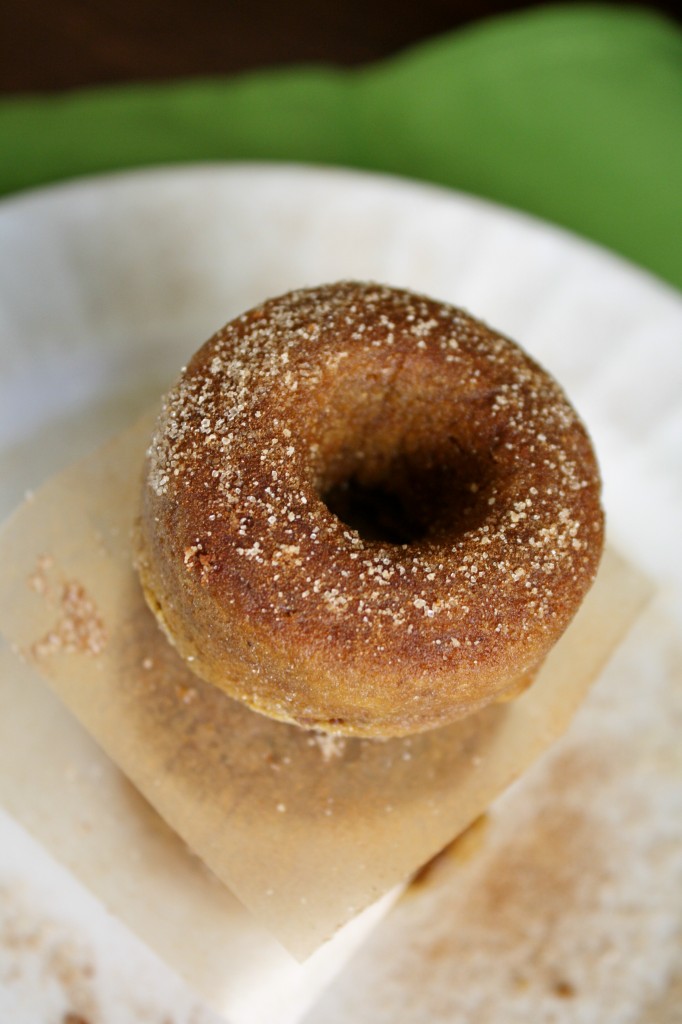 Prep time:
Cook time:
Total time:
Ingredients
¼ cup almond flour or meal (for nut free replace with more oat, brown rice, or 3T coconut flour)
¼ cup brown rice flour
½ cup oat flour (the brown rice and oat flours are interchangeable)
½ cup tapioca flour (or other starch)
⅔ cup palm sugar (or brown sugar)
1 teaspoon cinnamon (optional)
½ teaspoon baking soda
½ teaspoon baking powder (corn free)
½ teaspoon salt
½ teaspoon guar gum
3 tablespoons flax meal or 1T chia meal mixed w/ 2 tablespoons hot water (or 1 egg)
¾ cup pumpkin puree (I used fresh Sugar Pie pumpkin)
¼ cup oil (I have used both melted coconut oil and canola)
1 teaspoon vanilla extract
Instructions
Preheat oven to 350 degrees.
In a bowl, whisk together the pumpkin, egg or flax, sugar, oil, and vanilla.
Sprinkle in the flours and then the baking powder, soda, salt, and guar gum. Whisk in, mixing well. The dough should be sticky at this point, and you have three options.
Option 1: Place dough inside a pastry bag fitted with a wide tip, or make your own by putting the dough into a ziploc bag and cut a small diagonal hole in one corner. Squeeze a small tube of dough in a circular motion into the greased pan, slightly overlapping the ends.
Option 2: Using more oat or brown rice flour, 2 tablespoons at a time, work in enough flour so that you can handle the dough without it sticking to your hands. Roll small snakes, about an inch in diameter and place in your greased pan, slightly overlapping the ends. This will make a slightly firmer donut (more flour).
Option 3: Without adding more flour, plop a ball of dough onto the prepared cookie sheet. Use your forefinger to shimmy a hole in the middle (swirling your finger in a circular motion).
Bake for about 10 minutes until firm. Let rest for a few minutes, invert and top/dip in the topping of your choice.
Cinnamon & Sugar: Dunk in melted Earth Balance, or any allowed butter and sprinkle with cinnamon and sugar.
Chocolate Glaze (via Simply Sugar and Gluten Free): Place ½ cup palm sugar (or brown), 2 tablespoons coconut milk, and vanilla to a boil. Mix in ¼ cup unsweetened cocoa powder and a dash of salt.
Caramel Glaze (via Simply Sugar & Gluten Free): Melt ½ cup palm sugar (or brown), 2 tablespoons Earth Balance, and vanilla on the stove top. Mix in 2 tablespoons full fat coconut milk.
Chocolate Ganache:Melt ½ cup dark chocolate chips w/ 1 tablespoon Earth Balance. Thin w/ non-dairy milk of choice to desired consistency, about 1 tablespoon, whisking until smooth.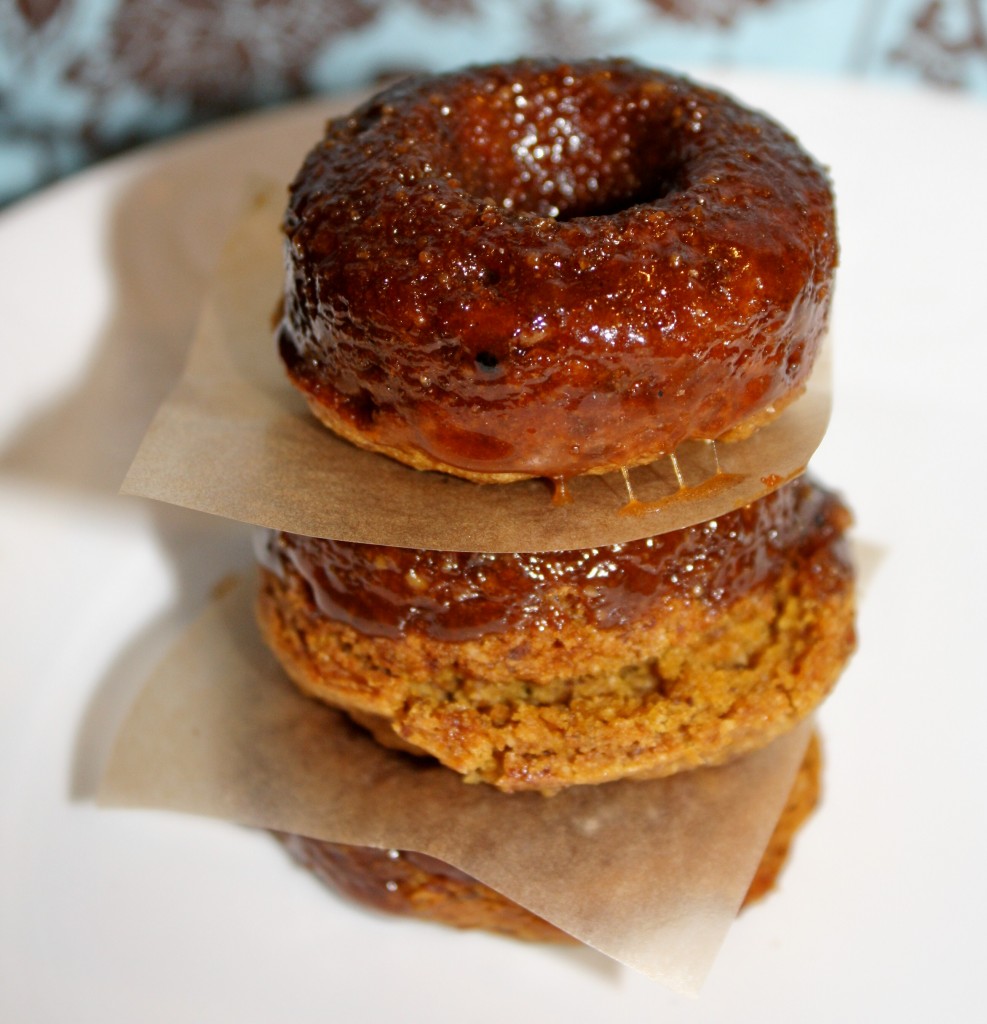 This recipe was shared on  Mostly Homemade Mondays, Fat Tuesday,Hearth & SOul,  GF Tuesday, Waste Not Want Not,  GF Wednesday, Pennywise Platter,
Any of the links in my posts may be affiliate links. If you click on them and make a purchase, I might make a commission. Your support is much appreciated and pays for the cost of running this free resource!