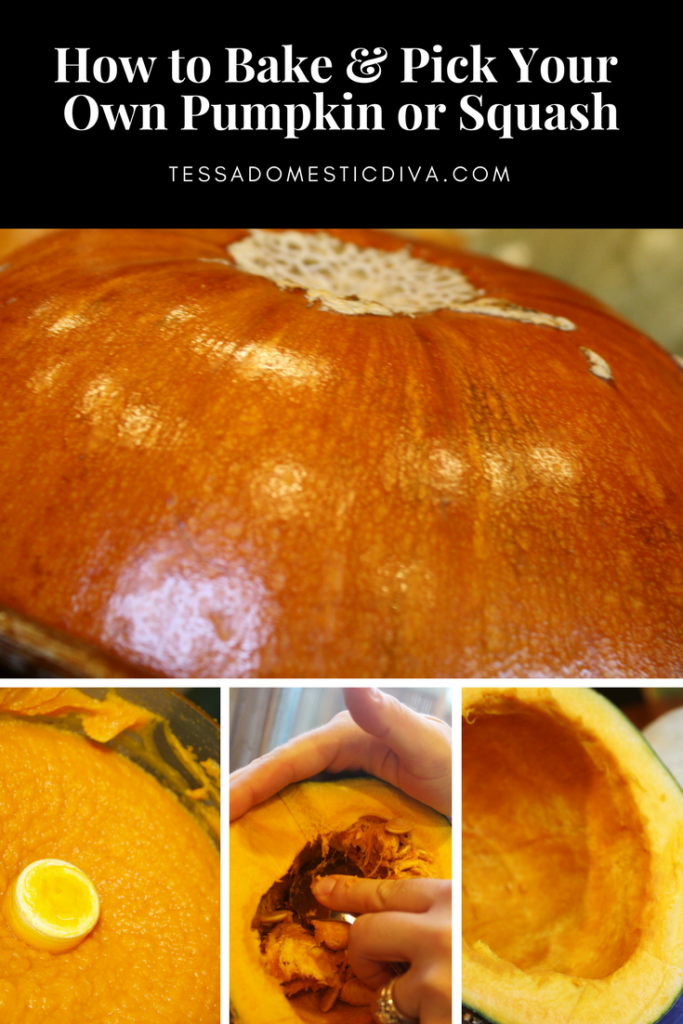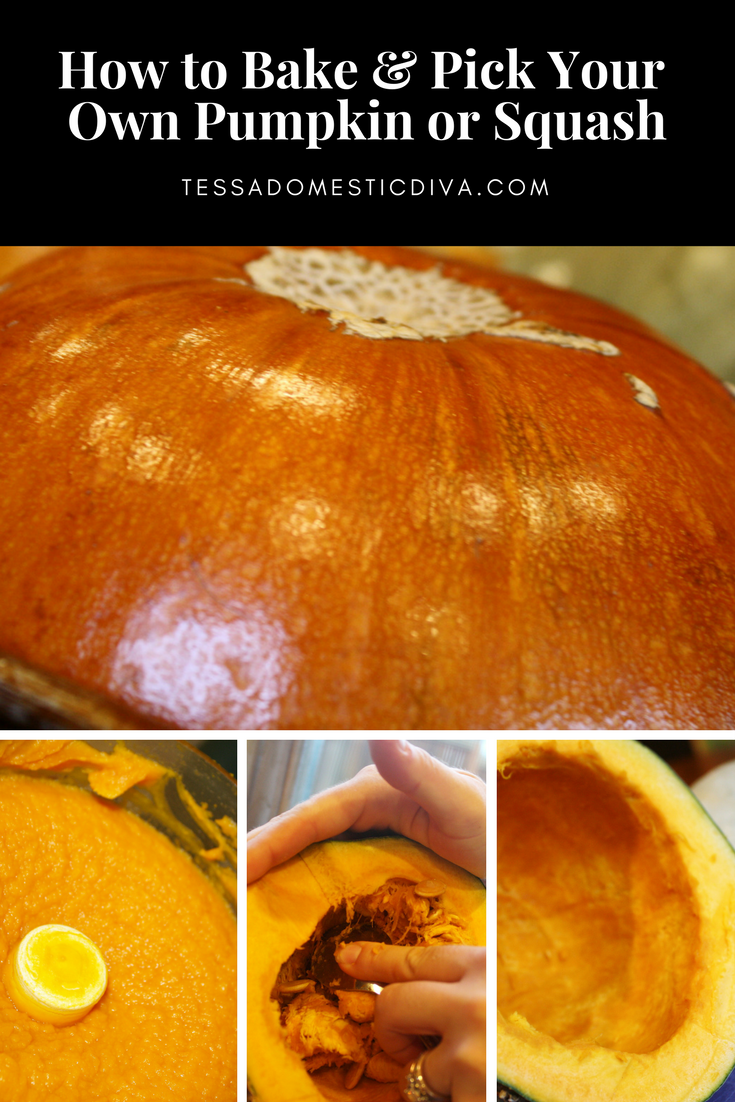 Baking your own squash or pumpkin couldn't be any easier, and the taste and texture results are so worth it!!
As an added bonus, you save some money, perfume your house with pumpkiny goodness (I know..
not
a word!), and most likely put to use a item you likely had out for some pumpkin or fall decor anyways.  Here are some simple directions to get some very tasty pumpkin puree, and some tips on how to store it.
TIPS:
Which pumpkins to bake?  Not all pumpkins are intended for consumption.  The typical jack-o-lantern we purchase for Halloween is very watery and lacks flavor.  Ask at the market or store you buy from if you need help finding a good cooking squash.  My favorites are : Buttercup, Kabocha, Butternut, Cinderella, Fairytale, Carnival, Long Pie, Hubbard, Sweet Meat, Chioggia, Galeux D'Eysines, and Sugar Pie (although there are endless options out there!).  Sugar Pies and Butternuts are the most widely available.  They key to picking a good one is choosing a GOOD EATING variety, then it needs to feel dense and hefty for it's size….a sign of good flesh!  Ask your local farmer or produce person for help.  When in doubt, choose a Sugar Pie or Butternut.
HAVE A FUN BAKE-OFF DAY: Stock up on a few varieties for a little taste test, find out which you like best!!  Some are much sweeter than others!  It is just as easy to fill two cookie sheets as it is 1, take advantage, it will save you some time and energy!
The water content of every squash can vary widely.  One year, my normally perfect Cinderella Pumpkin was super spongy and watery (I think it cross pollinated with some other varieties).  When I baked it, there were pools of water.  I had to hassle with cooking the water out of it…fine, but kind of a pain.  In general, stay away from any spongy or overtly soft pumpkins – too much water!  Flesh should be very firm with little give when pushed.
Some squashes are very dry, so it is OK to add some water to the final flesh to puree it to desired consistency.  You are going for smooth and easily scoopable, but you should not be able to easily pour it.  If you have ever opened a can of pumpkin, you know what you are looking for.
How much will I get?    Typically, a Sugar Pie will yield about 2 cups pumpkin puree.  But that is a gross generalization,,,the size can vary widely!  I baked one good size Sugar Pie and one melon size Kabocha here (see pictures below) and filled about five two-cup bags of puree.  To save on time, I like to cook large varieties so I get loads of puree in one fell swoop!
INSTANT POT?  With the addition of this beloved tool into my kitchen, I now regularly use this to cook my pumpkin and squash for puree, s quick!!  Simply clean as below and cut pieces to fit onto the steamer trivet.  I start with about 15 minutes on the 'Manual' function, but it will depend on the size and thickness of the variety you are using.  Add more time if you need.
If you are looking for some great ways to use up pumpkin puree, I have more pumpkin recipes than I can shake a stick at!  Here are some:
Method:
One idea for storage is to put measured amounts (I suggest 1 or 2 cup portions) in freezer safe Ziploc bags.  Squeeze the excess air out, and squish it around to lay it flat.  I stack my bags and freeze them like this.  When they are frozen flat like this, it is very easy to stack or 'file' them into the free space in my freezer.  I also freeze the puree in mason jars (careful to allow an inch or 2 for expansion).
Any of the links in my posts may be affiliate links. If you click on them and make a purchase, I might make a commission. Your support is much appreciated and pays for the cost of running this free resource!