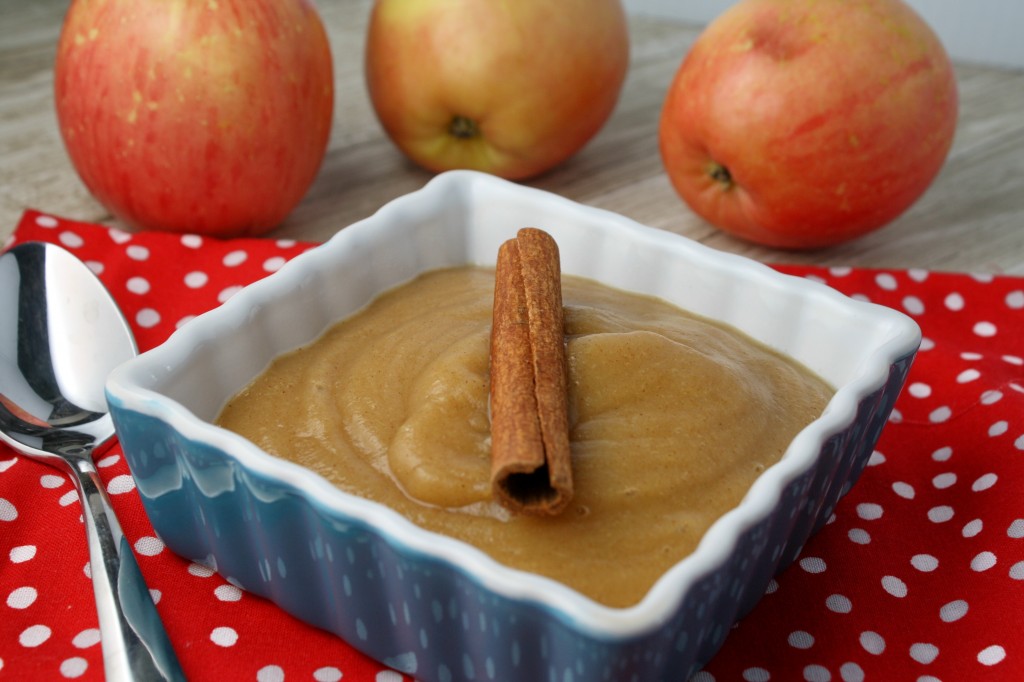 I have always loved making my own applesauce..but it was such a time consuming adventure!  Not anymore!
Let me introduce you to the easiest applesauce ever: no peeling, AND the fiber of the peel is blended right in.
The texture is creamy…nothing like anything I have ever purchased in the store….you won't believe the difference!  So just once, try it!  You will love it!
Makes about 3 cups applesauce
Easy No-Peel Creamy Applesauce
Ingredients
6 (about) medium organic apples (remember, this is the only ingredient, so use good/flavorful ones!
1 teaspoon cinnamon
Optional: additional fruit for applesauce combos like mango, strawberry, pear, or plum. If your apples were not too sweet, you could add a small amount of sweetener if necessary…I prefer liquid stevia or palm sugar, but almost never need this.
Instructions
Thoroughly wash your apples to remove any residues.
Slice with an apple slicer or a knife.
Steam the apples on your stove for about 20 minutes. I use a steamer basket for this. The apples should look wilted and soft. Alternately, place the apples in a Pyrex casserole dish with a lid and place in the microwave, covered. Cook for about 10 minutes.
Place all the apples and their juices into a high powered blender, like a Blentec. The apples should not go above the liquid lines, or the mixture will overflow. Add in your cinnamon. Close the lid, and puree on high for about a minute (I used the whole juice button on my Blendtec).
If you have a less powerful blender, or are using a food processor, this may take several minutes to get the creamy texture and to completely pulverize the peels.
Taste and add sweetener if necessary.
This recipe was shared on Make Your Own Monday, Natural Living Monday, Mostly Homemade Mondays, Tasteful Tuesday, Fat Tuesday, Slightly Indulgent Tuesday,  Hearth & SOul, Traditional Tuesdays, Tuesday Greens, GF Tuesday, Waste Not Want Not,  GF Wednesday, Frugal days Sustainable Ways, Real Food Wednesday, Whole Foods Wednesday, Healthy 2Day Wednesday, Tasty Traditions, Thank your Body, Full Plate Thursday, Wildcrafting Wednesday, Simple Lives Thursday, Pennywise Platter, Wellness Weekend, Whole Foods Friday, Healthy Vgean Fridays, GF Fridays, Simple Meals,