An applesauce WITH peels!! By using your blender, you can whip up this easy, fresh applesauce in no time, and you never have to hassle with the tedious task of removing all those peels!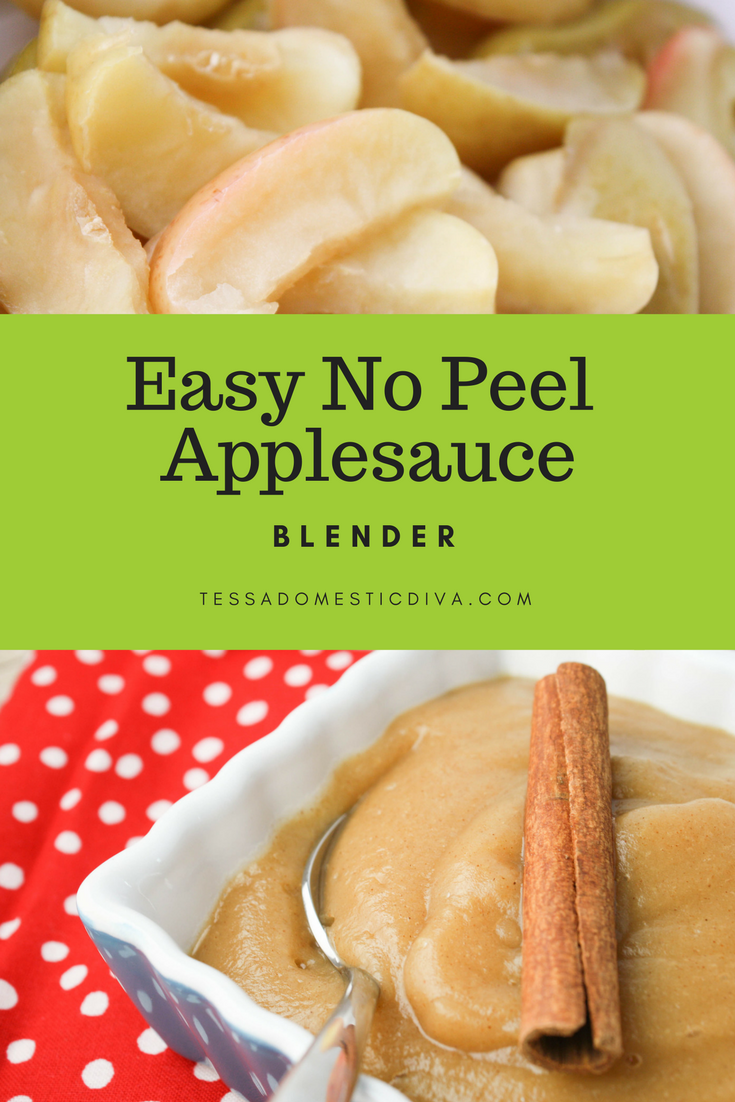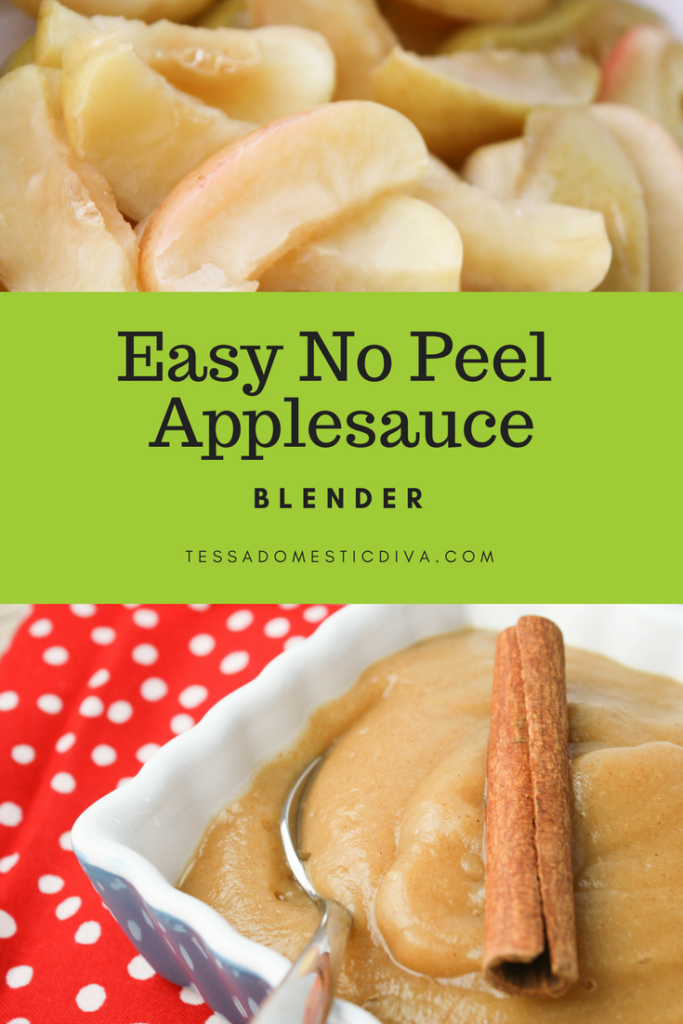 I have always loved making my own applesauce…but it was such a time consuming adventure removing ALL THOSE PEELS so I found myself avoiding the pleasure of homemade sauce in the fall!
Not anymore!
Let me introduce you to the easiest applesauce ever: no peeling, AND the fiber of the peel is blended right in. Thanks to my trusty BlendTec ,the steamed and cooked peels blend right in!
The texture is creamy…nothing like anything I have ever purchased in the store, which is almost watery….you won't believe the difference! It tastes sinful and creamy, and is much thicker than your typical variety NOT using peels.
So just once, try it! You will love it!

Using organic apples
Did you know? Apples are on EWG's Dirty Dozen List for the top 12 produce items with the highest levels of residual pesticides and chemicals.
So whenever possible, try to use organic, or find a farmer or neighbor who does not use chemicals on their trees!

No peel applesauce success tip:
I live in Oregon, so apple varieties are plentiful via all the farmers in the area. There are SO many different tastes out there, and all of them will lend a different flavor to the end result. Usually I recommend a mixture to include at least some sweet-tart and some sweet for the right flavor balance.
BUT….I state this since some might be tempted to use apples past their prime and on their way out. Don't be tempted to do this!
Yucky tasting apples = yucky tasting applesauce!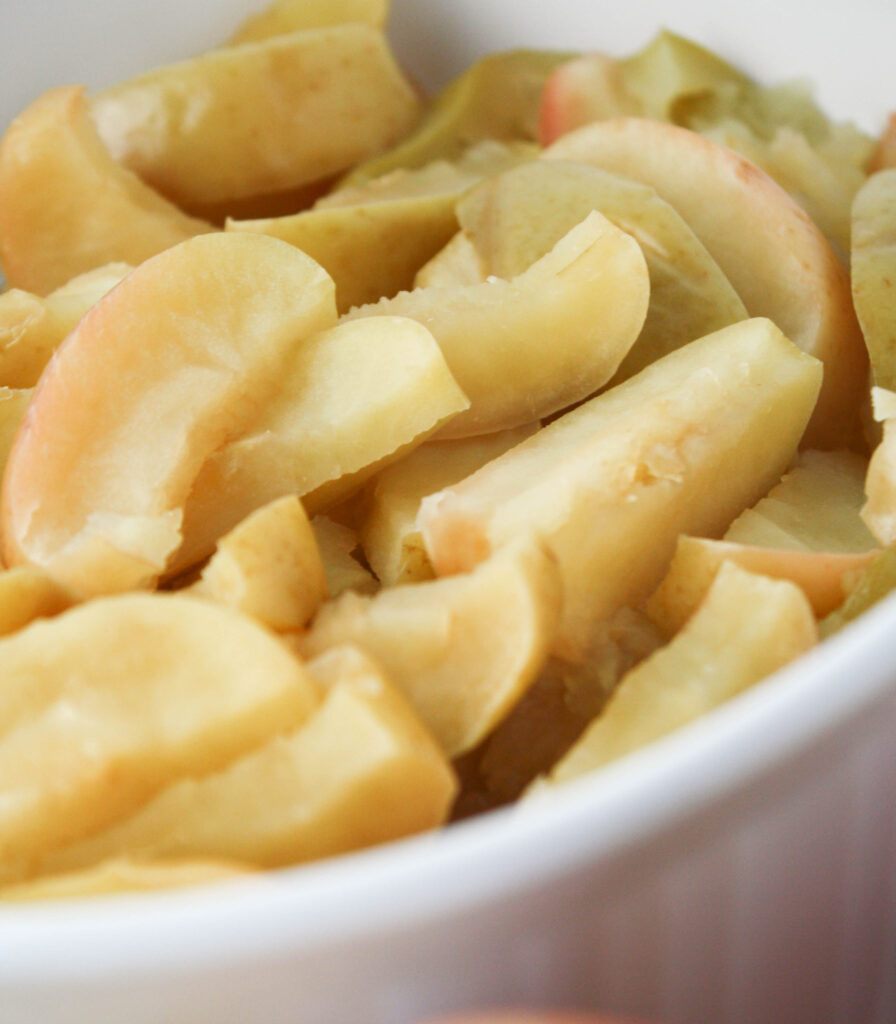 Why should I eat applesauce with peels anyways? Apple peel nutritional benefits:
Did you know, that apples WITH peels have DOUBLE the nutrients as peeled apples? Crazy!
It also contains good level of antioxidants, and a nice dose of fiber!
The fiber in the peel actually SLOWS down the absorption of the natural sugars in the apples, thereby reducing the glycemic load!
So yeah….including the peels saves you a ton of time AND it's loads better for you!
That's a win-win in my book!
Storing your homemade applesauce
Whatever we don't eat fresh, I preserve in jar!!
Here is handy tutorial on how to easily can your applesauce using a hot water bath and mason jars.
It's worth noting, when cool, the applesauce firms up a bit as it contains the pectin in peels…which is a natural thickener. Simply warm gently to soften, or add some liquid if desired.
Different ways to use homemade applesauce WITH peels:
Applesauce WITH Peels Recipe:
If try this, please leave a comment and a rating below!! I love to hear how recipes go for you!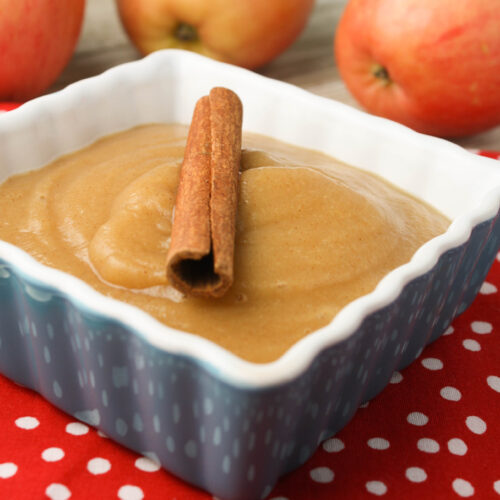 Easy No-Peel Creamy Applesauce
Making applesauce WITH the peels is so easy inside your blender! Creamy and delicious and SO much easier!
Ingredients
6

medium

organic apples

(remember, this is the only ingredient, so use good/flavorful ones!

1

teaspoon

cinnamon

optional
Optional Ideas:
additional fruit for applesauce combos like mango,

strawberry, pear, or plum. If your apples were not too sweet, you could add a small amount of sweetener or fresh apple cider if necessary...I prefer liquid stevia or palm sugar, but almost never need this. If they were lacking in tart, add some lemon juice to brighten the flavor!
Instructions
Thoroughly wash your apples to remove any residues.

Slice with an apple slicer or a knife, removing the core and seeds.

Steam the apples on your stove for about 20 minutes. I use a steamer basket for this. The apples should look wilted and soft. Alternately, place the apples in a

Pyrex casserole dish with a lid

and place in the microwave, covered. Cook for about 10 minutes.

Place all the apples and their juices into a high powered blender, like a Blendtec. The apples should not go above the liquid lines, or the mixture will overflow. Add in your cinnamon. Close the lid, and puree on high for about a minute

If you have a less powerful blender, or are using a food processor, this may take several minutes to get the creamy texture and to completely pulverize the peels.

Taste and add sweetener if necessary.
Nutrition Facts
Easy No-Peel Creamy Applesauce
Amount Per Serving
Calories 95
Calories from Fat 9
% Daily Value*
Fat 1g2%
Sodium 2mg0%
Potassium 196mg6%
Carbohydrates 25g8%
Protein 1g2%
Vitamin A 99IU2%
Vitamin C 8mg10%
Calcium 14mg1%
Iron 1mg6%
* Percent Daily Values are based on a 2000 calorie diet.

Any of the links in my posts may be affiliate links. If you click on them and make a purchase, I might make a commission. Your support is much appreciated and pays for the cost of running this free resource!