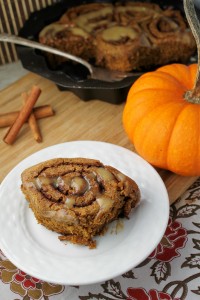 Finally, a cinnamon roll recipe my whole family can enjoy!  Free of all top 8 allergens, one would wonder how anything so delicious and wholesome could exist: but they do and it IS possible!
A beautiful thing about gluten free cinnamon rolls is that there is no double rising or kneading as in gluten-filled yeasted breads…so having these for breakfast in a timely manner without making them ahead of time is possible!  You could also make the rolls (without letting them rise) the night before, cover them and store them in the fridge for morning rising and baking.
These rolls are sure to please a crowd…soft, slightly crunchy on the exterior and bursting with cinnamon flavor.    You have many options to make these your own: adding raisins or chopped nuts to the the filling is always an option, and here are an assortment of frostings you could choose to top them with:
Pumpkin Cinnamon Rolls - Gluten Free & Vegan
Prep time:
Cook time:
Total time:
Ingredients
¾ cup any milk, warmed
1 package or 2½ teaspoons yeast
1 cup teff flour
1 cup tapioca flour
½ cup millet flour
½ cup oat flour
2 teaspoons baking powder
1 teaspoon baking soda
1 teaspoon sea salt
1 teaspoon guar gum
1 cup pumpkin puree
6 tablespoons melted coconut oil (or other)
6 tablespoons palm sugar
2 tablespoons chia meal
1 tablespoon vanilla extract
1 tablespoon ground cinnamon
¼ teaspoon liquid stevia (optional, I make the rolls slightly sweeter and use less frosting)
FILLING: ⅓-1/2 cup preferred, softened fat: coconut oil, allowed butter or ghee & ¼-1/2 cup palm sugar & 2T ground cinnamon
Instructions
Proof the yeast. Pour yeast into warm milk (not too hot or you will kill it! You should be able to comfortably leave your finger in the liquid, or 110 degrees). Set aside 10 minutes to get foamy.
Meanwhile, whisk together all the dry ingredients in large bowl: the teff flour through the guar gum.
When the yeast is proofed, mix in the remaining ingredients: the pumpkin through the stevia.
Combine the wet and dry mixtures and mix to incorporate. If the dough seems overly soft and sticky, add some more flour (the water content of pumpkin purees varies widely).
Gather the dough into a ball, and dust all sides with flour.
Prepare your rolling station: lay out two non-stick baking mats, or waxed paper, or plastic wrap, or any combo of these. If using plastic wrap, tape the bottom piece down onto the counter.
Flour this bottom piece well, and plop you dough ball down into the center. Lat the second mat or waxed paper over the top of the dough and roll out to roughly the size of a cookie sheet, trying to keep the dough an even thickness
Gently peel the top layer off.
Spread your chosen fat over the entire surface.
Sprinkle with the palm sugar, and then the cinnamon.
Using the bottom mat or paper as an assist, gently lift the mat up, starting to roll the dough. Because the dough is soft, you will have to assist in the rolling process: lift, tuck with fingers and roll.
Cut the roll into roughly 1-1¼" pieces, about 11-12 rolls.
Place the rolls into a greased, round cake pan. You will need to use two pans, and one may not be full. Allow room for rising, meaning do not have the rolls touching each other, just barely apart. When they rise, they will fill in and touch each other plenty!
Let rolls rise in a warm place until roughly double in size. Mine took about 30 minutes with regular yeast in a warm (110 degree) oven.
Bake in a 350 degree oven for about 30 minutes until turning golden and no doughiness is felt.
Top with your preferred frosting (see above for links!)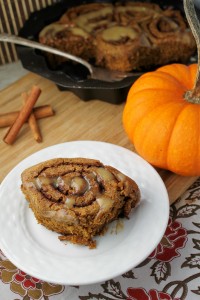 This recipe was shared on Make Your Own Monday, Mostly Homemade Mondays, Natural Living Mondays, Tuesday Talent Show,  Slightly Indulgent Tuesday, Fat Tuesday, Traditional Tuesdays, Hearth & Soul, GF Wednesday, Waste Not Want Not, Real Food Wednesday, Wildcrafting Wednesday, Frugal Days Sustainable Ways, Pennywise Platter. Thank Your Body Thursday, Paleo AIP Recipe ROundup, Simple Lives Thursday, GF Friday, Wellness Weekend, Whole Foods  Friday, Healing w/ Foods Friday, Simple Meals Friday, Fight Back Friday,
Any of the links in my posts may be affiliate links. If you click on them and make a purchase, I might make a commission. Your support is much appreciated and pays for the cost of running this free resource!