Gluten free pumpkin cinnamon rolls. Oh yes…they happened! Full with nutrient dense ingredients, and a lovely chewy texture, these cinnamon roll are a breakfast treat! Even better, they have no eggs, so even MORE people can enjoy them!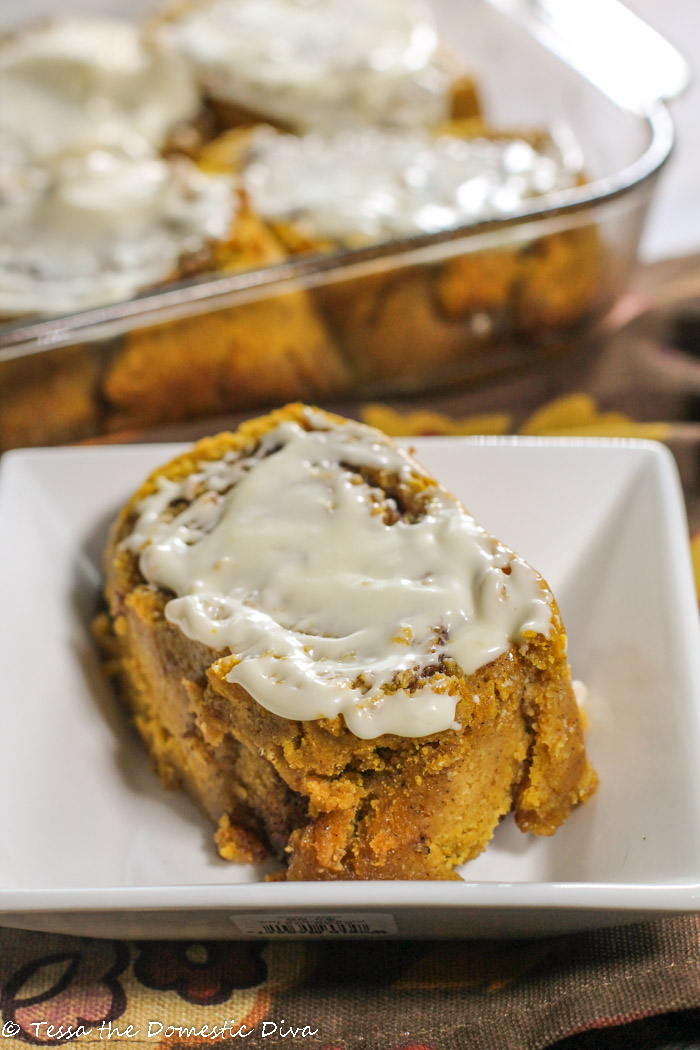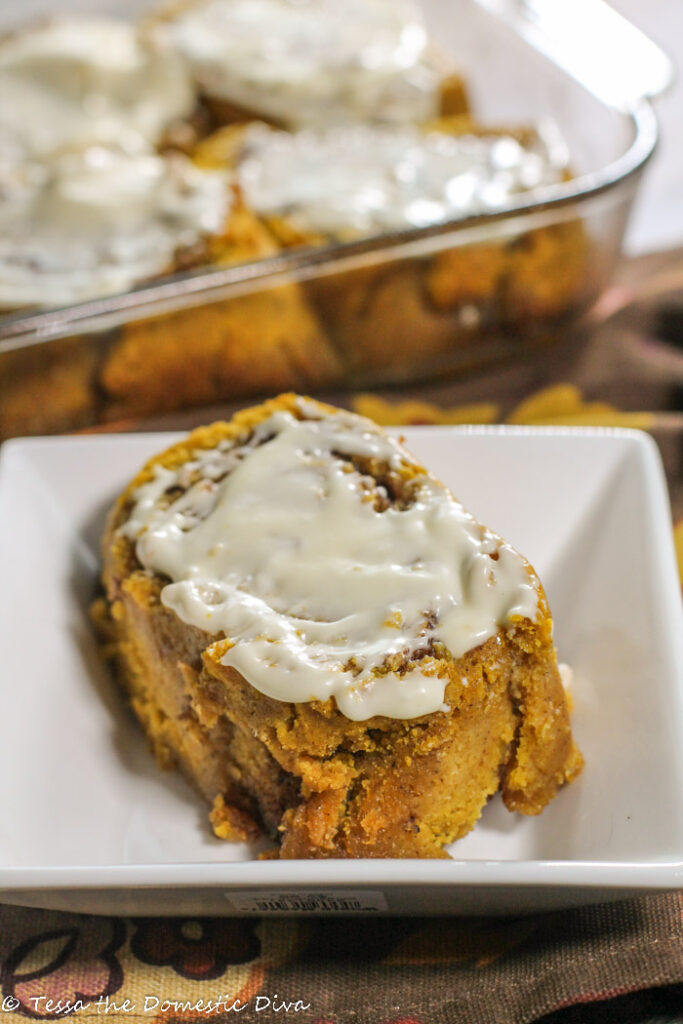 A gluten free, egg free cinnamon roll the whole family can enjoy, and mom can feel good about serving!!
Free of the top 8 allergens, one would wonder how anything so delicious and wholesome could exist: but they do and it IS possible!
A beautiful thing about gluten free cinnamon rolls is that there is no double rising or kneading as in gluten-filled yeasted breads…so having these for breakfast in a timely manner without making them ahead of time is actually possible! But if making a muffin is more your jam, you could try my gluten free cinnamon bun muffins: all the same flavors in a convenient muffin form!

Can I make these gluten free pumpkin cinnamon rolls ahead of time?
You could also make the rolls (without letting them rise) the night before, cover them and store them in the fridge for morning rising and baking.
These rolls are sure to please a crowd…soft and tender with a hint of chewiness from the binding psyllium husk!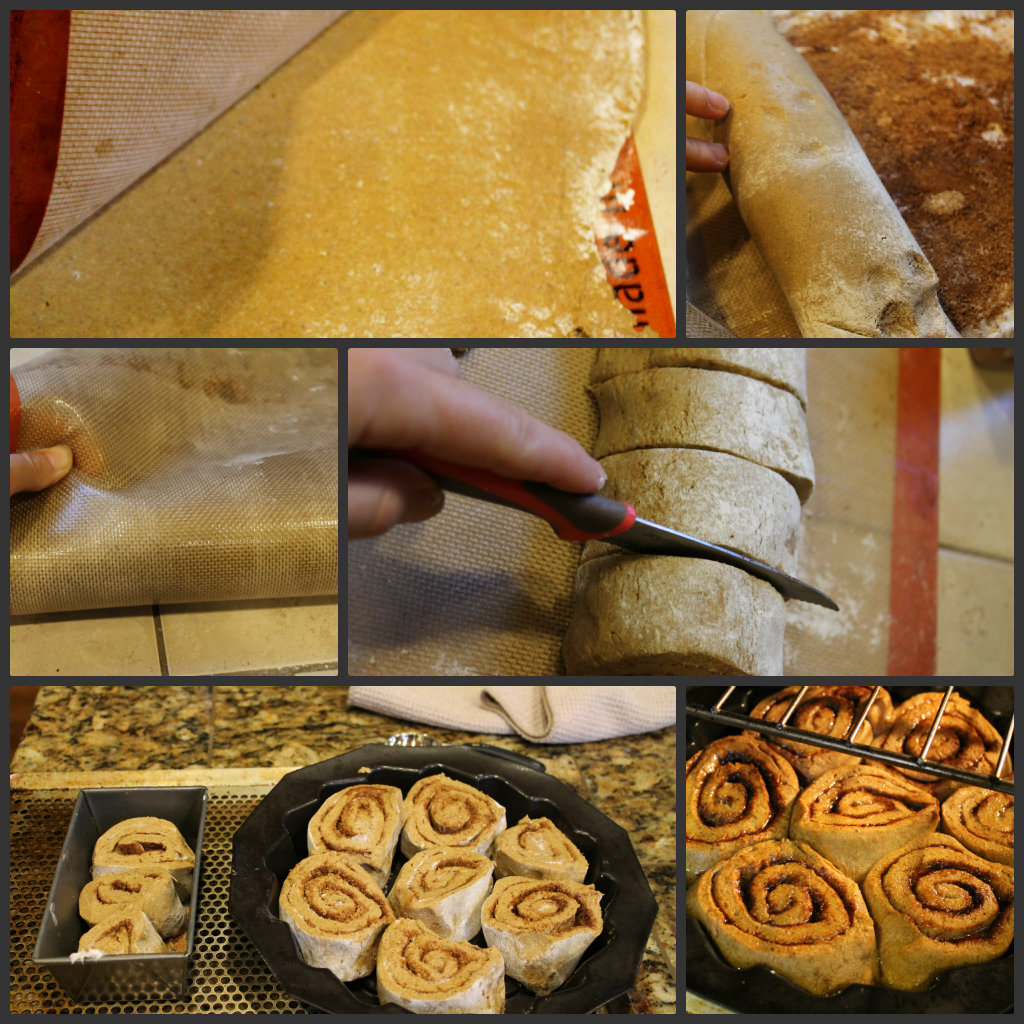 How to top your gluten free cinnamon rolls:
Sweet Potato Frosting @ The Whole Life Nutrition
I like to make a caramel glaze by cooking 1/4 cup each palm sugar (or brown sugar) and maple syrup with 2T ghee or butter. Bring it to a low boil, set timer for 2 minutes once it does. Add an 1/8t sea salt and 1/2t vanilla extract, then it's ready!
Cream cheese frosting is probably my kids favorite…on pretty much anything! I can't say I blame them! This one is sweetened with powdered maple sugar, but you can use any powdered sugar. I would half this recipe for the cinnamon rolls.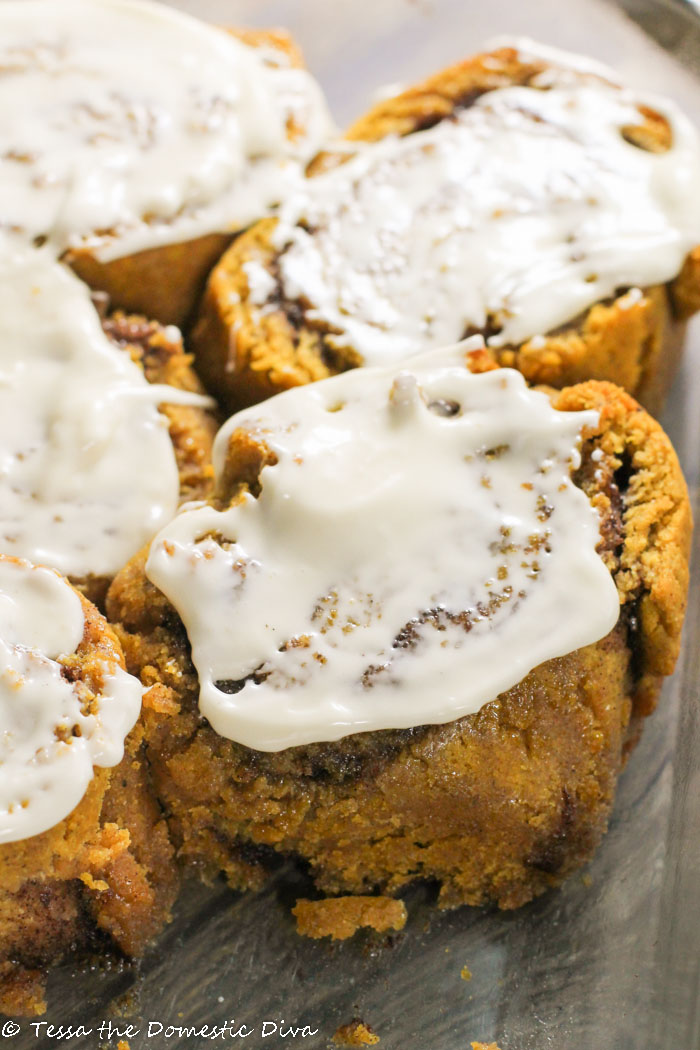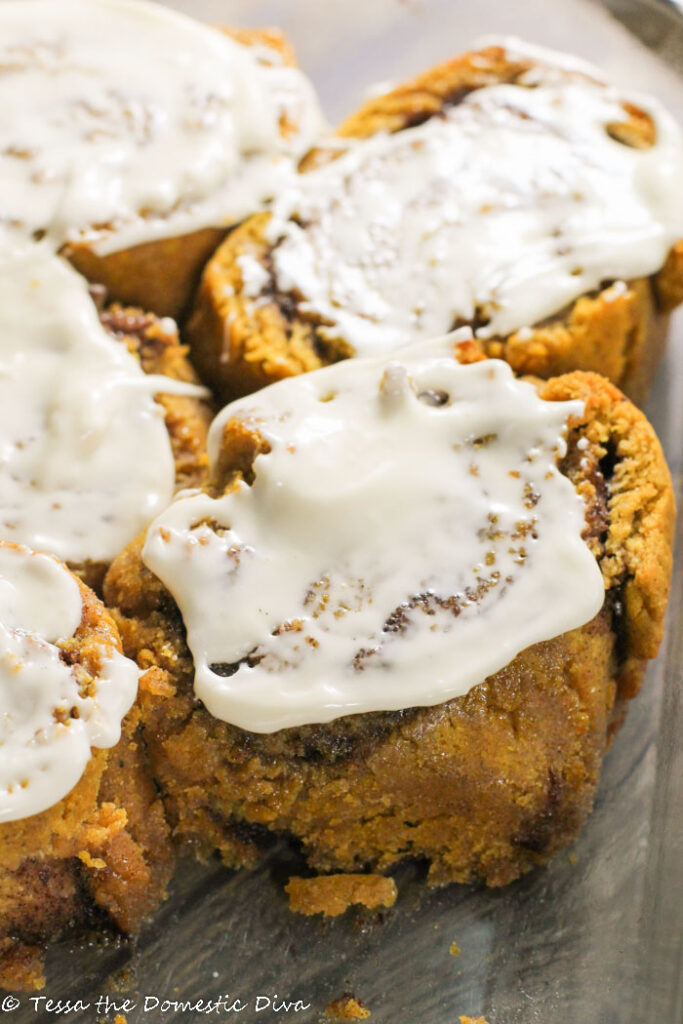 Additional gluten free pumpkin goodies
If you follow me at all, you know I LOVE pumpkin!! Here are a couple of my recipes using this fall favorite (or click here for all my recipes containing pumpkin!)
Gluten Free Pumpkin Cinnamon Rolls Recipe:
If you try these festive pumpkin rolls, be sure to come back leave a comment below!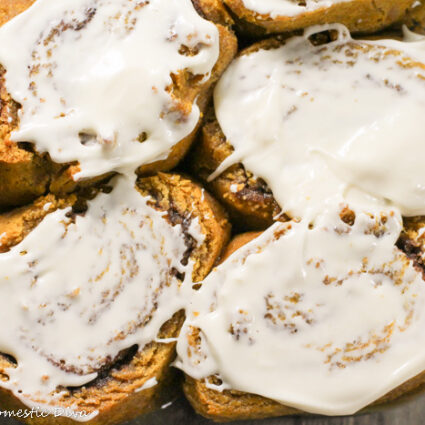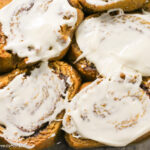 Pumpkin Cinnamon Rolls - Gluten Free & Vegan
Ingredients
Instructions
Proof the yeast:
Pour yeast into warm milk and sugar (not too hot or you will kill it! You should be able to comfortably leave your finger in the liquid, or 110 degrees). Set aside 10 minutes to get foamy.
Dough:
Meanwhile, whisk together all the dry ingredients in large bowl:

When the yeast is proofed, stir into the dry mix along with the remaining wet ingredients.

Let the dough rest for a couple minutes, this allows time for the psyllium to do its magic. If the dough seems overly soft and sticky, add some more flour (the water content of pumpkin purees varies widely). Likewise, if it seems super stiff, add a tablespoon or two of milk. It should soft a pliable like playdough, easy to handle without sticking to your hands, but not crumbling or cracking easily either.

Mix the filling ingredients, and set aside.
Assembling:
Gather the dough into a ball, and dust all sides with a dusting of tapioca flour.

Prepare your rolling station: lay out two non-stick baking mats, or waxed paper, or plastic wrap, or any combo of these. If using plastic wrap, tape the bottom piece down onto the counter.

Flour this bottom piece well, and plop you dough ball down into the center. Lay the second mat or waxed paper over the top of the dough and roll out to roughly the size of a cookie sheet, trying to keep the dough an even thickness.

Gently peel the top layer off.

Spread your filling evenly with a rubber spatula.

Using the bottom mat or paper as an assist, gently lift the mat up, starting to roll the dough. Because the dough is soft, you will have to assist in the rolling process: lift, tuck with fingers and roll.

Cut the roll into roughly 1-1 1/4" pieces, about 11-12 rolls. Either use a piece of floss to cut, or a sharp knife with minimal downward pressure.

Place the rolls into a greased, baking pan. You may need to use two pans, and one may not be full. Allow room for rising, meaning do not have the rolls touching each other, just barely apart. When they rise, they will fill in and touch each other plenty!
Rising & Baking:
Let rolls rise in a warm place until they poof slightly. Mine took about 30 minutes with regular yeast in a warm (110 degree) oven. May take up to an hour. They do not rise like a typical yeasted gluten cinnamon roll, but the shape should be softened and slightly poofy.

Bake in a 350 degree oven for about 18-22 minutes until turning golden and no doughiness is felt. About a 200 degree internal temperature if you have an instant read thermometer.

Top with your preferred frosting (see above post for links and ideas!)
Nutrition Facts
Pumpkin Cinnamon Rolls - Gluten Free & Vegan
Amount Per Serving
Calories 343
Calories from Fat 144
% Daily Value*
Fat 16g25%
Cholesterol 20mg7%
Sodium 283mg12%
Potassium 164mg5%
Carbohydrates 51g17%
Protein 2g4%
Vitamin A 2619IU52%
Vitamin C 1mg1%
Calcium 62mg6%
Iron 1mg6%
* Percent Daily Values are based on a 2000 calorie diet.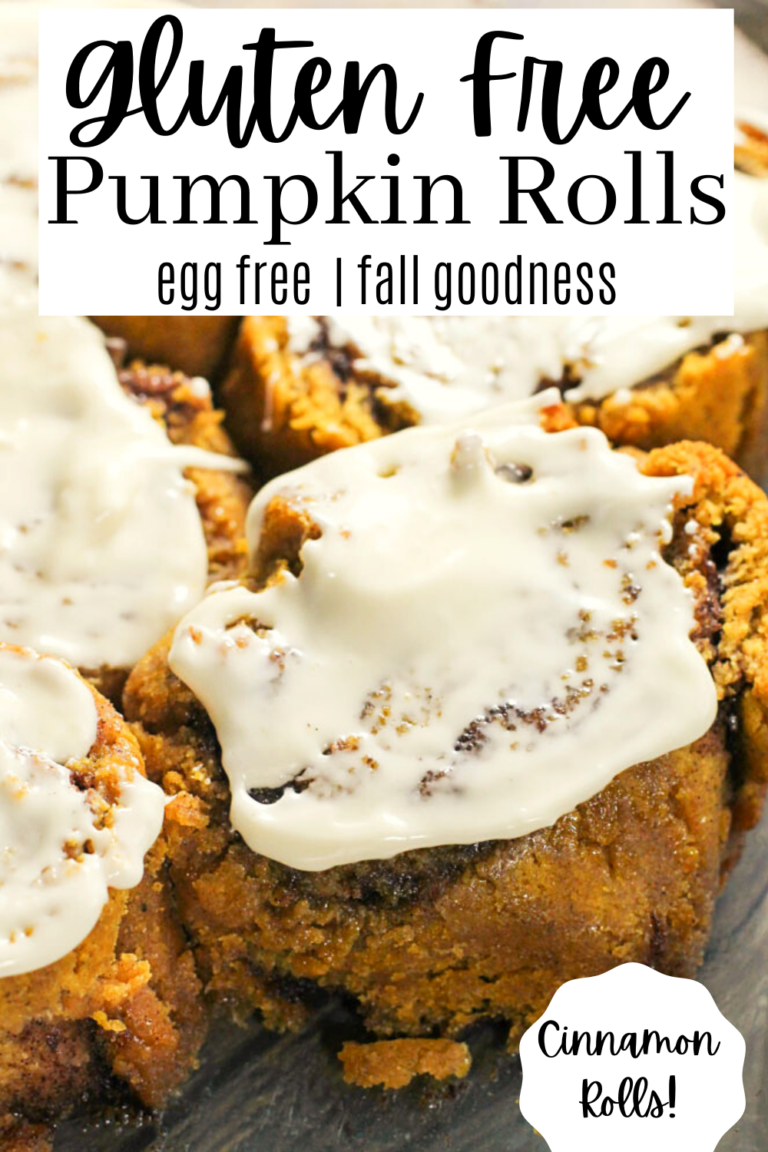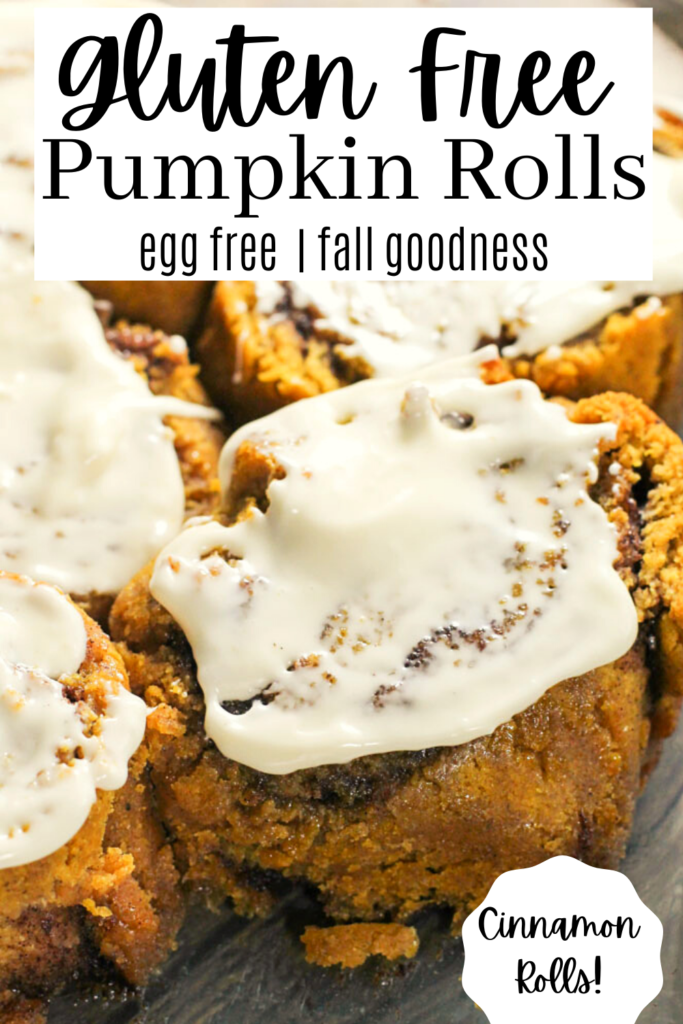 Any of the links in my posts may be affiliate links. If you click on them and make a purchase, I might make a commission. Your support is much appreciated and pays for the cost of running this free resource!