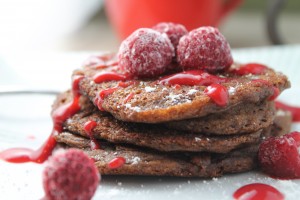 A sneaky serving of vegetables for those kids who shy from them.  My daughter asked for chocolate pancakes, and I wanted to offer them to her.  But they needed to be as nutritious as I could make them and still get her to eat them.  Good lord, the the hoops we jump through as mommies!  Craziness!
These pancakes almost seemed like a dessert, but with no traditional syrup, and very little sweetener, they were anything but.  The combination of berries and chocolate is a marriage made in heaven, enjoy!
You may also want to check out my Pumpkin Pancakes!
ALTERNATE TOPPING IDEA:  Favorite nutbutter with sliced bananas!
Ingredients:
Wet:
1 chia egg (1 tablespoon chia meal mixed with 3 tablespoons hot water, set aside for a minute or more.  If using flax meal, use 4 teaspoons meal and set aside for bit longer to gel) OR 1 egg
3/4 cup pumpkin puree
1 cup non dairy milk (I used So Delicious Coconut Milk)
3 tablespoon melted coconut oil or light olive oil
4 tablespoons maple syrup, honey, or replace up to half with equivalent in stevia liquid
1 teaspoon vanilla extract OR powder (you could add more to really up the vanilla oompf!)
Dry:
1/2 cup teff flour
1/2 cup tapioca flour
1/4 cup brown rice flour
1/4 cocoa powder
1 tablespoon  baking powder
1/2 teaspoon baking soda
1/2 teaspoon salt
1 teaspoon cinnamon
Berry Drizzle Ingredients:
1 pound berries, strawberries or raspberries preferable, frozen or fresh
4 tablespoons honey or maple syrup
Liquid stevia to taste (I used 1/4 teaspoon and reduced the maple syrup to 2T)
Method:
In a small bowl, whisk the chia meal (or flax) with the hot water and set aside to gel.
Whisk in the remaining wet ingredients into the gelled chia.
In a large bowl, whisk the dry ingredients.
Make a well in the center of the dry mix and add all the wet ingredients.  Whisk the wet ingredients gently to mix, then continue to incorporate the flour mix.  Batter will be a typical pancake batter.  The moisture content of the pumpkin puree will effect the final viscosity of the batter, so add a few tablespoons of flour or water as needed.  I suggest these be pourable for best texture.  Thicker batter = thicker and drier pancakes, thinner = thin and moire moist, totally a personal preference!
Pour batter into 3-4″  circles in a preheated stainless steel pan, greased.  For an extra crispy exterior, I use a generous teaspoon or two of coconut oil to 'fry' the batter.  Less oil works, but the crunchy texture is a nice touch.  I usually am just about medium heat.  When you see little bubbles work their way to the top, it is time to flip and cook the other side.
To make the drizzle, in a small saucepan over medium heat, cook the berries and sweetener until all fruit is soft and warm, about 5 minutes.  Place the whole mixture in a high powered blender to completely pulverize any seeds, or use an immersion blender if the seed texture is OK with you.  Makes about 1 cup sauce.
This post was shared on Hearth & Soul, Traditional Tuesday, GF Wednesday, Frugal Days Sustainable Ways, Healthy2Day Wednesday, Kids in the Kitchen, Real Food Wednesday, Whole Foods Wednesday, Thank Your Body Thursday, Simple Live Thursday, Keep It Real Thursdays, Pennywise Platter, Wellness Weekend, Fresh Bites Friday, Fight Back Friday, GF Friday, Fill Those Jars Friday, Whole Foods Friday, Simple Meals Friday, Healthy Vegan Fridays, Gallery of Favorites, Seasonal Sunday, Monday Mania, Natural Living Monday, Make Your Own Monday, Better Mom's Linky, GF Monday, Tasty Tuesday, Fat Tuesday, Slightly Indulgent Tuesday, Traditional Tuesdays, Hearth & Soul,