I have been wanting to create a hot artichoke dip I could have.  All of my old favorites were of course laden with dairy of all varieties (one with goat cheese was my favorite!).  Here is a hot, creamy dip free of dairy and destined to please a crowd.
I have made this for multiple gatherings and everyone always raves.  I think part of the success of this dip is my homemade mayo.  It is far superior to any store bought and takes under 5 minutes to prepare…in the same food processor bowl you'll use for making the dip anyways (I am working on an egg free version too!)!
I adapted this recipe from Karina over at Gluten Free Goddess, my original go-to!
INGREDIENT NOTE:  If you need an egg free mayo, here a couple of recipes: Vegan Mayonnaise ( I would use light olive oil and unsweetened non-dairy milk), or this nut based one @ Elana's Pantry.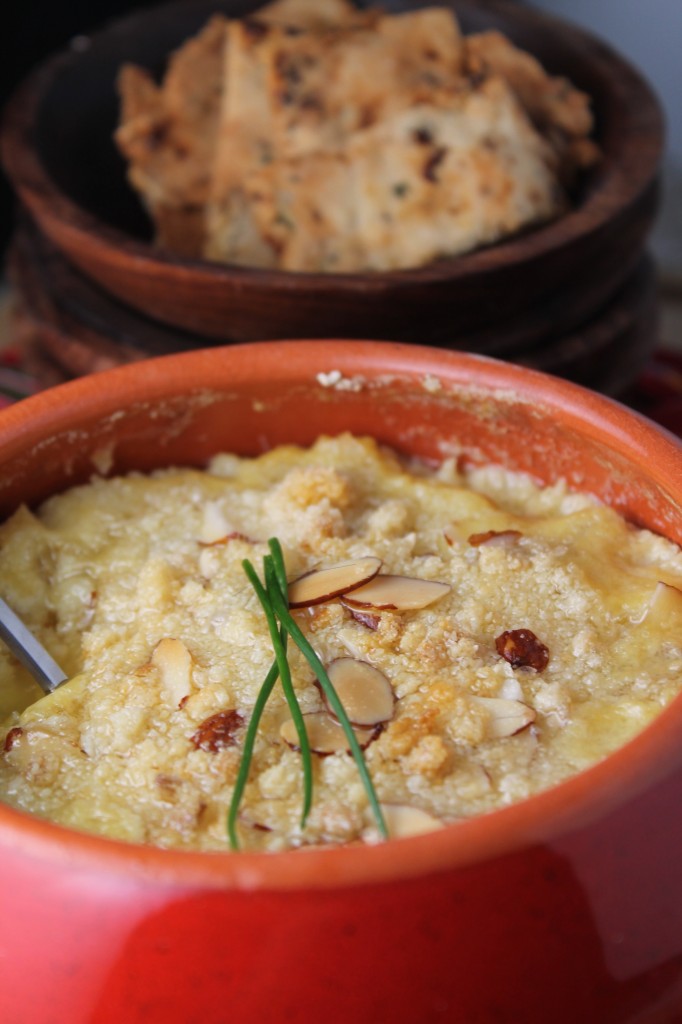 Creamy Hot Artichoke Dip - Dairy Free & Paleo
Prep time:
Cook time:
Total time:
Ingredients
2 14 ounce cans artichokes heart (or hearts of palm) NOT the marinated ones! Frozen artichoke hearts that have been thawed would work too!
1 generous clove mince garlic
1-2 tablespoons very finely minced onion
¾ cup preferred mayonnaise ( I prefer homemade)
¼ cup allowed plain yogurt (I use So Delicious Plain Greek Yogurt)
2 tablespoons nutritional yeast
1 tablespoon lemon juice
TOPPING:
¼ cup sliced almonds
Instructions
Preheat oven to 350 degrees.
In the bowl of food processor, pulse the drained artichokes until diced.
Add in the remaining ingredients and pulse until combined.
Spoon into an 8 x 8 pan (the size is not overly important...you will cook until bubbly and warm regardless)
Sprinkle top with the sliced almonds.
Bake for about 30-40 minutes until hot and bubbly.
This recipe was shared with Mostly Homemade Mondays, Meatless Monday, Fat Tuesday, Totally Talented Tuesdays, Hearth & SOul, GF Wednesday, Waste Not Want Not, Real Food Wednesday, Pennywise Platter, GF Fridays, Let's Get Real Fridays, Natural Family Fridays, Savouring Saturdays,