Little dark truffley cookies.  Really?!  I think I have died and gone to heaven!
Before having to cut foods out, these were one of my favorite cookies.  Dark chocolate…if it hasn't been made abundantly clear yet…I LOVE IT!!.  These cookies are like little dark truffles: dense and chewy with a dark chocolate flavor.  While this certainly doesn't qualify as health food, I am all about the simple pleasures in life every once in awhile.  It took several tries, but I have finally tweaked this to work…let's see what you think!!
INGREDIENT NOTES:
I like to use a high quality cocoa powder in all my recipes, I notice a very big difference.  One of my favorite is Dagoba, however there are many good brands out there.
If you are using stevia, I recommend NuNaturals Stevia…it does not have a noticeable aftertaste like many 1of the brands out there.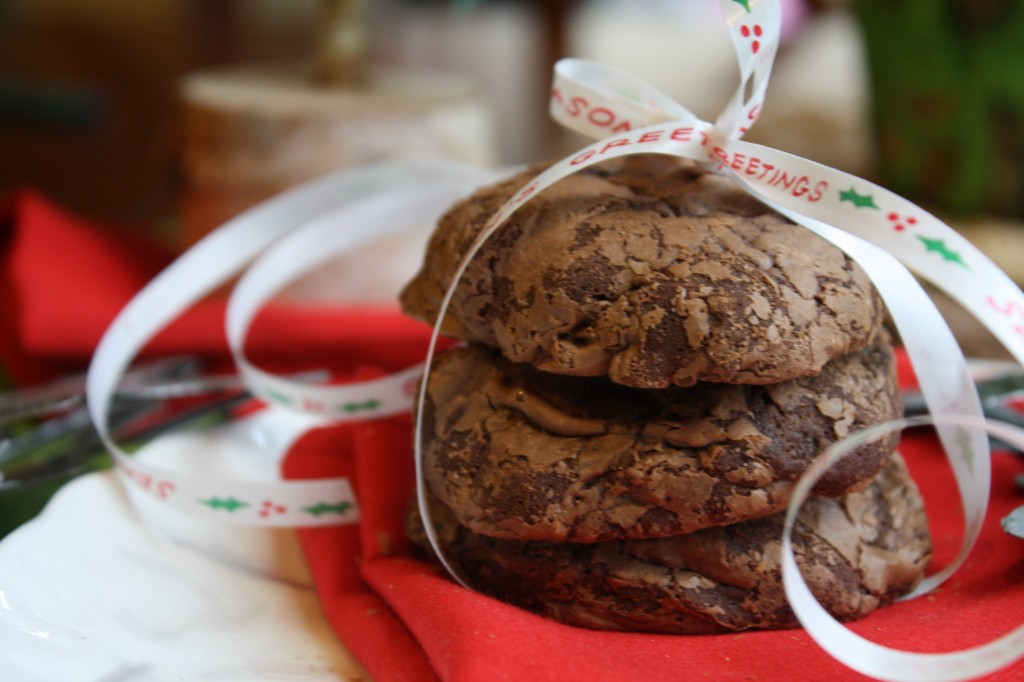 Dark Chocolate Truffle Cookies - Gluten Free/Dairy Free
Author:
Tessa the Domestic Diva
Prep time:
Cook time:
Total time:
Ingredients
4 (1 ounce) squares unsweetened chocolate, chopped
1 cup chocolate chips
6 tablespoons allowed butter, coconut oil, or palm shortening
3 eggs
1 cup unrefined sugar or palm sugar. For candida friendly, sub ½ cup xylitol and ¼ teaspoon liquid stevia, to taste.
1½ teaspoons vanilla extract
½ cup gluten free oat flour (or any whole grain gluten free flour)
½ cup tapioca flour
1 teaspoon guar gum or 1 tablespoon gelatin
¼ teaspoon grain free baking powder
½ teaspoon salt
1 cup dark chocolate chips, optional
Optional: cocoa nibs or dried cranberries
Instructions
Preheat the oven to 350 degrees.
In a glass bowl or measuring cup, melt the unsweetened chocolate, 1 cup chocolate chips, and the selected fat in the microwave. Start with about 90 seconds and then stir continuously until all pieces are melted and smooth. Be careful not to overheat the mixture, as the chocolate will seize and turn clumpy. Alternately, melt over low heat on the stove.
Beat the eggs and sugar until thick and creamy, and pale yellow in color: about a minute or so.
Add in the vanilla and melted chocolate mixture.
Whisk the dry ingredients together, mix in.
Add in remaining chocolate chips if desired.
Batter should be very thick, especially as the melted chocolate cools! The dough should plop and have no movement when placed on the cookie sheet.)
Form cookies with about a tablespoon of dough, press into desired shape. They will not change shape in the oven!!
Bake in a preheated oven for about 8-10 minutes until slightly firm. The cookies will firm up when they cool, and are much better if they are NOT over-cooked!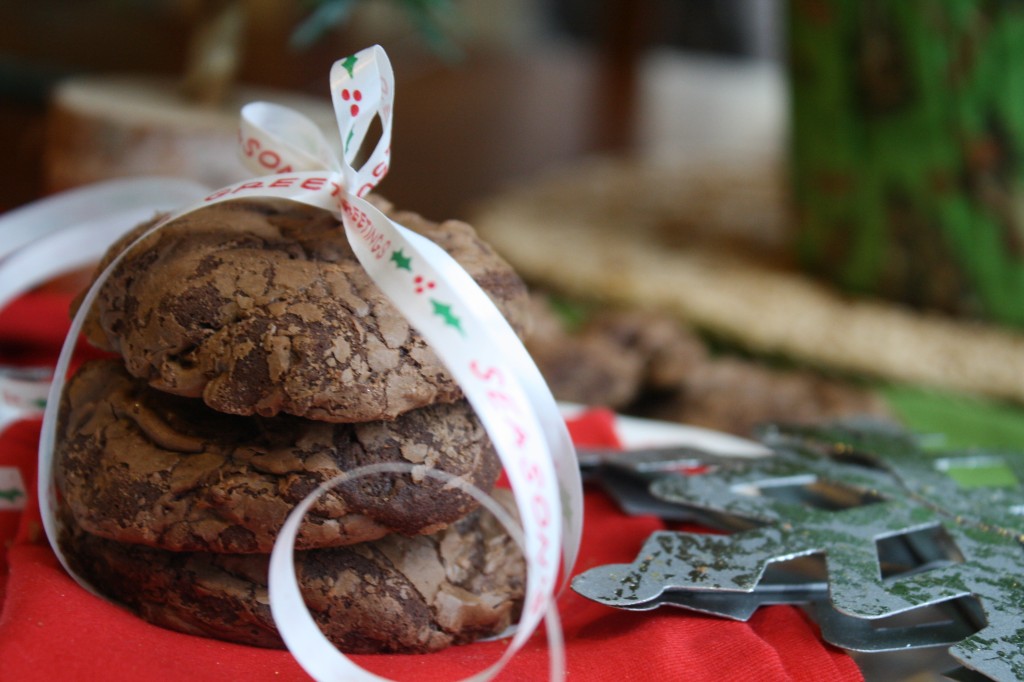 This recipe is linked to Sugar-Free Sunday, My Meatless Monday, Natural Living Mondays, Monday Mania, GF Mondays, Make Your Own Mondays, Slightly Indulgent Tuesdays, Tasty Tuesdays, Fat Tuesday, Hearth & Soul, Traditional Tuesdays, Wheat-Free Wednesday,  Real Food Wednesday, Frugal Days Sustainable Ways, GF Wednesday ,Healthy 2Day Wednesday, Kids in the Kitchen, Seasonal Celebration Wednesday, Whole Foods Wednesday,  Thank Your Body Thursday, Simple Lives Thursday, Made From Scratch, 12 Days of Christmas Goodies, Wildcrafting Wednesday, Keep It Real Thursday, Pennywise Platter,  GF Friday, Whole Foods Friday, Simple Meals Friday,, Gluten Free Holiday Fix,
Any of the links in my posts may be affiliate links. If you click on them and make a purchase, I might make a commission. Your support is much appreciated and pays for the cost of running this free resource!