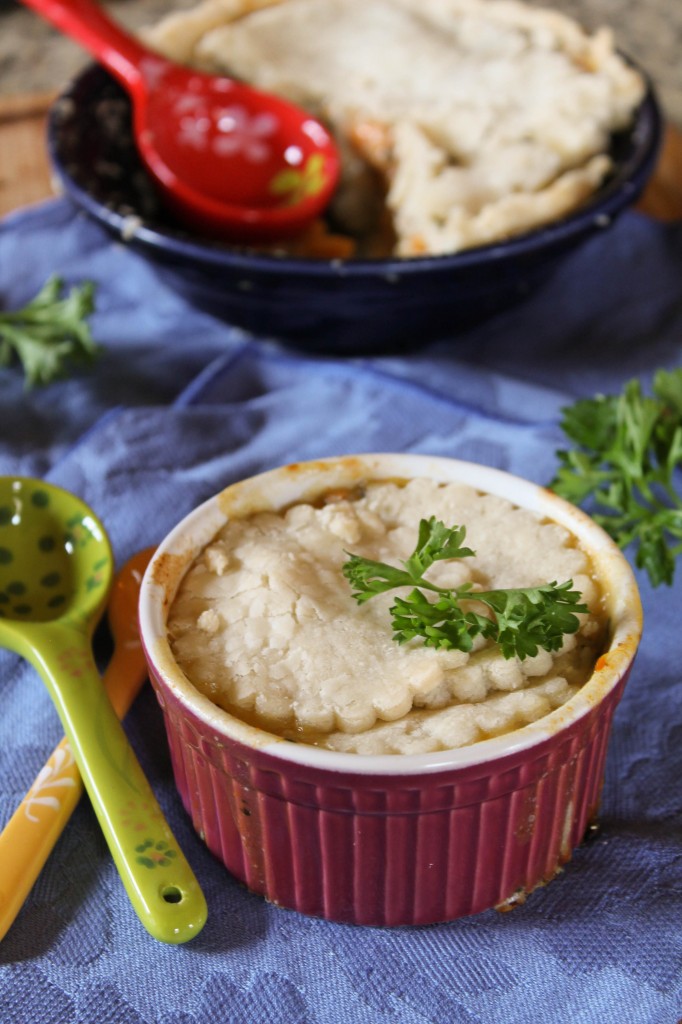 Pot pies were never really my thing growing up.  Everyone in the family seemed to love them, and I didn't hate them, but they didn't get me excited.
THEN….. I met this one.
Years ago I found the original recipe in a Cooking Light magazine.  I greatly adapted it even then, and as luscious as that original puff pastry crust was over the top……I needed to tweak it yet again.
Unlike typical pot pies, this one has a single crust over the top. I like it this way as I don't have to get fancy with the rolling of crust (not my forte!), but I have made this with top and bottom crusts too.  I actually prefer to make individual pies within ramekins: cuter and easier to eat!
Do what you like! If you need help making or working with crust, or if you're just looking for some inspiration, you might want to check out http://www.pastryschools.net
For those of you who missed my story on Facebook, there is a funny story behind my photo op for this recipe.  I had just a little filling leftover, and had made a tiny bit of crust to bake up for the pictures during nap time.  I had started taking pictures when the UPS man arrived with my new photo light.  I was so thrilled, I immediately set about putting it together for a test drive. When I went to retrieve my pot pie, as I walked into the room, my 7 year old daughter (who was supposedly doing her homework mind you) proudly exclaims, "Ta DAH!!!!"  In my absence, she had 'helped' do a little staging of her own by stabbing the whole pie up with a fork!  A las…not tons of choices in the picture department to pick from, but you get the idea!  Can any of you relate?!
I have four crust recipes I have used for this:
This recipe is so amazing, I never would have guessed a pot pie recipe would make it into my tattered and well-loved recipe notebook…but it has…and it is used again and again.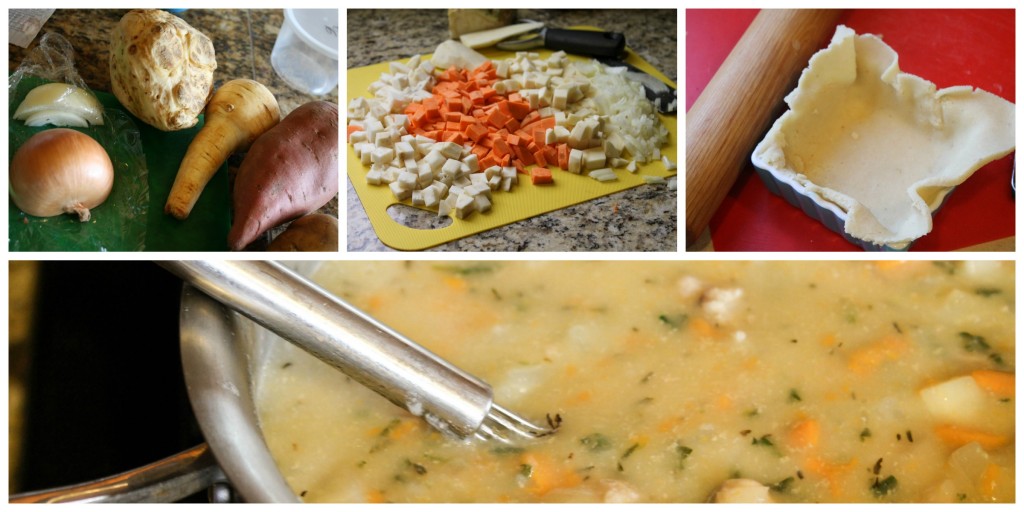 VEGAN NOTE: This recipe is easily made vegan by eliminating the chicken completely and using your favorite veggie broth.  Add an extra cup or two or chopped root vegetables of choice!
PICKY EATER?  If you let the root vegetable steam a bit longer…you can mash them up so there are no visible vegetable chunks for picky eaters.
PALEO?  Simply use more of any root vegetable to replace the white potato.  To thicken, use 2 tablespoons arrowroot or tapioca starch along w/ 2 tablespoons coconut flour.  Add more of either if you like it thicker!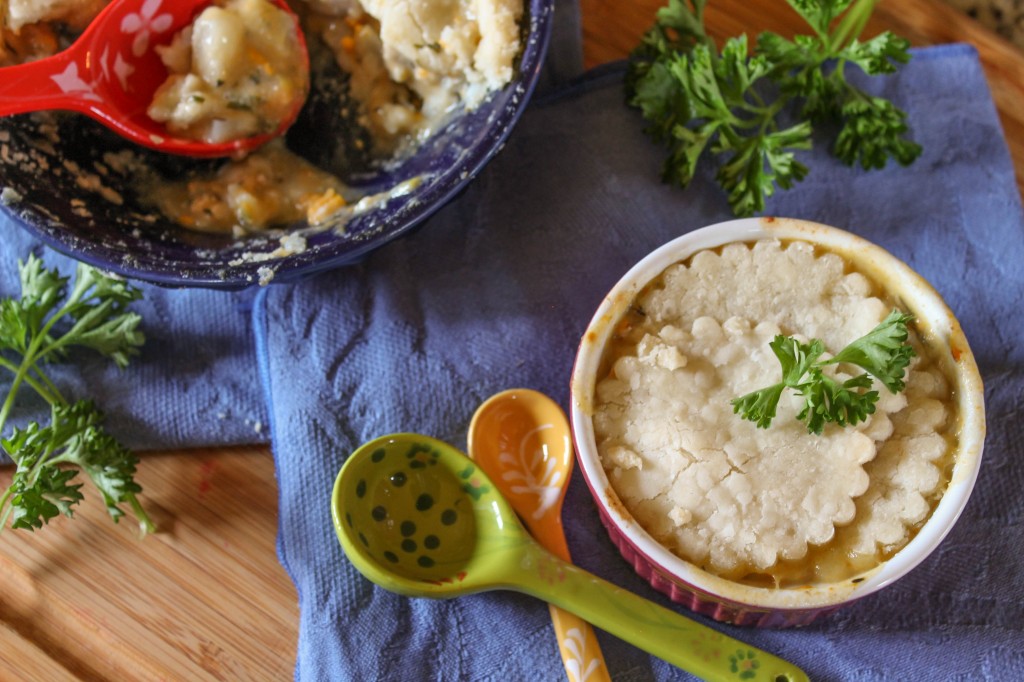 This recipe was shared on Natural Living Monday, Mostly Homemade Monday,  Fat Tuesday,Hearth & Soul, Tuesday Talent Show, GF Tuesday, Totally Tasty Tuesdays, Tasty Tuesdays, Tuesday Greens, Gluten Free Wednesdays, Waste Not Want Not, Wildcrafting Wednesday, Real Food Wednesday, Fresh Foods Wednesday,Frugal Days Sustainable Ways,  Wellness Wednesdays, Full Plate Thursday, Thriving on Thursday,  Pennywise Platter, Wellness Weekend, Whole Foods Friday, GF Friday, Fight Back Friday, Simple Meal Friday,
Any of the links in my posts may be affiliate links. If you click on them and make a purchase, I might make a commission. Your support is much appreciated and pays for the cost of running this free resource!