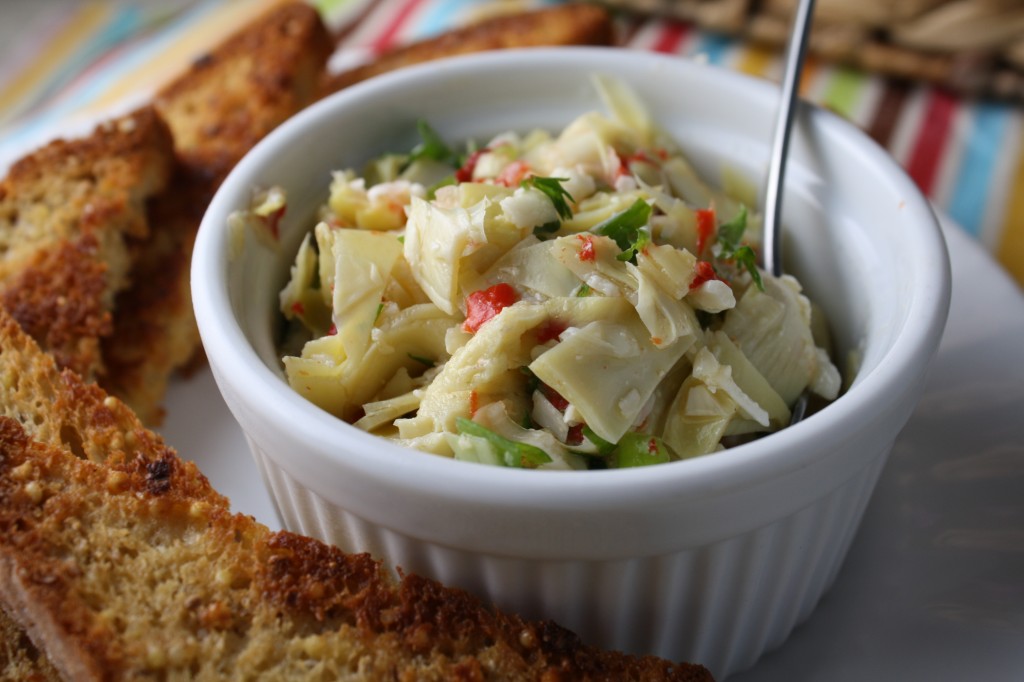 While I haven't given you a traditional hot artichoke dip yet, this dip is just as delicious and heart healthy!  I love how a few simple ingredients can marry and create something so divine.  This tapenade has an Italian flare, and any guest would happy to gobble this down as an appetizer.  I love to eat it for a quick snack too, and since my husband won't touch artichokes (silly man!) it means I get more for myself!  This is thrown together in 10 minutes, and does even better as it marinates in the fridge.  Enjoy!

Cold Artichoke Dip w/ Homemade Garlic Crostinis
Prep time:
Cook time:
Total time:
Ingredients
14 oz can artichoke hearts in water, drained and chopped
2 oz jar chopped pimentos
¼ cup sliced green onion
2 tablespoons lemon juice
1 tablespoon olive oil
1 teaspoon oregano
2 tablespoons grated pecorino romano (optional, omit for vegan diet or cow/dairy allergy)
Crostinis:
6 slices favorite gluten free or Paleo bread (I used Udis Chia-Millet), or a gluten free baguette, sliced
¼ cup olive oil
4 cloves garlic, minced
⅛ teaspoon salt
Instructions
Preheat the oven to 375 degrees.
Mix all the dip ingredients together and store in the fridge to allow the flavors to marry and marinate.
Slice your bread slices into halves or quarters as desired.
Mix together the remaining crostini ingredients.
Using a pastry brush, lightly spread each side of the bread slices with the olive oil mixture and place on an ungreased cookie sheet.
Place the toasts in a preheated oven for about 10-12 minutes until golden and crispy.
If you would like both sides to be evenly golden, flip the toasts half way through the baking time.
Serve along side the artichoke tapenade!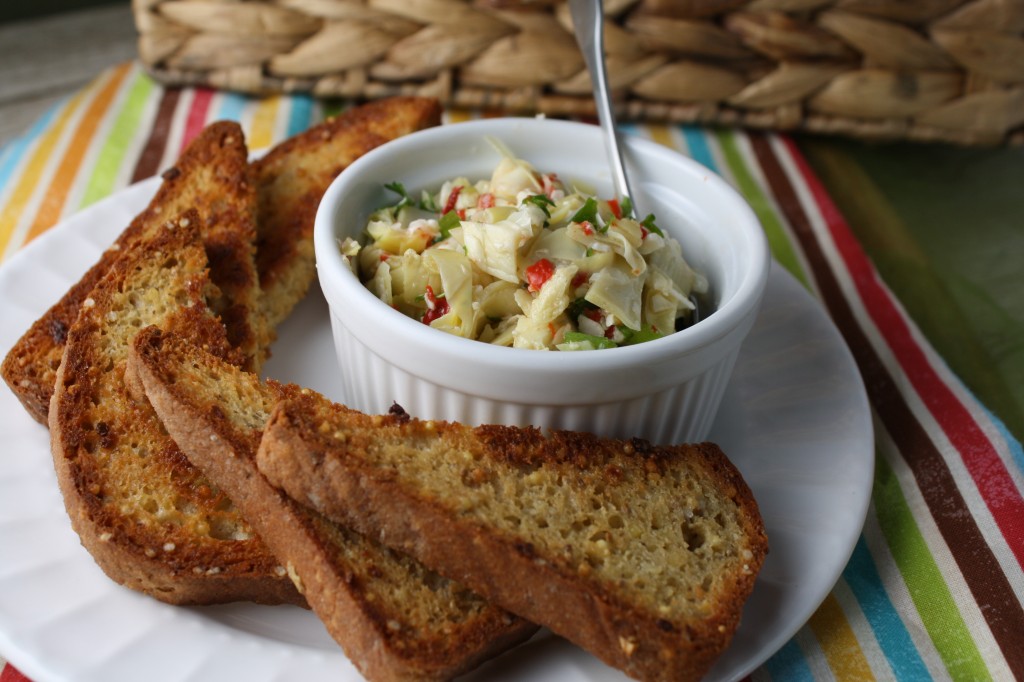 This post was shared with Mostly Homemade Mondays, Natural Living Mondays, GF & DIY Tuesdays, Naturally Sweet Tuesdays, Fat Tuesdays, Totally Talented Tuesdays, Hearth & SOul, Tasty Tuesdays, GF Wednesday, Waste Not Want Not, Wellness Wednesday, Real Food Wednesday, Full Plate Thursday, Pennywise Platter, Thank Your Body Thursday, GF Friday, Fight Back Friday,